Dublin Port: Making Waves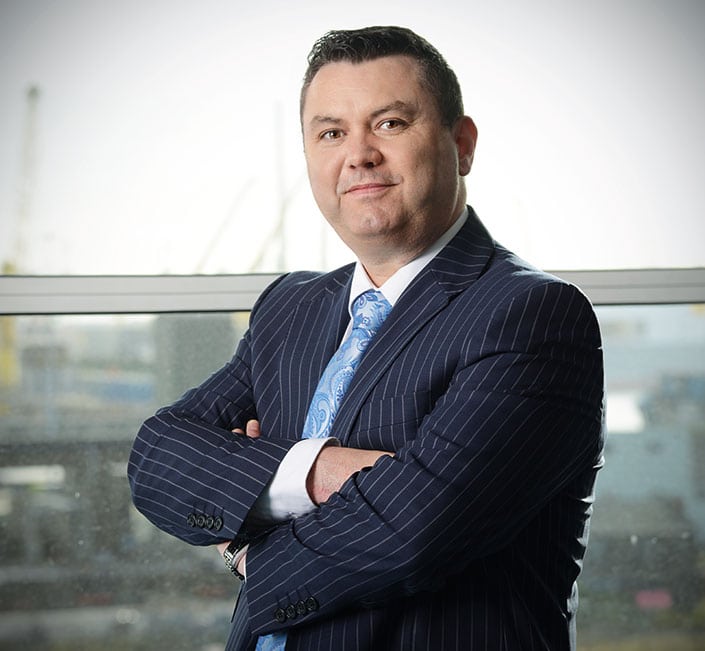 CEO Insight's Henry Martin speaks with Pat Ward, Head of Corporate Services, Dublin Port Company
Henry Marin: Cruises from Dublin are now possible with the news that the 5* ultra-luxury ship, Celebrity Eclipse, will be sailing from Dublin Port in 2018. What are the itineraries for these voyages and are there any plans to add further journeys or additional liners in the future?
Pat Ward: We are delighted to have Celebrity using Dublin as its homeport for part of the 2018 season. 5 Celebrity Eclipse voyages are scheduled for April and may ranging from 8 to 12 night cruises. Itineraries include the Norwegian Fjords, Ireland and Iceland cruises as well as one taking in the British Isles and the French Open. Celebrity have confirmed another mini-season of homeporting in 2019 but the itineraries for these cruises have yet to be finalised. In addition to Celebrity, CMV, Norwegian Cruise Lines, Hansa Treuhand, Pontant Cruises and Silverseas Cruises are all homeporting in Dublin in 2018 with a total of 23 turns.
Henry Marin: The cruise industry will benefit the local and regional economy hugely, expecting to see an extra 600,000 tourists in the city annually. Is the infrastructure in Dublin and the surrounding areas ready for such an influx?
Pat Ward: Ireland and Dublin has always had a vibrant and thriving tourist industry. Ireland does not rely on good weather to attract tourist and therefore, the high season is spread over a longer period, typically from April to September. Other cities have had capacity issues recently leading to congestion and an uncomfortable experience for both tourists and locals but we don't foresee this being an issue in Dublin. Hotel capacity in the Capital has presented some challenges in the past but these are being addressed and it is expected that an additional 5,500 hotel bedrooms will be added to the existing stock in Dublin by 2020.
---
"Dublin Port is heading for a third successive record year in 2017 with growth of 2.9 per cent recorded in the first half of the year."
---
Henry Marin: As the UK triggers the formal process to leave the European Union, what are the implications, risks or benefits for Dublin Port?
Pat Ward: The type of border that BREXIT will bring about is a major concern for Dublin Port. Currently there are 17 ferry crossings per day between Dublin and the UK. From the time a vessel docks in Dublin Port, a freight truck can disembark and exit the port within 45 minutes. A hard border will force us to impose border checks which will not only impact our internal and external road networks but the delay will also impact business further along the supply chain.
However, we believe that BREXIT will not negatively affect tourism and in particular cruise tourism. At the recent Seatrade Europe conference in Hamburg, cruise line executives confirmed that BREXIT is having no bearing on bookings for 2018 and beyond. Furthermore, as Ireland remains in the EU, we expect this to have a positive impact on cruise tourism. Dublin Airport currently offers superb connectivity to Europe, the US and beyond, and with just a 15 minute transit between airport and seaport we believe Dublin offers a real alternative homeport to cruise companies and passengers in the region.
Henry Marin: With larger than anticipated cargo volumes and trade passing through Dublin Port, with a predicted average growth of 2.5% per year to 2040 now set at 3.3% annually, what plans are in place to handle this increased shipping?
Pat Ward: Dublin Port is heading for a third successive record year in 2017 with growth of 2.9 per cent recorded in the first half of the year. This brings our growth to 29 per cent in just 5 years. If the current trend continues, it would see the ports volumes double in just 14 years. In order to address future capacity issues, we are looking at developing one terminal for the 5 ferry operators. The "MP2 Project" will provide additional capacity for Ro-Ro freight and container traffic between the UK and continental Europe into the future. Planning permission will be sought in 2018 and construction should begin in 2020.
The MP2 Project ties into Dublin Port's Masterplan which is currently under review. The Alexandra Basin Redevelopment is already underway and will see the channel been deepened to -10 chart datum and additional berths being provided which will allow the increasingly larger vessels to access the port. A further Masterplan project on the Poolbeg Peninsula should bring Dublin Port to its ultimate capacity and able to accommodate future projected growth according to CEO, Eamonn O'Reilly.
Henry Marin: It is a really exciting time for the marine industry with port expansion and improvement underway, and more ships expected by 2020. What changes are likely to emerge in the next 5 – 10 years?
Pat Ward: With capital development well underway in Dublin Port we expect these developments to address the challenges of the future. The MP2 project will address the capacity issue and result in a more streamlined process for Ro-Ro freight. Dredging the channel to -10CD will make us less dependent on tidal factors and will make less of an issue and make the port more accessible to the ever increasing cargo vessels. The increasing of the turning circle will also help to accommodate these larger vessels.
Along with the channel depth and turning circle, we also intend to provide dedicated cruise berths for our growing cruise customers. These developments will not only provide for a smoother approach and berthing process for the crew but will offer a more passenger friendly service for their customers.
For more information: www.dublinport.ie