The Time is Right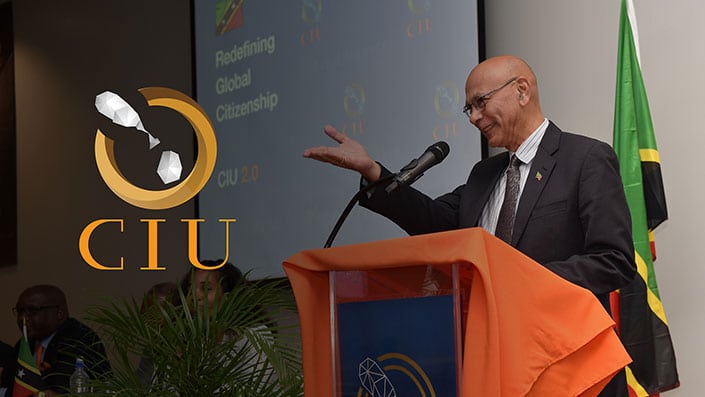 Henry Martin speaks with Les Khan, CEO, Citizenship by Investment Unit (CIU), Government of St Kitts and Nevis.
Henry Martin: Can you provide an economic snapshot of St Kitts and Nevis?
Les Khan: St Kitts and Nevis is the oldest and most mature Citizenship by Investment (CBI) Programme in the world. It has historically been recognised as the premier country of choice for economic citizenship for individuals from China, the Middle East, and Russia. With an economy that has transitioned from the sugar industry, St Kitts and Nevis is now an outstanding and growing tourist destination, with cruise tourism arrivals reaching close to 1 million in 2016. Ideal for conducting international business, St Kitts and Nevis is the leading country for doing business in the Eastern Caribbean with, at c.5%, one of the highest growth rates in the OECS and one of the highest in the world over the last five years. We are considered a middle-income country with a per capita income of 14,920. The local currency is Eastern Caribbean Dollars, which is fixed at 1USD = 2.70 ECD. The construction industry continues to grow, with major projects such as T-Loft's Radisson, Christophe Harbour, Galaxy's Ramada Worldwide, Park Hyatt, Pelican Bay's Hilton Embassy Suites and the Royal St Kitts. Foreign direct investment has been responsible for major infrastructure initiatives such as roads, water and alternative energy. The economy of St Kitts and Nevis is a strong and growing one, offering zero withholding tax, no capital gains tax, and no personal income tax.
Henry Martin: What is the remit and role of the St Kitts and Nevis CBI Programme?
Les Khan: The remit is defined in Section 3 (5) of the Constitution of St Christopher and Nevis and the Citizenship by Investment Regulations No.52 of 2011. Its role is to encourage and attract foreign direct investment into St Kitts and Nevis for use in achieving certain broad economic and social objectives through governmental, structural (infrastructure), and economically sustainable programmes. These programmes are for the benefit of the citizens of St Kitts and Nevis. As a benefit of the substantial contribution made to the development and people of St Kitts and Nevis, applicants are eligible to make an application to become citizens and enjoy the benefits of their investments.
Henry Martin: Can you describe the SIDF and real estate options?
Les Khan: Real estate is an attractive investment option under the citizenship by investment programme. It can be considered if one is looking at acquiring property in the Caribbean for a lifestyle change and/or return on investment. St Kitts and Nevis offers the most mature CBI real estate market in the Caribbean, with a ready inventory of condominiums, apartments, hotels, villas, and luxury homes. A minimum purchase of US$400,000 is required, with payment of government fees as follows:
US$50,047 government fees for main applicant, plus US$25,047 for spouse and children under 18 years
US$50,047 for each dependent between 18 and 25 years attending school or parents 65 and older dependent on main applicant
US$7,500 due diligence fees for main application and US$4,000 for dependents 16 years and over
Approximately 1-2% of purchase costs (taxes, conveyance, etc.)
Properties purchased under the real estate option can be sold after five years of ownership and qualify the next buyer for citizenship. The SIDF option is an attractive option if one is interested in acquiring citizenship efficiently with a clear total outlay and do not want to travel to St Kitts and Nevis during the time of application. Processing time on the SIDF option is usually faster than the real estate route. This option is a direct contribution, inclusive of all government fees as follows: • Single applicant: US$250,000
Applicant with up to three dependents: US$300,000
Additional dependents, above 3 is plus US$25,000 Recent changes to the programme include the extension of the dependency age from between 18-25 to 18-30 inclusive and decreasing the dependency age for parents and grandparents from 65 to 55 years, thus making this option ideal for large families. Another change to the programme was the introduction of international marketing agents. This allows agents to market our SIDF option globally and to receive a rebate on an approved application.
Henry Martin: What is Accelerated Application Processing (AAP)?
Les Khan: The AAP commenced in October 2016 in response to the demand for priority access or a faster process that does not compromise the due diligence process. The time period for AAP is within 45-60 days. Applicants are still required to meet all mandatory criteria and submit the necessary supporting documents, but applications are accorded accelerated treatment from its inception through to the passport issuance. This is inclusive of the due diligence, without compromising any part of the vetting and due diligence process. A premium fee is charged for this process. It should be noted that certain countries are excluded from the AAP process as a result of extended due diligence turn-around time. These countries are Yemen, Iraq and Nigeria.
Henry Martin: How has the CBI Programme quantifiably enhanced the country's fortunes since its introduction?
Les Khan: There have been significant benefits to the country since its introduction. These include:
Providing additional funds to undertake infrastructure projects.
Acting as a buffer against exogenous shocks.
Reducing the government's budgetary constraints as an alternative source of revenue that supports the tax regime. It also frees up capital for re-allocation in other governmental identified priority areas.
Developing the human capacity and human resources resulting in increases in the number of tertiary graduates and enrolment through the REACH programme.
Creating employment for individuals directly and indirectly through construction, hotel, restaurants, property management, maintenance, real estate, compliance.
Providing skills training, REACH programme, first time home owners- SAFE, infrastructure roads, subsidising of electricity prices as a buffer to people of the country especially poor and indigent, real estate investment and provide affordable loans for first time owners, small business enterprise, governmental budgetary support.
Improved road network and access to roads and infrastructure.
Providing employment and creating employment opportunities through its investment in real estate investment projects directly and indirectly in areas not limited to construction, agriculture and farming, hotel, taxi operators, restaurants, property management, maintenance, real estate, compliance.
Spurring and creating an environment that encourages private sector growth and development through the provision of affordable loans small business enterprise.
Henry Martin: What would you describe as the principal benefits and incentives for investors?
Les Khan: Investors in the citizenship by investment programme achieve many benefits such as the freedom of travel for business. Nationals whose passports usually allow them easy access to most countries may still need to obtain a visa to travel to some countries, or can find it impossible to obtain visas due to temporary travel restrictions during trade sanctions and other geopolitical disturbances. If for some reason you cannot get or renew a passport in your home country (e.g. political instability), the right to another passport can be very useful, even critical.
Citizenship and a passport, particularly from a small, peaceful country like St Kitts and Nevis, can even save your life when travelling in times of political unrest, civil war, terrorism or other delicate situations. For good reasons, many international business people from major countries and important persons who are active worldwide consider an alternative option as the best life insurance money can buy. In addition, a second citizenship may offer opportunities for education of children, quality of life decisions, retirement options and wealth management benefits.
The St Kitts and Nevis programme offers all of this and more. There is political stability, the facilitating of easy travel with approximately 150 visa free countries or visa upon entry, a rate of return on real estate investment and the ability to have an exit strategy for investment options. There is also a non-residency requirement, but for those who visit and opt to live in St Kitts and Nevis, the country is safe and free from civil war, terrorism threats and attacks.
---
"The CBI Programme also offers the capacity and ability to invest in future projects for the further development of the country in areas such as tourism, real estate, agriculture and food production, food processing, alternative energy, light manufacturing, and information technology."
---
Henry Martin: How is transparency assured?
Les Khan: Transparency is assured through strict adherence to policies and procedures while ensuring that there is a consistent review of policies and procedures with a view to strengthening and bolstering the vetting and operational processes. There is an annual review of due diligence providers, and we ensure that all applicants are subject to background checks, which include money laundering and terrorism. As part of our due diligence process, we ensure that names are checked against various law enforcement agencies. Internal and external training of staff in AML/CFT compliance and vetting is a top priority and the hiring of competent staff personnel who possess the requisite skills and training in the fields of immigration, national security AML/CFT.
Henry Martin: To what do you attribute the St Kitts and Nevis CBI Programme's enduring appeal?
Les Khan: St Kitts and Nevis is the oldest of all CBI programmes with over 10,000 economic citizens. We have been historically recognised as the premier country of choice for economic citizenship for individuals from China, Middle East and Russia. With a non-residency requirement and no requirement to visit the island during the application process, we are by far the programme of choice.
Additional changes in process has also re-emphasised our desire to be the most service-oriented CBI programme. We work with clients, agents, developers and service providers to ensure that the client's expectations are met. Service providers can now interact with CIU management on a daily basis, and developers and agents can now have scheduled meetings upon request.
This change in operating models, the efficiency and effectiveness in processing together with the large number of citizens who testify and market themselves as proven ambassadors of the programme, continue to endorse what we believe is the Platinum Standard.
Henry Martin: What recent or forthcoming developments are set to make St Kitts and Nevis CBI Programme even more fit for purpose, so cementing its pre-eminent status in the field?
Les Khan: The Government of St Kitts and Nevis continues to work in making the St Kitts and Nevis passport one of the most valued passports in the Caribbean. The prime minister and his cabinet are aggressively working on improving diplomatic relations with other countries and in increasing visa-free access. Additional investment options are being considered and other product offerings are to be announced shortly. But fundamentally, we are a platinum brand and our citizens should feel comfortable that we would not engage in a race to the bottom. In the words of the Prime Minister, Timothy Harris: "I need not remind you that citizenship is a special connection between a person and a country.
As a proud people, we cherish our citizenship. We want those who are fortunate and privileged to obtain our citizenship to have an enduring, productive and positive relationship with Saint Kitts and Nevis. We invite them to help us make our beautiful country a prosperous country which has now become theirs also by bringing new skills, further investments and they must be of good character and repute. We aim high and we want the most discerning citizens to help us reinforce the platinum standards.
So, in other words, you are not just purchasing a passport. You are investing in your future and the future of the country you choose."
For more information:
The Citizenship by Investment Unit
Office of the Prime Minister
1st Floor, Ministry of Finance Building
P.O. Box 597, Golden Rock, St. Kitts,
West Indies
Phone: (1-869) 467-1474
Fax : (1-869) 465-9926
Email: ciuunitskn@gmail.com
http://ciu.gov.kn