Don't Stop Me Now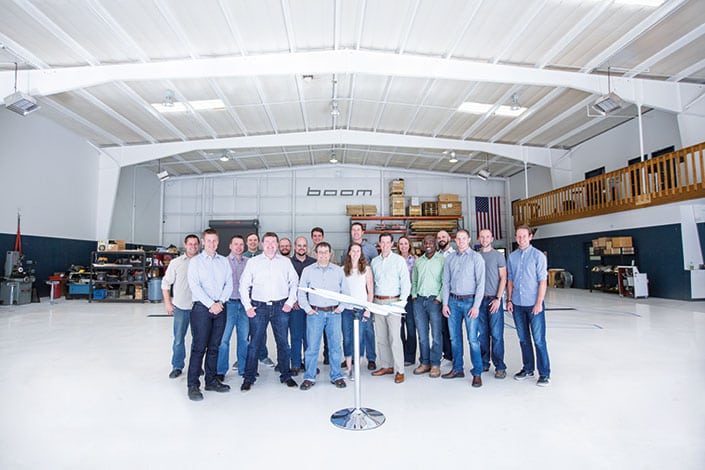 Richard Branson and Boom Technology want to make a supersonic man out of you Aviation start-up Boom Technology has recently unveiled a prototype of a supersonic passenger jet that aims to be the next-generation Concorde. Backed by Virgin founder Richard Branson, the Baby Boom jet could be at the vanguard of a new era of affordable supersonic travel. Claimed to be the fastest civil aircraft ever made, the XB-1 Supersonic Demonstrator is set to make its first test flight in late 2017 and could take passengers from London to New York in 3.5 hours.
We've been here before. Concorde launched commercially in January 1976, but Air France and British Airways announced its demise in 2003, citing low passenger numbers following the July 2000 crash in which 100 passengers died, the slump in air travel following the September 11 attacks and rising maintenance costs. The project cost British and French taxpayers over £1bn prior to operation by the airlines, and Concorde's first years ran at a loss, which led to an initiative to rebrand and a new fare structure.
---
Today's lightweight materials and innovative designs have revolutionised supersonic production on a private scale. Step in Richard Branson. Again. Branson, founder of space tourism company Virgin Galactic among other well-known enterprises, tried and failed to save Concorde in 2003 when he offered roughly £5 million for British Airways' fleet of five. Now Branson is partnering with Blake Scholl, a pilot and former Amazon executive, to attempt to offer 3.5-hour flights from London to New York for about $5,000 return.
The Virgin Group founder said that his spaceship company would assist Denver-based start-up Boom to construct a new generation of supersonic jets capable of transatlantic flight times not seen since Concorde was abandoned. According to Scholl, test flights will commence in southern California, with plans to launch the first commercial departures in 2023. He said Boom would succeed where Concorde failed because developments in technology and lighter materials mean that prices will be much lower.
The commercial version of the XB-1 craft is intended to hold up to 44 passengers. Boom claims that it will travel at a speed of 1,451 mph, or 10% faster than the Concorde and over twice as fast as the average airliner. Scholl says that tickets, at about the same price as tickets in business class in a conventional plane, won't be just a bucket-list purchase any more. He said his planes could work on 500 different routes, but would concentrate initially on London to New York, San Francisco to Tokyo, and Los Angeles to Sydney.
Boom says that the first airlines to offer supersonic travel will enjoy a significant competitive advantage, with 2.6x faster flight allowing them to win profitable premium passengers. Further, it says, a halo effect will increase share even on subsonic routes, as customers will prefer to earn loyalty points with carriers that offer supersonic. This would be a significant shift in the competitive landscape. Today's carriers compete on operating costs and thin margins because the service is relatively undifferentiated.
Boom thinks that supersonic travel offers the opportunity for airlines to offer a dramatically more attractive product. Crucially, Boom believes that passengers will be willing to pay a premium to satisfy their need for speed. Today, passengers pay a 4-5x premium for business class, though those seats don't arrive any sooner than economy, and they pay a premium for non-stop (vs connecting) services. Boom maintains that it is reasonable and viable to expect higher fares for still-faster service. It also highlights the cost savings associated with supersonic flight, including saved executive time, saved hotel expenses, and saved meals and entertainment expenses. Boom is also seeking to rethink the passenger experience.
Its goal is "to provide a tranquil and stress-free experience from the moment you step aboard, whether you want to work, play, or relax. Each passenger has a large personal window, direct aisle access, and a dedicated overhead bin. Seat dimensions will be similar to short-haul first class, with many subtle and not-so-subtle design improvements." There are some hurdles to overcome first. Concorde was accused of excessive sound emissions, and supersonic flight over the US is currently banned.
Boom says that this ban should be reversed and replaced with a common-sense noise standard to promote efficient, affordable supersonic flight while disallowing nuisance. In the meantime, the Boom jet will fly routes that are primarily overwater such as the above-mentioned New York to London or San Francisco to Tokyo routes, flying subsonically when over land.
---