Join the Jet Set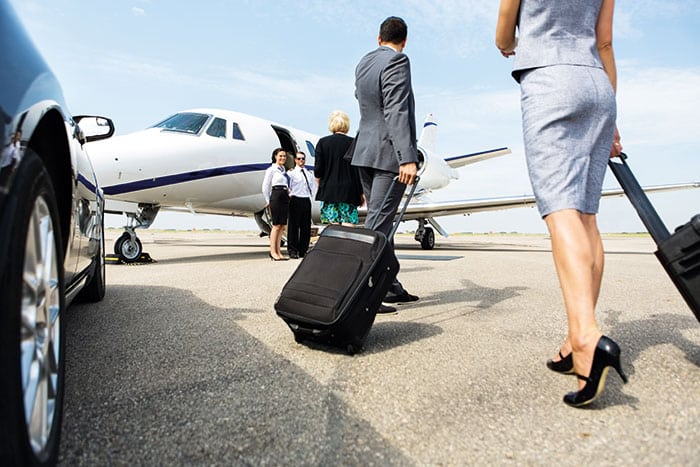 Private jets are the closest thing to teleportation in 2017, flying wherever and whenever you want. This form of transport is no longer seen as a pointless luxury, but as a great business tool to save time, reducing tension and making travelling easy. The depiction of 'making it' can be portrayed as someone sitting in their private jet preparing for an important meeting or moseying down the aircraft steps to holiday at some exquisite location. However, the world of luxury travel seems to have other ideas and while more people are choosing to travel on private jets, the appeal of actually owning one appears to be waning.
---
A private jet is not just for Christmas, it is for life, and the maintenance and upkeep is costly and incessant. With an annual cost of $700,000 – $4,000,000 to run an aircraft, it's no wonder that businesspeople are increasingly looking to private jet aviation companies like Luxaviation as the best route to take. Hiring a private jet is more cost effective and certainly more convenient for private high-flyers. So, what makes private jet travel so great?
An otherwise lost day spent travelling to and from airports, waiting in queues and dealing with delays, can swiftly turn into alone time with business partners or a stress-free flight. With the removal of scheduling restrictions and the frequent interruptions that come with commercial travel, flying in a private charter is hugely convenient. Work can be completed en route without risking anyone eavesdropping and flying privately offers other remarkable benefits. Businesses that use private jet aviation realise measurable competitive advantages like time savings and stress reduction. Also, flying privately for big groups can bring with it a cost saving compared to business fares. The travelling experience should be cathartic, not exhausting, and while the industry is going through a time of growth and change, the hopes and objectives of travellers are continuously changing too.
Between 2015 and 2025 luxury travel trips are expected to grow at a compound annual growth rate (CAGR) of 6.3%, almost 33% faster than overall travel at 4.8%. This trend is music to the ears of the luxury travel sector. Private jets have access to more than 5,000 airports in Europe and the US alone, and as it is getting increasingly streamlined, a strong, valuable and respected industry is coming to the fore. A successful high flyer may like confidentiality, comfort and control over their schedule and agenda, and Luxaviation can offer this, and more.
---
"A successful high flyer may like confidentiality, comfort and control over their schedule and agenda, and Luxaviation can offer this, and more."
---
As each year passes, the more time poor we seem to be getting, and with the global population on the rise, we are living in increasingly overcrowded environments. We want to travel around our planet, for work and for play, with ease and simplicity. The perpetual time scarcity crisis affects executives all over the world and the problem is just getting worse. For many of those who are extremely busy, a well-managed private jet service might create that longed for 8 day week. When you are at the top of your game, and can't spare a minute in your day, speed matters.
With the global population of ultra-high net worth individuals (UHNWI) on the up, the response is a bigger appetite for private jet travel. Energetic, time-poor businesspeople, working in highly competitive international environments, are looking to gain an edge by sourcing smarter travel. As economies grow and countries become richer, people's time becomes even more valued, and the more cherished something is, the rarer it seems. The tempo of life in rich cities is fast – just one glance at the speed of commuters in London, New York or Paris this morning will demonstrate this.
Employing the use of jet charter management companies is growing for three reasons. The increase in UHNWIs has impacted the industry and businesses are getting rid of their own jets in favour of using a charter company. Additionally, economic recovery is affording successful companies the choice of private travel. A person with spending power would be looking for a charter that has the advantage pf size, purchasing power and aircraft availability. Luxaviation is one of the largest private aviation operators with a fleet of 262 aircrafts and over 1,600 employees, offering economies of scale and access to more suitable aircrafts for specific flights. They promise a luxurious and personal experience, whether it's for charter FBO, maintenance or aircraft management, you will be in the best hands.
When people start to view their time as money, the former becomes absolutely priceless. Luxaviation, Europe's leading business aviation group, acquired ExecuJet Aviation Group in 2015, becoming the second largest corporate aircraft carrier in the world. ExecuJet, while maintaining its identity and operational independence will benefit from valuable synergies within the Luxaviation group. These economies of scale allow the Luxaviation Group to continue to offer the highest quality service while increasing their global reach. Additional partnerships with aviation firms in China and the Middle East create an enhanced network for optimised services and seamless cross-continental travel for lucky clients.
Customers are opting for comfort, convenience, service, security and privacy when they choose to fly privately, and Luxaviation, with over 50 years of pioneering experience, has carved out an enviable position in the aviation sector. It is a company that is in the business to make your life easier, calmer and more fulfilled.
---