NBAA Dedicated to Preserving Business Aviation as a Vital Productivity Tool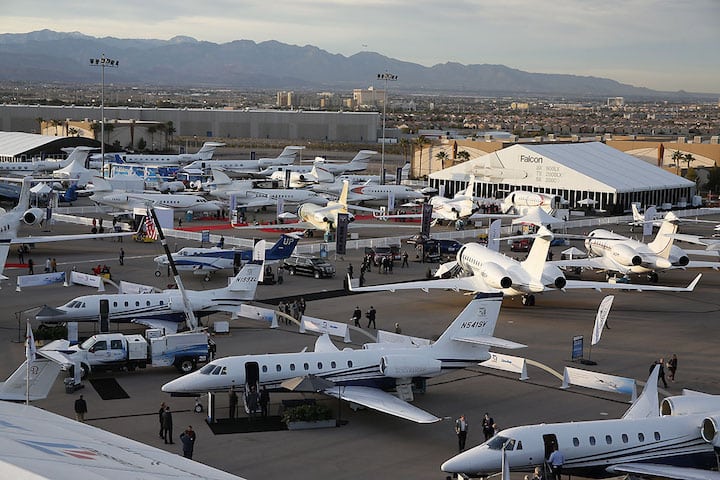 In 2017, the National Business Aviation Association (NBAA) marks its 70th year of advocacy for the diverse community of businesspeople and organisations throughout the United States that rely on business aircraft to be more efficient, productive, competitive and successful.
In addition to our association's outreach efforts on Capitol Hill regarding legislative policies affecting our industry, and our work in confronting similar challenges at the local level, NBAA has also developed a vast array of resources to serve our more than 11,000 members in all aspects of their day-to-day operations.
This includes dedicated committees providing guidance and information on such topics as aviation safety and security; flight department management; technological matters involving aircraft and equipment; taxation and regulation; and supporting the next generation of aviation professionals seeking career opportunities within our industry.
In addition to these and other vital services, these committees also organise a variety of annual events focused on supporting specific industry professions. The events include NBAA's annual National Safety Forum and Single-Pilot Safety Standdown; NBAA's Maintenance Conference; the NBAA Schedulers & Dispatchers Conference; the NBAA Leadership Conference; and the NBAA Tax, Regulatory & Risk Management Conference.
At the top of this list is NBAA's annual Business Aviation Convention & Exhibition (NBAA-BACE), which serves as the preeminent gathering for the global business aviation community. More than 27,000 people are expected to attend this year's gathering in Las Vegas, NV from Oct. 10-12, including industry leaders, key policymakers on the national and international levels, and other influential members of the aviation community.
NBAA has much to celebrate as we look toward our next 70 years, but we can ill-afford to rest on our laurels. Our industry continues to face numerous challenges at the national, regional, and local levels, many of which stem from misunderstanding of the many ways that business aviation contributes to our national transportation system, and to our nation's economy.
Business Aviation Supports Communities Nationwide
The business aviation community consists of companies of all sizes that operate many different types of aircraft, as well as fixed-base operations and other services that support flight operations at the nation's 5,000 public-use airports. The clear majority of businesses within the industry are small- to mid-size businesses and other entities, including nonprofit organisations.
For these companies, a business airplane is not a luxury; it is a valuable and productive resource in today's highly demanding, 24/7 work environment, analogous to other established business tools such as a smartphone.
Use of a business aircraft allows the most flexible travel scheduling possible, and provides the ability to quickly cross long distances that could take hours or days to cover with other transportation modes. Employees can turn travel time into work time, during which they may collaborate en-route to a destination in a secure and safe environment.
For these reasons and many more, use of a business aircraft has long been proven a sign of a well-managed organisation. In addition to these direct benefits to companies, our industry also serves as an economic lifeline for areas with limited transportation alternatives, and represents an essential transportation link for communities without scheduled airline service.
General aviation (GA), which includes business aviation, also supports 1.1 million stable, high-paying jobs across the country, and contributes $219 billion in annual economic activity to the U.S. economy. The industry's sizable economic benefits bolster revenues and livelihoods throughout communities of all sizes.
NBAA at Forefront of Combating Issues Threatening Industry
In order to support these diverse roles, business aviation relies upon unhindered access to the nation's airspace system, and in particular the small community airports served exclusively by general aviation. This access is threatened in the form of privatization of the country's air traffic control (ATC) system.
Privatization, which would replace congressional oversight of the nation's ATC network with a privately-managed authority, has long been bandied by the commercial airlines. It isn't difficult to understand why: without Congress to ensure that our nation's airports and airspace are available to all users in the public interest, privatization would allow certain groups to dominate this natural monopoly to benefit their own business interests.
NBAA has moved swiftly to combat privatization, including a "Call to Action" for industry stakeholders to contact their elected representatives in Congress on the matter. These efforts rallied not only the association's membership, but also tens of thousands of concerned citizens who understood the risks of a privatized ATC system, controlled by unelected individuals who would have the power to determine when and where business aviation operators could fly, and how much it would cost to do it – and all largely unaccountable to Congress.
In addition to fighting this risky proposal, NBAA continues to challenge attempts to restrict business aviation access to local airports. This includes our ongoing efforts against the unprecedented decision by the Federal Aviation Administration and the City of Santa Monica, CA to curb access to the historic Santa Monica Municipal Airport, a vital business aviation gateway in the Los Angeles area, through shortening the airport's sole runway while moving toward the facility's eventual closure in 2028.
While the battle over SMO wages on, the business aviation community has also won hard-fought victories. In June, the U.S. Supreme Court denied a petition filed by the town of East Hampton, NY, which sought to overturn an earlier ruling in support of federal law over noise restrictions at public-use airports. This decision reinforced NBAA's position that airports are part of a national aviation system, not one subject to a patchwork quilt of local regulations.
As we look to the future, NBAA remains committed to the support and growth of our vital American industry. I thank readers of CEO Insight for also recognising the importance of business aviation, and supporting our organisation's ongoing efforts to protect and defend unhindered access to our national airspace system.