Reach For The Stars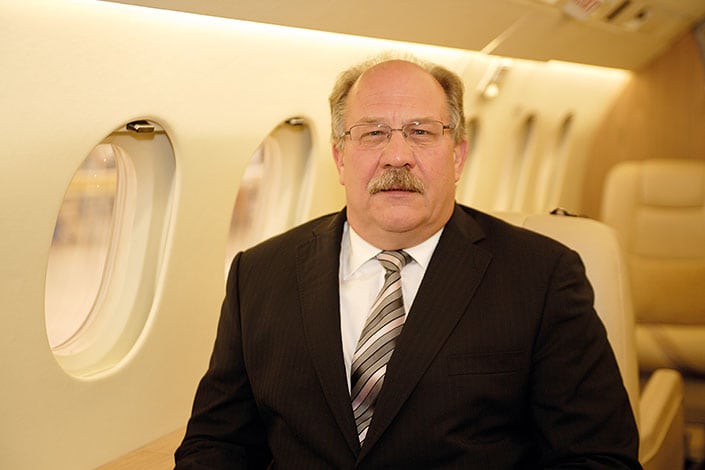 We speak with Ettore Poggi, Group FBO Director, ExecuJet & Charlotte Pedersen – Chief Operating Officer Interview by Henry Martin
CEO Insight: You have recently been promoted to Group FBO Director – please tell us about the FBO services today and important endeavours for your new role?
Ettore Poggi: ExecuJet has 24 FBOs located across sis regions – Africa, Asia Pacific, the Caribbean, Europe, Latin America and the Middle East. In the last 12 months alone, we have opened three new FBOs in Monterey (Mexico), Munich (Germany) and St Maarten (the Caribbean). As part of the Luxaviation Group, all of our FBOs offer luxurious facilities and first-class customer service, but notably most of our FBOs are located alongside, or are in close proximity to, our network of MROs. This provides a full complement of services often required by our base clients as well as our visiting customers. These services, together with our committed team who deliver those services, are what differentiates ExecuJet. We offer our collective passion for outstanding customer service, ensuring that every customer interaction is personal and memorable, and that we create a lasting relationship.
My new role will focus on continuously raising the level of service we provide to our clients. This will entail the standardisation and streamlining of our service delivery, while still keeping the cultural touches that one would expect to find in different regions of the world. We will continue to work with our suppliers and partners to bring tangible benefits to our clients, positively impacting on their experience and contributing to the drive for more cost effective services. Technology will play a significant role in delivering these benefits. Equally, we will be seeking opportunities to grow our FBO network and our services at all locations.
---
"Every one of our suppliers is a key partner to our global network."
---
CEO Insight: Quality, safety and continuous improvement are widely considered as critical to international handling services and customer experience. In which ways are you rethinking the traditional approaches to FBO services and how will new and existing customers benefit?
ExecuJet's culture and attitude toward quality, safety, continuous improvement and customer service is universal, and we train every single day on these elements – like most good things, they require a little ingenuity and a lot of dedication. I remember, when I was growing up there was an advert for a certain brand of chicken available on the supermarket shelves – it went something like "…they taste so good because they eat so good." It's the same methodology in driving quality, safety and continuous improvement – these are all touch points delivered by our staff. If they are motivated and committed, staff are given the opportunity to constantly communicate the subjects of quality, safety and improvement; they receive regular training to a common Group standard, then in turn they deliver the improvements in accordance to customer feedback and requirements. They will even anticipate our customers' requirements.
CEO Insight: How are you thinking about ensuring the highest customer service standards across the global FBO network?
Ettore Poggi: Every single person in our Group spends time daily on the values that drive the promise we make to ourselves and our customers. When I say daily, I mean every single day. We have one brief session where we spend ten minutes talking about one of the elements of our customer and employee commitment; matters that drive and enhance our customer service, communication, trust and safety. This helps instil and build on these pillars of our culture. Every member of our team, our own staff and that of our suppliers, fully understands the personal contribution they make to our customers' overall experience. Through this, we ensure that every customer eventually becomes an ambassador for Luxaviation and ExecuJet.
CEO Insight: Are there any key partners or brands that are enabling the global FBO business to achieve goals?
Every one of our suppliers is a key partner to our global network. From international fuel suppliers, routing agents and operators, to local authorities, caterers and cleaning service providers, they all play a key role in delivering the final service. One incorrectly delivered meal or an unexpected delay of fuel delivery, or even a less than spotless lounge, is considered a service failure and a setback in achieving our goal. Naturally, there are big brand names, but lesser known brands are equally as important and work together to support ExecuJet.
---
An interview with Luxaviation Group's Charlotte Pedersen – Chief Operating Officer
CEO Insight: Can you tell us about Luxaviation Group, associated services and your role as COO?
Charlotte Pedersen: The Luxaviation Group is a global business aviation organisation operating more than 250 aircraft and helicopters via our 14 AOCs and 14 MROs. We also operate 24 FBOs at key locations worldwide. We have more than 1,600 employees, all with a wealth of aviation experience and knowledge. Luxaviation was the first company to effectively consolidate the business aviation industry, working with the most experienced companies in the market. Together, the Group is able to deliver a professional team who turn every flight into a great experience for our clients.
I have been working with the Luxaviation Group almost from the very beginning. Our CEO, Patrick Hansen, took over a small AOC called Luxaviation in Luxembourg in 2008, made up of one Cessna C56X, five people in the office and two sets of crew. Patrick's decision to expand via consolidation came at the right time; it was a wise decision in the aftermath of the global financial crisis. From Patrick's knowledge of creating successful companies and the financial support of our loyal shareholders, the Luxaviation Group was created. Since then, we have grown to become the second largest corporate aircraft operator in the world.
My daily role in the beginning consisted of everything from working locally in the AOC, negotiating contracts with our suppliers, preparing business plans and calculating return on investments. I also took time to visit potential new companies and put together the operational part of the due diligence reports for our shareholders. Since this time, our Group has grown and we have expanded our senior management team by bringing more expertise on board. Today, as Chief Operating Officer, I work closely with our CEO in leading the development and execution of Luxaviation's long-term strategy.
It is a management role, which holds me responsible for the day-to-day management of the Group, as well as for implementing the company's long and short-term plans. As part of the senior management team, I also function as a direct liaison between the CEO and the individual management of the companies in the Group. In my daily work, I am also responsible for our group procurement department which manages all supplier contracts and negotiations across the world.
CEO Insight: Tell us about Luxaviation's growth and market opportunities for the future and how business lines, partnerships and collaboration fit into this?
Charlotte Pedersen: It is always easier to expand once you reach a certain size. The first steps are definitely the most difficult; they require clear sight, a strategic mind-set and hard work. Once the market knows your name and can see how you differentiate yourself from your competitors, potential partners and business opportunities present themselves. Our competitors in one area, might be our clients or suppliers in another area. You need to be very professional in this market and treat everyone with the greatest respect, honesty and commitment; whether it's for our clients, suppliers, employees or competitors – this for me is the most important part of our global business.
---
"Our clients and customers are at the heart of everything we do, but in order to provide the best service, you must run a healthy company."
---
As a pioneer in the Danish Military, a qualified pilot and an executive; do you see any advantages that your previous experience and management approach, bring to bare in your current role at Luxaviation Group?
I am very grateful for the training and experience I have received from my former military career. There's a lot of responsibility, however you are well trained and prepared to carry out the tasks you are being asked to solve. You learn to work under pressure, with limited guidelines, but you are always supported by a fantastic team. I also learned to think strategically, to plan carefully, choose wisely and to not be afraid of making a decision. A career within the Civil Aviation Authorities, working as Flight Operations Inspector for fixed wing and helicopter operators, has brought an in-depth knowledge about aviation companies, aviation regulations and safety management to my background, which, together with an MBA in Finance and Strategic Management, has provided great support for my daily work.
CEO Insight: Can you outline some of the ways that you are driving operational efficiency gains? Do any of these have direct customer impact?
Charlotte Pedersen: All our operational efficiency gains are of value to our clients. Our clients and customers are at the heart of everything we do, but in order to provide the best service, you must run a healthy company. We all know that the aviation legislation today requires a very strict management structure, which for a small company has a high cost. Safety and training are of paramount importance to Luxaviation; they have significant costs attached but are fundamentally intrinsic to the success of any business aviation company.
All aviation companies worldwide have more or less the same structure and need the same amount of back-office work performed. We have this work centralised from our shared service offices, who, via their highly trained employees and strict procedures, deliver the constant high quality support to all our companies. We do, however, still keep our local companies in place in every country for the benefit of our clients, who then continue to communicate with their local contact in order to benefit from language, culture and habits. Our 14 AOCs are part of how we understand and deliver client service.
Furthermore, there is a clear benefit for our clients deriving from our size. First of all, with more than 250 aircraft located around the world, we always have backup aircraft available for our clients. Secondly, due to our size, we are able to negotiate much better prices for supplies, such as fuel, insurance, handling and maintenance. We also pride ourselves on choosing the best quality services for our clients. Luxaviation do also operate helicopters- is this a new business? VIP helicopter management is different to aircraft management because helicopters operate under different regulations.
The pilots often require specific, mission-related training; for example, ship landings are not something you can buy "off the shelf" – you need to know and understand the specifics and ensure that your crews are trained sufficiently for all situations. Helicopters do not always land at paved runways, therefore, the pilots need training in unforeseen circumstances. Since helicopter operations require different knowledge and experience, it is very important for a helicopter owner to choose the right operator for the management of their helicopter. For me personally, it is fantastic to also operate helicopters and have them under management, as I have worked in this area for more than 25 years.
More information www.luxaviation.com
---