Register for the 2017 NBAA Business Aviation Convention & Exhibition (NBAA-BACE)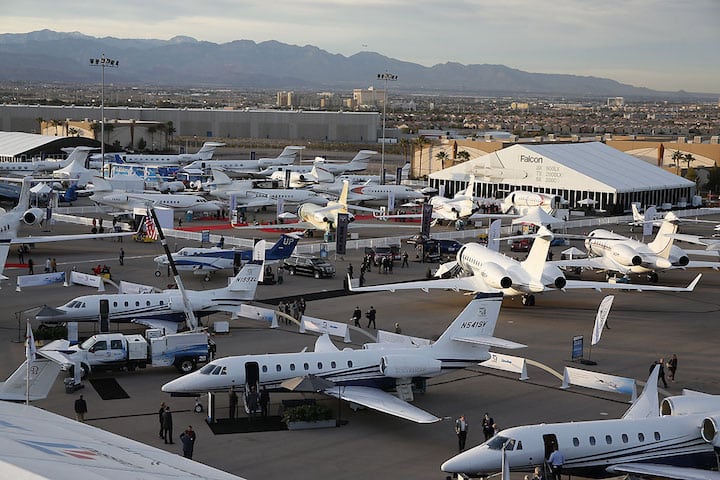 Join NBAA and the global business aviation community for NBAA-BACE in Las Vegas from Oct. 10 to 12. You won't want to miss out on the world's largest and most important business aviation event of the year. As an attendee you will have access to:
✓ Over 1,100 exhibitors showcasing the latest products and services
✓ 2 static displays of aircraft – one inside the exhibit hall and the other outside at Henderson Executive Airport
✓ Networking with 27,000 attendees
✓ A full line-up of education sessions – with a new interactive format to get your questions answered by industry experts
✓ More than 1 million square feet of exhibit space
NBAA-BACE brings together key aviation contacts from around the world, including current and prospective business aircraft owners, manufactures and customers into one meeting place to get critical work accomplished. Whether you've been using an aircraft for years or are considering using one for business, there's no other aviation event that matches this convention. Make plans to attend and register today!
LEARN MORE & REGISTER
Take advantage of discounted hotel rates by booking through NBAA's official housing partner, onPeak (formerly Travel Planners). Visit the NBAA-BACE website to reserve your room today.
REGISTER SOCIALLY! NBAA now offers the ability to register socially through Facebook, Twitter or LinkedIn. We encourage you to select this option during registration to help spread the word to your friends and colleagues inviting them to join you in Las Vegas.
NBAA-BACE: Make Plans for Your Company to be Part of the World's Largest Business Aviation Event
Don't miss your chance to exhibit at the sixth largest trade show in the U.S., and the largest and most important business aviation event in the world. The NBAA Business Aviation Convention & Exhibition (NBAA-BACE) reflects the strength of our industry – because everyone who's anyone in business aviation will be in one place at one time in Las Vegas. There's no other aviation event that can match it! The key operators and industry leaders will meet at NBAA-BACE to conduct business, make buying decisions and set the stage for business aviation activity in the year ahead. Attendees of NBAA-BACE are decision makers, buyers, influential personnel from companies at the heart of business aviation and future prospects who are considering the use of an airplane for business. They will be spending time on the exhibit floor, meeting and interacting with exhibitors, and playing a central role in the purchase decisions for their companies.
Who Exhibits at NBAA-BACE?
More than 1,100 exhibitors – companies of all sizes, from across the world – exhibit at NBAA-BACE each year.
57% have exhibited for more than 10 years
22% are first-time exhibitors
If you are a vendor or supplier in the business aviation industry, and are trying to reach this marketplace with your product or service offering – this is the single best way to access this network and get critical work done for the year ahead.
Static Display
With nearly 100 aircraft across two static displays – one inside the exhibit hall at the Las Vegas Convention Center, and the other outside at nearby Henderson Executive Airport – there's nowhere else in the world where you can find a greater lineup of business aviation aircraft side by side.
NBAA-BACE – The World of Business Aviation All in One Place
The indoor and static display exhibits at NBAA-BACE will showcase the world's finest business aircraft, services and products to more than 27,000 attendees. What those attendees see at NBAA-BACE plays a prime part in the purchasing decisions for business aircraft operators throughout the following year. Surveys show that 87% of all convention attendees have the final say or high influence in purchasing their companies' aviation equipment and services. Those operators spend a great deal of time interfacing with exhibitors and their peers to gather information on all that's new, to improve their flying and help their business grow. And the face-time with new and existing customers is unmatched. This is an industry built on personal face-to-face relationships. The format of the show enables your organisation to maximise your time and add efficiency to your business by meeting with all of your key customers at one time, in one place.
Reach All Attendees – Maximise Your Company's Participation
Exhibiting your company's aircraft or aviation products and services at NBAA-BACE is the most effective and impactful addition to your annual marketing program – it's the best way to ensure that buyers from around the world will recognise your brand and engage with your company on an ongoing basis. At the Las Vegas Convention Center, exhibitors can customise their exhibit needs with a variety of size and location options. On average, attendees spend over 15 hours at the show – it is where they make buying decisions for the coming year! For aircraft manufacturers and sales agents, the show's two static displays – located at Henderson Executive Airport and indoor at the Las Vegas Convention Center – offer unique venues for presenting aircraft of all sizes.
More info https://www.nbaa.org/events/bace/2017/hotel-travel/