Digital Banking Revolution and ICS Financial Systems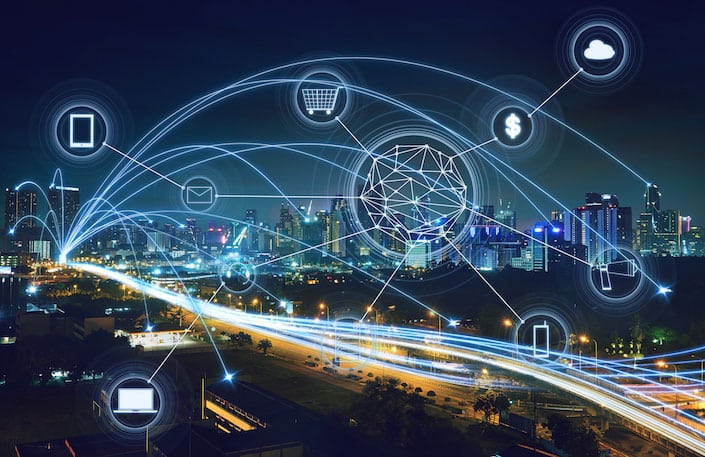 The technology revolution has rapidly spread over the past few years, and many businesses are no longer just plain structures offering products or services but rather multifunctional structures with complex systems that integrate with the globalised world. Technological adaptability is now essential for businesses to grow and develop in any market, and financial institutions are no exception. Nowadays, banks face several challenges regarding their digital platforms and giving clients access to new technology solutions that meet the needs of the interconnected world.
Digital banking, understood as the digitalisation of traditional banking activities through the application of technologies that ensure end-to-end processing of financial transactions, has been challenging banks and financial institutions for over two decades. Some of the main challenges today are rapid technology changes, financial reach and inclusion, the unification of all digital systems, the automation of processes and the establishment of efficient means to comply with national and international regulations. Consequently, banking technology providers are now at the core of the market structure, helping banks and their clients cope and get on board the digital banking revolution while taking advantage of the many opportunities that come with it.
---
"THE BENEFITS TO FINANCIAL INSTITUTIONS OF IMPLEMENTING DIGITAL SOLUTIONS ARE SIGNIFICANT AND GENERATE NEW OPPORTUNITIES TO ENHANCE MARKET ADVANTAGE OVER COMPETITORS."
---
ICSFS provides modular, core-banking systems to help financial institutions and banks develop their potential through the implementation of business and technology solutions. Located in United Kingdom with its branches and subsidiaries across the world, it has two turnkey offerings, ICS BANKS and ICS BANKS ISLAMIC, that allow it to serve customers around the world. With a wide understanding of the global banking industry, ICSFS offers flexible, efficient and simple channels to improve the adaptation process of companies to the constant changes in regulation requirements and digital systems. Therefore, it responds on different fronts to the ongoing needs of its clients while offering cost-effective ways to boost the efficiency of their services and their profits.
The move to online banking services and the implementation of Fintech Banking is facilitating the access to financial services through multiple touch points including mobile or online platforms. For this purpose, the operation of middleware or software bridges that connect databases and applications is fundamental for providing secure systems. While linked with risk management, product development, customer service and sales and marketing, Fintech Banking systems push for constant innovation and emerging digital solutions, and it is here where companies like ICSFS are dealing with the global changes posed by new technologies.
Currently, the implementation of mission-critical applications and cloud-based platforms to improve financial systems is fundamental for delivering fast, secure and efficient services in real time and offering better customer service with a direct connection to clients. Furthermore, the use of digital platforms works as an engaging mechanism for companies, clients and potential clients, where social networks become an important sales, marketing and communication tool. Furthermore, digital platforms allow for the globalisation of the operations of financial institutions regardless of their geographical location via software and automation systems.
With the creation of the newest version of the ICS BANKS Universal Banking system, ICSFS is offering clients the integration of financial systems through the Open System architecture and in compliance with international Quality Assurance Standards ISO. This new version supports five different processes: business process management, document management, SOA architectures, omni channels and digital banking. Moreover, with the creation of a single digital banking multichannel platform, the aim is to provide safe and efficient interaction mechanisms between the bank and its clients via digital personal banking services such as internet and mobile banking, ATMs, kiosks, bank agents and open ICS BANKS Service Bus that insures seamless integration with any remote service channel.
ICSFS focuses on enriching the bank customer experience to provide customers with the Omni experience throughout all digital channels and touch points, such implementations improve the confidentiality between the customer and the bank. As artificial intelligence (AI) and machine learning are woven into banking's fold ICSFS adopted chatbots which will give customers advice on how to optimise their finances and to provide the ability to make all types of transactions integrated with ICSFS digital banking platform.
Digitisation of corporate banking processes is also a very important model in ICSFS digital banking platform Cash Management Solution which will enable corporates to to access accounts, initiate payment instructions and any other vital banking functions in a secure way anytime, anywhere. Digitisation of such processes will offer corporate users the flexibility to benefit from digital technologies to save cost and time for initiating and signing any type of transactions through any touch point.
Among the services that this leading company offers clients are the application of biometrics and multi-factor authentication for customers and users, business process management encrypted on the banking system, document management and analytics, mobility solutions and Fintech Banking application enhancement advising. To do so, ICSFS emphasises three main areas: applying the latest technology and making it available to clients; making clients' firms best-run businesses and maximising their performance by increasing mobility, cost-efficiency, efficacy and flexibility and by filling the gap between strategy and execution; and finally, innovation for adapting to technology advances and custom-made, tailored solutions for specific clients and countries.
Additionally, the focus on client management relations and the engagement with customers has been fundamental in the process of understanding the evolution of the market. Offering constant improvement, upgrading and advising, along with clear means for feedback has facilitated the construction of strong relationships with customers and, thus, the anticipation of their needs. Indeed, commitment and trust are built into ICSFS's success, with customers taking advantage of being at the forefront of the industry. The benefits to financial institutions of implementing digital solutions are significant and generate new opportunities to enhance market advantage over competitors. To start with, it is possible to lower operating costs by reducing back-office processing operations, with fewer staff required as well as branch footprints, and by the concentration of advisors and specialists in a single mobile platform. Some of the benefits to bank customers include a noticeable improvement in service provision, 24-hour availability, smart banking and access to a full range of services, lower charges and more security and transparency in transactions.
Taking a step forward is fundamental for those who want to be part of the digital banking revolution, and taking services off the shelf (OTS) is the only logical step to evolve in the new market. Opportunities in emerging markets are opening up, and being cloud-ready can lead to the global automation of communications and transaction and delivery channels. Therefore, choosing the right developer to guide this transformation is a top priority for those looking to succeed in the process. ICSFS is setting the pace for what the new era of banking should be. Professionalism, experience and market understanding make this company a key player in the regional banking software solution market, and it is set to keep revolutionising the way banking is done because the changes are just beginning.
 For more information:
ICS FINANCIAL SYSTEMS LTD
UK The Courtyard,
14a Sydenham Road
Croydon
Surrey, CR0 2EE
Tel:+44 (0) 20 8 681 5421
Fax: +44 (0) 20 8 688 1673
Jordan P.O.Box 950499 Amman,
Jordan 11195
Tel +962 6 534 4088
Fax +962 6 533 2651