Chile – Latin America's Business Hot Spot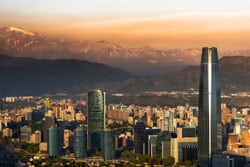 Chile is Latin America's most competitive economy and is attracting ever increasing foreign investment
Chile possesses the best economy in Latin America and one of the best among emerging economies worldwide. Its sustained economic growth and social progress have been highlighted by several international organisations and, in 2010, it became the first South American country to join the Organisation for Economic Co-operation and Development (OECD).
Chile's stability, transparency, competitiveness and excellent business prospects position it not only as the best destination for foreign direct investment (FDI) in Latin America and but also as one of the world's leading destinations.
FDI plays a vital role in Chile's economic growth and development. In recent years, it has shown a sustained increase, setting new annual records in consecutive years. This inflow helps to enhance Chile's competitiveness, contributing not only resources but also greater technological development, direct and indirect jobs, specialised know-how and inputs conducive to innovation and entrepreneurship.
"According to investment bank UBS, Santiago is one of the world's 15 least expensive cities in which foreign companies can install themselves."
Chile has achieved international recognition for its success in attracting FDI. In its World Investment Report 2013, the United Nations Conference on Trade and Development (UNCTAD) identified Chile as the world's 11th largest FDI recipient in 2012 and the second in Latin America after Brazil. According to UNCTAD, the inflow into Chile reached US$30,323 million in 2012, up by 32.2% on 2011, ahead of an average of 6.7% for Latin America and the Caribbean in the context of a 13% contraction of global FDI flows.
According to the Central Bank of Chile, of the approximately US$100 million in FDI that Chile received between 2009 and 2013, the mining sector accounted 44.9% of the total, followed by the services sector with 17.6%, the electricity, gas and water industries with 10.2%, manufacturing with 4.7%, transport and communications with 3.4% and agriculture and fishing with 0.2%.
Chile has a consolidated position as Latin America's most competitive economy. This is mainly due to its sustained economic growth and openness to trade that have set it apart internationally as a free and dynamic market. In the 2013 World Competitiveness Yearbook published by the Institute for Management Development, Chile took 30th place out of 60 economies, maintaining its leadership within Latin America, due to the strength of foreign investment, public finances and the labour market.
According to Marco Comparini, a director at Santiago-based Banco Penta, the competitiveness of the local market has been helped by having a developed financial system. Banking penetration in Chile is about 80%, which is quite high compared to neighbours such as Peru and Colombia, where penetration is just over 20%. Chile offers the whole range of banking services. Banco Penta itself was founded in 2004 to focus exclusively on high net-worth individuals, corporate clients and financial institutions, offering brokerage, asset management, corporate finance, season trading and financing.
Foreign investors frequently highlight human capital as one of Chile's main comparative advantages, drawing attention to the high standards achieved by the country's universities and, particularly, its business schools. In terms of MBA programs, Chile has ten business schools with leading positions in the 2012 MBA Ranking of Latin American Business Schools published by the AméricaEconomía business magazine. Moreover, three are among the top ten in the region – the Universidad Adolfo Ibáñez (1st), the Universidad Católica de Chile (7th) and the Universidad de Chile (10th).
According to investment bank UBS, Santiago is one of the world's 15 least expensive cities in which foreign companies can install themselves. In its 2012 Price and Earnings Report, the Chilean capital obtained 52.8 points, taking 60th position out of 72 cities in the ranking, with first place indicating the most expensive city (Oslo) and New York acting as the basis of comparison (100 points). The report considers the cost of a basket of 122 goods and services according to European consumption habits and includes three rent categories.
In addition, the Santiago region came second in fDi's magazine's South American States of the Future 2014/15 ranking. A few years ago, in its first ever issue of city rankings, fDi magazine ranked Santiago as Latin America's best-equipped city for future investment. Santiago was chosen for having attracted many FDI projects, with almost a fifth of them involving a capital investment of over US$100 million. The ranking incorporated six categories: economic potential, human resources, cost effectiveness, quality of life, infrastructure, and a city's openness to conducting business.
Alejandro Bottan, President for Chile, General Electric, says that Chile has demonstrated its ability to achieve political and economic stability and create high-quality transparently managed institutions, and has public and private leaders who are both prepared and eager to participate and compete in the global economy. From that point of view, GE is very satisfied with its investments in the country, he says. GE has experience in investing in many, very different economies. In the case of Chile, its sales have grown at an average annual rate of 40% to US$300 million.