Iceland -New opportunities for investors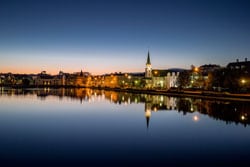 Iceland is an advanced economy, located strategically between Europe and North America, part of the common European Market, enjoying a free trade agreement with Canada and most favoured nation status in the US market. Bearing this in mind the new extensive free trade agreement with China offers investors multiple opportunities.  Both Chinese investors, looking for opportunities to sell their products and services to Europe, and investors from the US, Canada and Europe, interested in the fast growing Chinese market, have been exploring the possibility of establishing production or value added operations in Iceland.
Thordur H. Hilmarsson, managing director of Invest in Iceland, says that there has already been some interest from US and European companies, especially in areas where tariffs have been steepest. He expects the interest will grow as the FTA opportunities are added value to Iceland's already established value proposition for foreign investors, consisting of long terms contracts for competitively priced renewable energy, strategic location between North America and Europe, European business legislation and tariff free access to the European inner market as part of European Economic Area, advanced infrastructure, abundance of land and skilled labour force.
Which account for 81.56 percent of China's total imports from Iceland, including its aquatic products. Examples of products that currently carry a tariff of 10 to 20% when imported from the EU/US to China, but 0% from Iceland, are Carbon Fibers, Fabric from Carbon Fibers, silicon metal, Poultry, Atlantic Salmon, Sole, Tilapia, Vegetables and Algae. Iceland´s potential for fish farming and growing algae, using geothermal heat and electricity in fully controlled environment, has attracted foreign projects which now enjoy possible new market reach 
Why invest in Iceland
Iceland is world-renowned for its economic advancement, social stability, and technological innovation and is continually ranked as one of the preeminent societies on earth. Iceland has high quality of life, it is a modern, growing economy, politically stable and internationally competitive. The nation is young, educated, multilingual and enjoys high living standards with a thriving cultural scene. The labour market is highly flexible with people willing to adopt new technologies. Iceland´s nature is spectacular and the source of both inspiration and green competitively priced energy.
10 Reasons to Invest in Iceland
Compact society – Efficient business environment

One of the lowest corporate income tax in Europe

Tariff-free access for most products to the single market of the European Union

A strategic location midway between Europe and North America

Educated labour force and open for innovation.

Flexible labour market

Competitively priced green energy

20% reimbursement of film and TV production costs incurred in Iceland

European and Scandinavian regulatory framework and quality standards

High rankings in business flexibility and entrepreneurship
Energy and Infrastructure
The Icelandic infrastructure for telecommunications networks and services is highly advanced, and unique for such a small nation. All population centres in the Iceland have access to high-speed fibre-optic cable services and an unusually high percentage of Icelanders use the internet regularly. Over 90% of Iceland's population has access to the Internet, either at home or work, if not both.
Iceland is linked with Europe and North America via a number of fibre-optic submarine systems, one of which is the fastest trans-Atlantic service. The fibre-optic submarine systems are Farice, Danice, Greenland Connect and Cantat-3. Telecommunications are deregulated and telephone charges in Iceland, both at residential and business rates, are the lowest within the OECD. Extensive cellular mobile phone systems are also operated. 
Energy 
Iceland has rich resources of hydroelectric and geothermal energy which are responsibly and renewably harnessed to provide electrical power, space heating, hot water and steam for industrial, commercial and domestic use. Natural conditions in Iceland favour the use of hydroelectric installations for the generation of electricity. The potential power available from this source is estimated to be more than 30,000 GWh/yr. In 2010, the installed capacity in 28 power plants was 1,500 MW. The largest single hydropower plant has a capacity of 690MW.
Geothermal energy is used for domestic and industrial purposes. Over 85% of the population enjoy central heating using geothermal energy at a price that is less than half the cost of oil or electric heating. Geothermal steam is used directly for a number of industrial processing applications. It is also being used for electricity generation on a small but growing scale. Geothermal electric power units produce 422 MW, and a further expansion of 60MW will lift this total to 482 MW. A modern, efficient national grid provides electricity to domestic and industrial users. Aluminium smelters and other large industrial installations may have dedicated supplies.
Road system
A 1,400 km Ring Road with well-maintained roads connects all major population centres and industrial sites around Iceland. Extensive land transport services link towns and harbours. These are complimented by year-round public coach services. 
Air connections
Keflavík Airport near Reykjavik is Iceland's principal international airport, with daily flights going all over the world.

Icelandair offers passenger and cargo services to and from more than twenty gateways year-round on either side of the Atlantic.

WOW air offers as well year-round flights to Europe, and several other international carriers operate for at least part of the year.

Flight duration is 2.5-5 hours to Europe and 5-6 hours to the United States (East Coast) and Canada.  

Freight ports

Icelandic freight ports are extremely busy with both imports and exports, being taken to and from all over Europe and USA.

Shipping takes 3–4 days to Europe and 7–8 days to North America. Harbours are ice-free all year round.
Contact