Mining the future of Greenland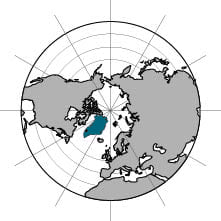 Situated in the Arctic, between northern Canada and Europe, Greenland is one of the last frontiers of mineral and petroleum exploration. That is not to say that there is no history of mining in Greenland – far from it.
Greenland has a long mining history dating back to the 1800s, including the cryolite mine in South Greenland, which provided crucial product for extracting aluminium. In the 1900s a lead mine in East Greenland and the Maamorilik lead-zinc mine in West Greenland were active, where the latter remains an active exploitation license today. And in the 2000s gold and olivine were mined. So in looking to a mining future, Greenland builds on its past.
  "The Greenlandic community at large also has a real interest in mineral potential in Greenland."
In recent years in particular, minerals and petroleum have been centre stage in the Greenlandic mindset. With the last mining boom the number of exploration licenses in Greenland rose over the years to a high point in 2012. Considerable petroleum exploration was carried out in the Davis Strait, culminating in the drilling programs of Cairn Energy in 2010 and 2011. In line with this the eyes of the Greenlandic community were drawn to the possibilities that minerals and petroleum could bring to this vast land, so tiny in populace. Indeed a successful oil field in particular could make a dramatic difference to the economy of Greenland. Even a mid-sized mining operation could be very significant. Greenland has also taken steps to greater autonomy in the minerals and petroleum sector with the introduction of the Mineral Resources Act in 2009, which saw all rights to the mineral and petroleum resources of Greenland transferred from Denmark to the Government of Greenland.
In 2014 the Government also took back the responsibility for management of Greenland geoscience data and provides this data through new online geoscience portals – www.greenmin.gl (minerals) and www.greenpetrodata.gl (petroleum) – with the aim of making data easily available either free or at a nominal price. Through the Department of Geology in the Ministry of Mineral Resources, the Government strives towards providing new geoscience data to stimulate interest and investment in exploration in what is indisputably a highly prospective region for a whole range of commodities including base metals, titanium-vanadium, gold, rare earth elements, graphite, gemstones, and uranium to name a few.
The Greenlandic community at large also has a real interest in mineral potential in Greenland. In 2009 the Government of Greenland introduced a new small scale miners' license and uptake of these licenses has risen year on year. In particular these are focused on small scale production of gemstones, most notably rubies. This has been partly driven by the exploration and success of True North Gems in developing their Aappuluttoq ruby and pink sapphire deposit in West Greenland, which will go into production this year. And perhaps it has been fueled to some extent by the Ice Cold Gold TV program.
While unrepresentative of real exploration projects, and often of reality in general (being designed for maximum ratings), this did have the effect of drawing out the passion that Greenlandic people have for minerals. This is a passion that the Government of Greenland hopes will grow into a successful small scale industry to benefit many local Greenlandic people, and intends to contribute to the growth of this industry through provision of information, training workshops, and data in the form of a publically available gemstone occurrence database and publications.
And people are looking for change. There is a great desire for more opportunities, more jobs, and better education.  This will come if those with a vested interest keep their eyes on how to build industry and streamline the process toward building mines. Already there is growing expertise in Greenland in the sector, and a desire to build expertise and bring it back home. Initiatives include the Tech College Greenland (Mining School) in Sisimiut where students can gain valuable practical training and qualifications, and there are plans for a national geological survey based in Nuuk – GeoSurvey Greenland. With these local centres the potential for drawing qualified local people back to work in Greenland grows.
And there are major projects on the horizon to draw those people. First off the ranks after the True North Gems ruby-sapphire mine is likely to be the Hudson Resources anorthosite project in West Greenland, close to the international airport at Kangerlussuaq. Hudson applied for an exploitation license in March and public consultation and the impact benefit agreement have been completed. Only final approval from the Government is required to proceed and production may begin in 2015. Following that are several other large projects in various stages of negotiation of exploitation licenses. They include two major rare earth element deposits in South Greenland – the Kvanefjeld/Kuannersuit rare earth element-uranium deposit (Greenland Minerals and Energy) and the Kringlerne/Killavaat Alannguat zirconium-niobium-tantalum-rare earth element (Tanbreez). Ironbark is also expected to soon submit an application for exploitation of the > 100 million tons Citronen Fjord zinc-lead deposit in northeast Greenland.
And other projects sit in the wings –the massive iron ore deposit at Isukasia (London Mining Greenland), lead-zinc at Maamorilik (FBC Mining Group), promising gold exploration in South Greenland, and the North American Nickel nickel-copper-cobalt exploration project in the Maniitsoq area of West Greenland, which moves from strength to strength. Greenland is a country looking to the future. And even in these challenging market times it is difficult to ignore the possibilities for mining the future of Greenland.
For further information please address the website:
www.greenmin.gl or for information about the geology and mineral deposits of Greenland contact geology@nanoq.gl or on the licensing and approvals process contact: mlsa@nanoq.gl