A Pricey Phone Call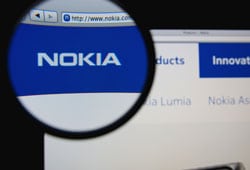 With a €5.4bn phone call, Nokia has hung up on the mobile phone industry, and over 32,000 employees will be relocating to Microsoft. As part of the deal, Microsoft is purchasing Nokia's Devices & Services unit (the part that makes your lovely Lumia-running Windows Phone), licensing Nokia's patents and using its mapping services. Nokia is entrenched in the Finnish psyche, and the recent acquisition of the mobile giant has left the nation mourning the loss of a business that has played such a pivotal role in the country's global image and economy. 
Not long ago, Nokia employed 1% of the Finnish workforce, and in 2000 it formed 21% of exports and paid €1.1bn in corporate tax revenue. It was a leader in the mobile phone market for 14 years until it was topped by Samsung in 2012 as the top-selling brand.
Nokia did exceptionally well in the dotcom boom, becoming the world's largest mobile phone maker, but in the last ten years, other handset makers – particularly Apple – have caught up, overtaken,  and are currently winning the race. 
Nowadays, every second person seems to be swiping on their iPhone or clutching some Android-based device from Samsung Electronics, and Nokia has failed to create a rivalling product. Opting out of the mobile phone industry is likely to be a good call for the company. The latest statistics from Gartner highlight that recently Nokia has been less smart-phone, and more sluggish-phone. Having dropped two places to 10th place in the smartphone market at the start of 2013, perhaps Nokia has made a wise decision to disconnect from the mobile phone business. 
However, even though it is no longer a mobile enterprise, Nokia still exists and will retain and focus on three main divisions. The business units that will stay at Nokia are its network business: Nokia's Solutions and Networks (NSN), HERE location technologies and services, and a brand-new unit called Advanced Technologies. The new Nokia is a smaller, but almost certainly, a more durable and lucrative organisation. The company will now be able to concentrate on profitable areas without the interruption of a failing handset unit. 
NSN, which is specialised in high-speed mobile broadband, was set up in 2007 and is a hugely profitable division. It has up to now accounted for about 45% of the Finnish company's sales and has made up 90% of Nokia's takings in 2012 if you discount the mobile phone division, according to the Wall Street Journal. Earlier this summer, the company purchased back the 50% stake Siemens AG had in NSN, so Nokia can enjoy all of the revenue going forward. NSN posted a net profit of €8 million in the second quarter of this year, while Nokia displayed a net loss in excess of €200 million in the same period.
With its latest mapping technology, HERE, Nokia has given users of the Nokia Lumia 920 a thorough mapping solution and has begun work on developing maps for self-driving vehicles in Germany. A serious rival to Google's mapping and navigation efforts, HERE will use Microsoft patents as part of the cross-licencing agreement. 
Nokia's 16,000 item-strong patent portfolio is big business, and it will be licensed to Microsoft on a 10-year basis. Nokia could decide to sell its portfolio as a whole if the company thought it could stipulate a high price tag similar to that which Google paid for Motorola Mobility in 2011. For now though, Nokia remains a networking, patent and mapping mastermind. 
Nokia may seem like a less exciting company without devices, but no corporation does change like this one.  Moving away from mobile phones is just another transformation for this metamorphosing firm, and reinvention appears to be the answer to its success. For now, it is up to Stora Enso or Rovio Mobile to fly the Finnish business flag but not for long. From a paper mill to producing rubber boots to generating electricity, there is no fear in Nokia's ability to adapt to change.
This innovative company has brought us the most recognisable ringtone of all time, and you certainly have not heard the last of Nokia's flourishing tune.