Gaza conflict brings GDP forecast cut in Israel as inflation falls to zero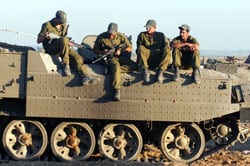 Israel has reduced its growth forecast to 2.4% for 2014, Bloomberg has reported, as the country's inflation rate collapsed to zero in August. Israel's economy has been hit hard by fighting in the Gaza strip, as domestic consumption slowed and the number of tourist visitors dropped dramatically. Bloomberg quoted an Israeli government official as saying that the economy will expand 2.4% in 2014 rather than the 2.9% forecast in July. Output is set to grow by 2.8% in 2015, down from an earlier forecast of 3%. Meanwhile, Israel's inflation rate fell to zero in August according to official data, below the government's official inflation target range, which is between 1% and 3%. 
Along with the slowdown in growth, the inflation slump indicates that Israel's economy has been damaged by the Gaza campaign. Israel launched Operation Protective Edge in the occupied Palestinian territory on July 8. The military operation lasted for 50 days and caused more than 2,000 deaths, the majority of whom were Palestinian civilians. 
Tourism in the country was badly hit by the fighting in Gaza, as the US and several European airlines temporarily suspended flights when a Palestinian rocket landed near the Ben Gurion international airport. According to figures from the Israeli Central Bureau of Statistics, foreign visitor entries were down by 32% in August, compared with the same month in 2013. July figures showed a 26% decline compared with the corresponding month a year before.
Alex Zabezhinsky, chief economist at Tel Aviv-based Meitav Dash Investment House Ltd, says that it is too early to say that Israel is developing deflation and that part of the price declines are due to a drop in global raw material prices, the strength of the shekel and more competition. The Bank of Israel, which said in July that similar military conflicts as Operation Protective Edge have cut growth by about a half a percentage point, reduced the benchmark interest rate to a record 0.25% at the end of August, the second consecutive surprise cut.