TECH VENTURES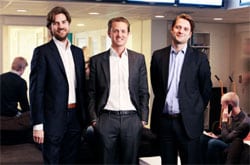 The blend of highly motivated entrepreneurs and experienced venture capital fund managers with the right skills to commercialise innovation on a world-wide scale are now making European venture capital a convincing investment story. Europe has become the home to a huge range of digital media, mobile, software and hardware start-ups. The lower cost of building online businesses – as much as a third of the cost in 2000 – together with the rapid adoption of new technologies means that companies can go from a standing start to achieving great success within just a few years.

Pictured Klarna co-founders Victor Jacobsson, Niklas Adalberth, Sebastian Siematkowski (L-R)
Born in the 1990s, Europe's venture capital industry is younger than its US counterpart, but it has caught up rapidly in terms of experience and skill levels. In the early days, there was far more operational experience in the US than in Europe, but this has changed over the last few years. European VCs now have an abundance of people with operational experience, but they also have successful entrepreneurs joining existing teams or establishing their own funds. This has immensely increased the quality of teams in Europe, which now have the combination of skills evident in the best US firms.
Many of California's venture capital funds are now seeking to expand their portfolios across the Atlantic, even if they do not have a formal office in Europe
Recently, Google announced that it is creating a European arm to its venture capital vehicle with the aim of tapping into the ideas and money being generated by the continent's fledgling start-ups. Google Ventures, which previously focused its investments on Silicon Valley, will launch a $100m fund dedicated to young European businesses. The initiative adds further to the capital that is flooding into the European tech scene. In June, Index Ventures launched a €400m fund targeting early-stage technology companies in Europe. In 2013, the London offices of Silicon Valley group Accel Partners debuted a similar fund worth $475m. Google Ventures says that its initial investment of $100m could increase over time depending on its success.
 Many of California's venture capital funds are now seeking to expand their portfolios across the Atlantic, even if they do not have a formal office in Europe.Sequoia Capital, for example, which has invested in Google, Yahoo and PayPal, has made a number of European investments in the past two years. They include British concert listings start up Songkick, Swedish payments company Klarna, and Edinburgh-based travel search engine Skyscanner.
 Google's venture capital initiative originates in the belief that the region will become home to some of the world's biggest technology companies. And this will give further momentum to the technology hubs that have emerged in places such as London, Berlin and Stockholm. Venture capitalists invested $7.4 billion into European start-ups last year, an increase of 19%, according to a recent report from Ernst & Young. The vast majority of the investments are in consumer internet services and information technology, according to the report.
If Google's investment is replicated in Europe, the main benefits may fall to early stage high-tech start-ups, for which funding is frequently most difficult. This is significant as the availability of risk capital – or the absence of it – alters the behaviour of young high-tech firms and thereby affects their growth prospects. Generally, increased access to capital means greater freedom to take risks and innovate. Investments such as those from Google Ventures have an impact that goes go beyond the funding. Access to Google's technology networks and contacts could help firms to effectively develop and commercialise their technologies. In addition, the link to Google can act as a source of validation for a new business. This can help both with accessing other funding and finding development partners. 
One of the major factors driving the attractiveness of the European tech industry is the creation and development of various hubs that have transformed the prospects for many of the continent's start-ups. These hubs are attracting the brightest talent from around Europe and beyond as entrepreneurs, funders, universities and technology giants find the opportunity to collaborate, share ideas and experiences and pass on valuable contacts. The hubs that have developed across Europe include Dublin, London, Berlin, Paris, and Helsinki. 
There are several reasons that have fostered the development and continue to drive the growth of these tech hubs. Laws concerning free movement of labour enacted by the EU, extended to Eastern Europe over the last decade, have meant that cities can attract ambitious founding teams from across Europe. The support of governments has also been helpful: Their active sponsorship of tech city initiatives has legitimised and raised the international profile of hubs that in many cases starts as a very local phenomenon.