SEZ Innopolis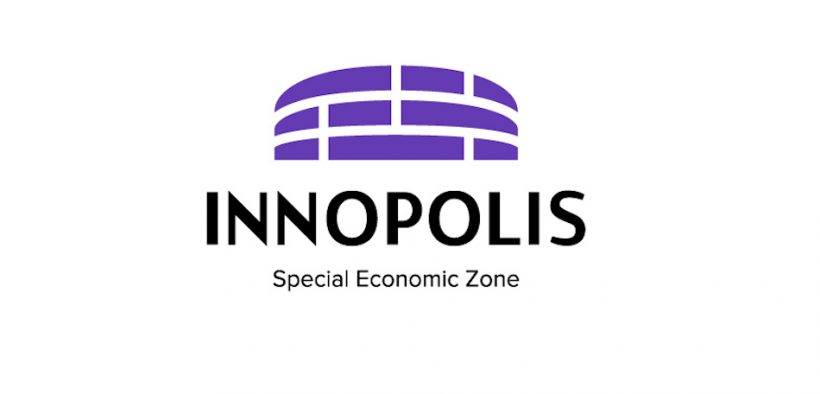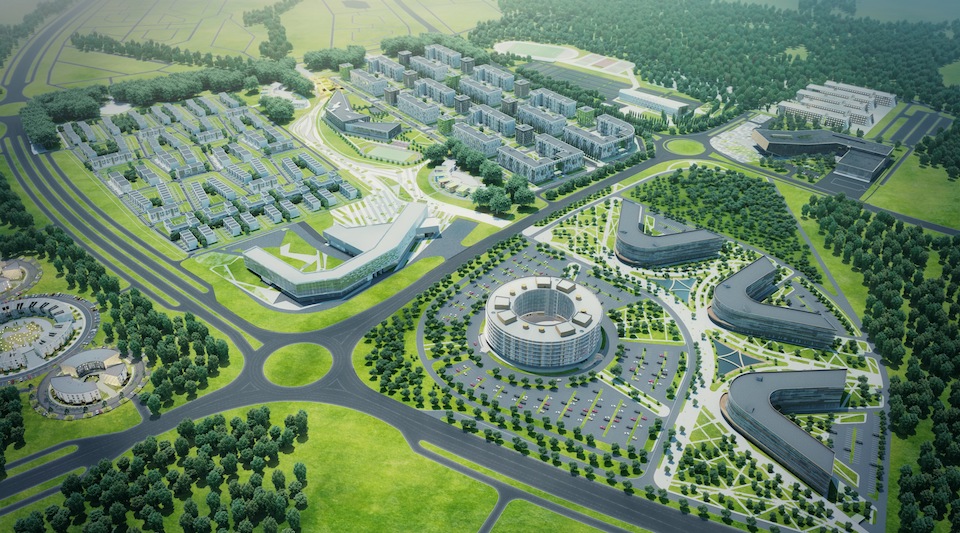 The Technology Innovative Special Economic Zone "Innopolis" is a large-scale project of creation a Russian center of information and communication technologies, aiming to assist Russian and international companies in implementation of investment projects in the field of high technologies.
SEZ "Innopolis" is located in the territory of two municipalities of the Republic of Tatarstan – Verkhneuslonsky and Laishevsky. The site in Verkhneuslonsky municipal district (192,71 hectares) is located in the center of Innopolis city, and is intended for innovative companies and research and development. The site in Laishevsky municipal district (118,72 hectares) is located in close proximity to the international airport "Kazan" and is intended for production activities.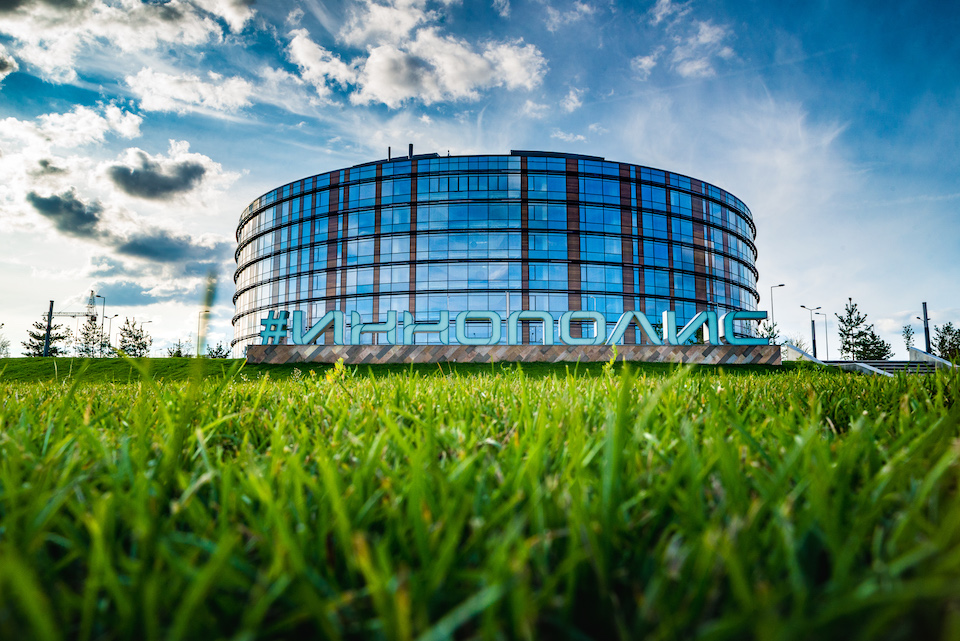 The SEZ has formed a complex innovative environment consisting of a system of training of highly qualified personnel resources and access to the developed infrastructure of the international class. In record time, the SEZ and the surrounding area managed to create a unique environment with first-class business, social, educational and engineering infrastructure for life and work of the resident companies' employees and their families.
As of July 1, 2019, 91 companies (80 residents and 11 partners) had chosen the SEZ as a place for their projects development. There are such large companies as Yandex, Sberbank Technologies, Tinkoff Development Center, as well as companies with foreign participation: Schneider Electric (France), Soramitsu Laboratories (Japan), Portavita (Nederland) etc. among them.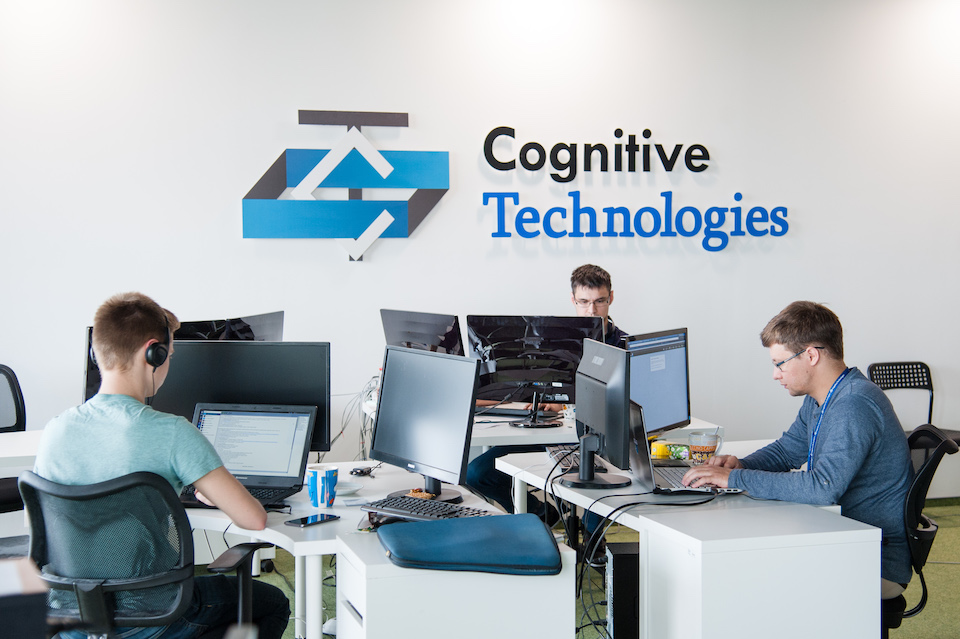 The Innopolis Special Economic Zone (SEZ) is an important part of the Innopolis ecosystem and an indispensable component of its investment attractiveness, seeking to create the most comfortable conditions for doing business and developing projects.
SEZ Innopolis is aimed to become the Russian center of information and communication technologies, where the best innovative solutions are developed and commercialised, by creating an ecosystem for successful business and efficient development of resident companies' projects. Now SEZ Innopolis is working to create necessary conditions for the creation of this ecosystem, including the development of infrastructure facilities of the SEZ Innopolis, as well as to attract high-tech companies as residents of the special economic zone.
Specialisation
Companies that specialise in different innovative sectors can become residents of SEZ Innopolis, with Information Communication Technologies (ICT) remaining a priority specialisation.
Residential status of the Innopolis SEZ offers a wide range of preferences for innovative companies and their employees.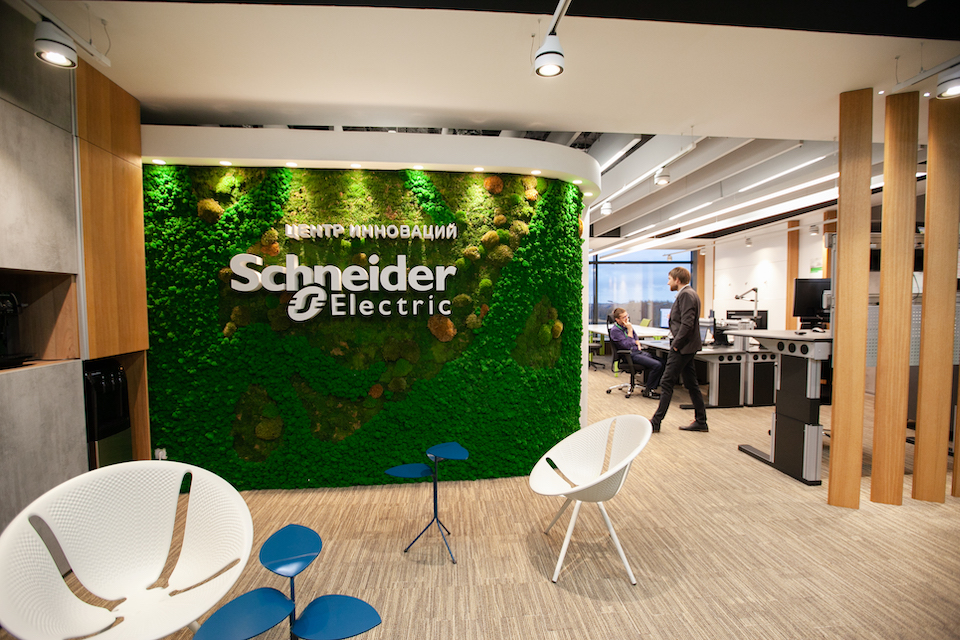 Special Tax Regime
Innopolis SEZ offers its residents special low tax rates, including rates on insurance payments, corporate tax, taxes on land, transport and property.
Access to developed, world class business infrastructure
Innopolis SEZ offers its residents office spaces located within high-technology complexes that provide advanced conference capabilities and other essential business services. Technopark – key element of the Innopolis SEZ business infrastructure. These are contemporary buildings of business centres, designed specifically to provide residents with the most comfortable work conditions.
A. Popov Building has a total area of 40000 sq. m. with a capacity for at least 2200 specialists. Residents have access to multifunctional conference hall for 300 people, meeting rooms, press-centre, and comfort zones. Employees of the companies-residents also have access to various services available in the A.Popov Building: Post Office, bank branch offices (AK BARS Bank, Sberbank), express delivery service, café, cafeteria, etc.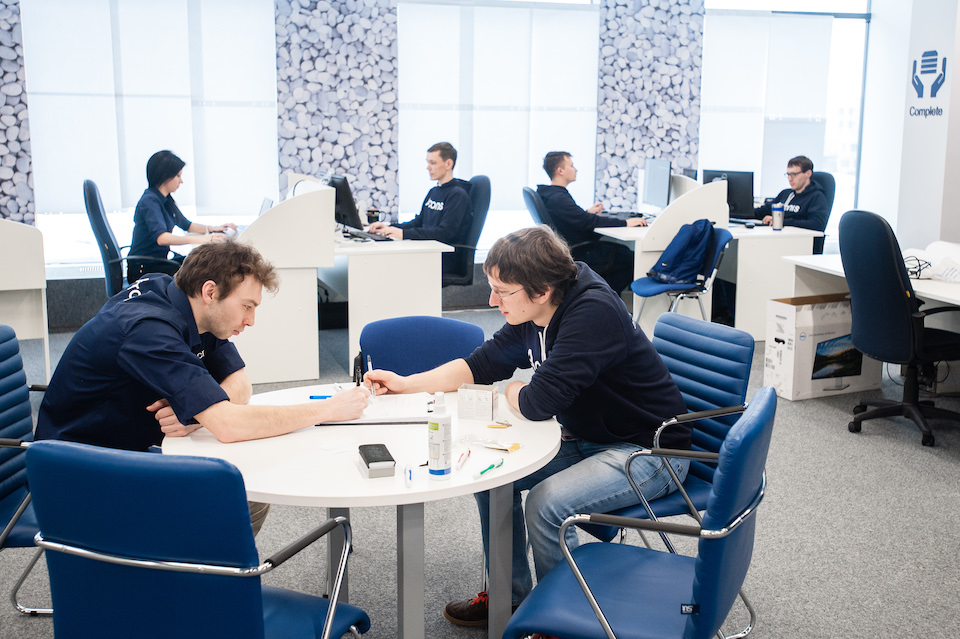 Access to highly qualified specialists
An important part of the Innopolis ecosystem is the Innopolis IT university, which carries out its activities in partnership with leading universities in the sphere of information technologies. In addition to Innopolis University, residents will be in close proximity to the other regional universities located in the Republic of Tatarstan.
Innopolis University:
– Bachelor, Master's, and PhD programs.
– 15 partner universities with leading positions in the global ratings
– 56 world-class faculty members, 11 laboratories supported by the research grants
– Education and research in the following fields: Software Engineering, Robotics, Data Science, Information Security, Game Development and Machine Graphics
The technopark of Innopolis SEZ
consists of two buildings with the total area of 73,000 sq.m (second building is under construction), delivering a high-tech complex with advanced conference capabilities and essential services to conduct business effectively.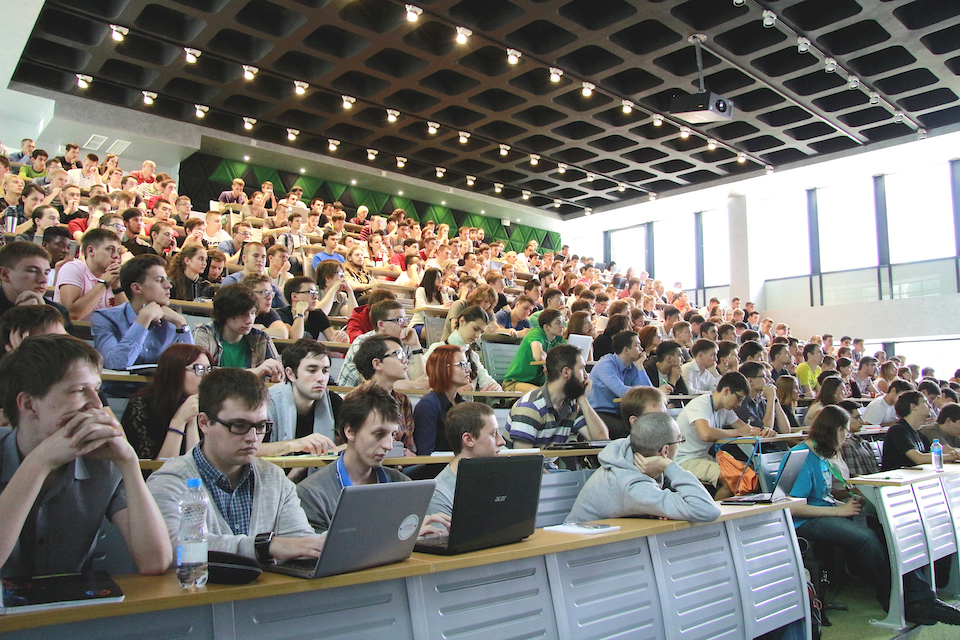 Objects of the social infrastructure of the Innopolis SEZ on the territory of Innopolis city include:
– Physics and Mathematics Lyceum (from 7 to 11 grade, total area of the building is 13090 sq.m.);
– Secondary School (from 6 to 11 grade, total area of the building is 5589 sq.m.);
– Primary school (from 2 years old and up to the 6 grade, total area of the building is 5589 sq.m.);
– Medical Center (total area of the building is 6335 sq.m.).
Objects of the engineering infrastructure of the Innopolis SEZ on the territory of Innopolis city include:
– Automatic heating boiler;
– The main step-down substation 110/10kV;
– Water supply and water disposal.
The number of residents: 80 companies with total amount of investments of 8 billion rubles. The number of partners: 11 companies. Partner companies (large IT-companies that are the leaders of the information technology industry) are provided with the opportunity to conduct the business in Innopolis SEZ and to lease the office space in A.Popov Building on preferential terms, but without receiving any tax benefits.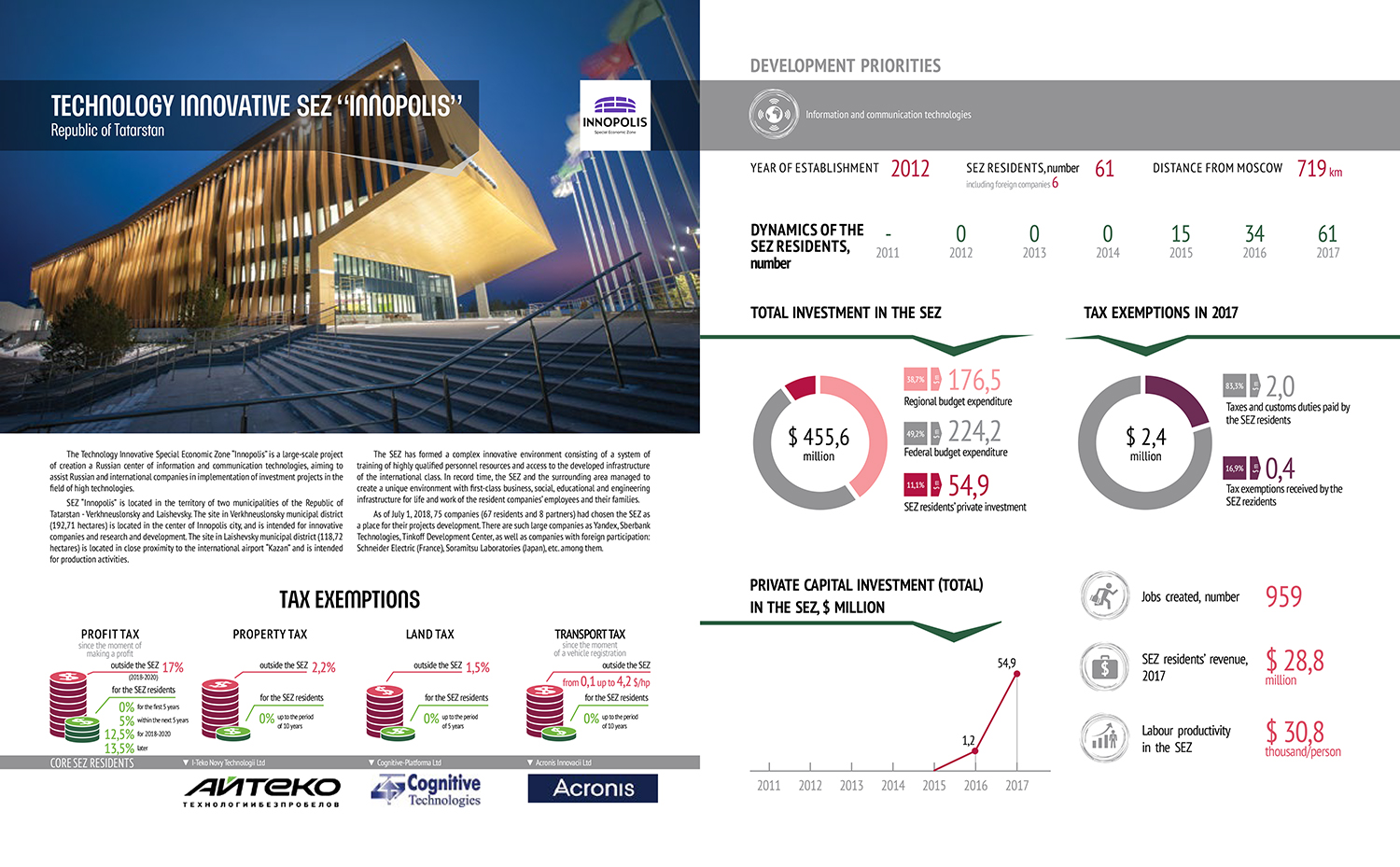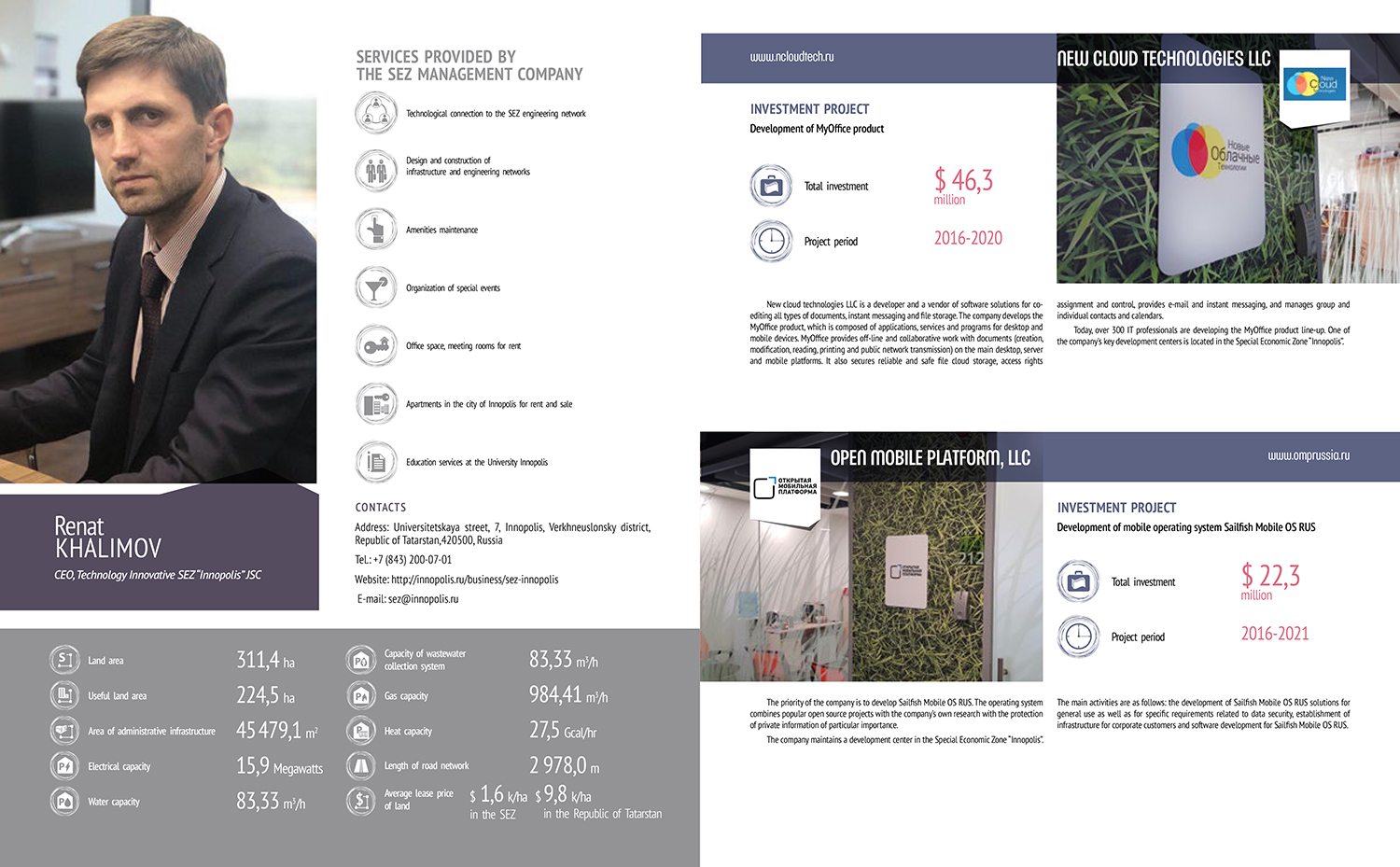 For more information visit : http://innopolis.ru/en/