Full of Energy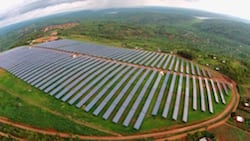 The developing world is displaying huge potential to take part in and influence the global market, and Rwanda is a key, growing economy in the East African area, evolving into a lucrative hub for energy-related investments. 
Approximately 1.3 billion people worldwide don't have access to basic electricity and energy poverty is a fundamental concern in Sub-Saharan Africa. However, renewables are helping to address this issue, with solar energy playing a crucial role. Research studying 55 developing nations in Africa, Asia, Latin America and the Caribbean found that last year investment in renewables reached $126 billion, an increase of 39% on 2013. Electricity was especially limited in Rwanda in 2013, with only 110 megawatts of capacity for its population of 12 million, causing a trade and industry blackout. 
To combat this problem, and supported by Barack Obama's Power Africa initiative, the Rwandan government settled on a joint bid by Gigawatt Global, Norfund and Scatec Solar to install 28,360 solar panels on the grounds of the Agahozo-Shalom Youth Village, 60km east of the capital, Kigali. The 8.5 megawatt power plant, based on a 20-hectare piece of land, is already contributing to economic and environmental sustainability, with the solar panels tracking the sun across the sky throughout the day, bringing energy to thousands of homes. The government allied with global companies and development funds, and the so-called 'fastest project in Africa' was born, reaching completion in less than a year. The environmentally friendly plant is East Africa's first grid-connected, utility-scale solar energy facility and it supports the long-term sustainability of the village, creating local jobs and education, empowering the region with electricity. It's an inspiring addition to the Rwandan energy supply, and a significant step concerning sub-Saharan African energy challenges. The solar farm was built in the shape of the African continent and the $23.7 million energy field is the first of its kind in the region. The contract has created 350 jobs and Gigawatt Global has a clear vision in which developing nations will be chiefly powered by clean, safe, affordable, renewable energy. Gigawatt Global will also be providing training on solar power to students in the Agahozo-Sahlom Youth Village.
---
"Demonstrating that solar energy is not only eco-friendly, but also economic, this plant may well be the impetus needed to provide Africa with a high-tech future."
---
Demonstrating that solar energy is not only eco-friendly, but also economic, this plant may well be the impetus needed to provide Africa with a high-tech future. The field is now supplying 6% of Rwanda's power needs, powering circa 15,000 homes and is aiming for 1,000 MW of solar power in Africa by 2020, highlighting the fantastic opportunities that arise when governments works with public and private sectors. The government has also devoted Rwf135 billion to the energy sector this financial year to increase electricity supply and encourage industrial growth. The power- purchase agreement states that the field comprising of 28,360 photovoltaic panels will harness the sun's light for 25 years, offering a long-term sunny forecast for the region. 
Clean energy is on the up and last year was the first year in 40 years that the international economy grew without CO2 emissions increasing – an encouraging sign that the tide may be turning in the battle to avoid the ill-effects of climate change. Regional and international firms as well as governments are shifting their focus to clean, renewable energy and Rwanda's solar field is a great start. While there is no one perfect resolution for Africa's energy challenges, renewable energy, through a range of technologies and expertise, will increase access to power with instant benefits. The $23 million project is just the beginning. Climatescope reports that Rwanda is in 17th place in the Clean Energy Country Competitiveness Index and is looking to add 563 MW of new clean capacity and achieve energy access for 70% of its citizens by June 2018. Renewables already supply most of the country's power, with 57% small hydro and 6% solar and the rest is mostly diesel, suggesting further opportunities. The Rwanda solar field is proof-of-concept and, with any luck, will serve as an instigator to develop commercial-scale solar fields throughout the developing world.
Access to energy is a pre-requisite for economic and social development and East Africa is growing fast, as are its power needs.  The Rwandan solar field could well be the 'game changer' if Africa's energy opportunities energise the economy. The project in Rwanda illustrates that there is a bright, optimistic light at the end of the tunnel. 
The Futures Got Energy
Solar energy is one of the best methods of power generation. It's clean, it's resourceful, it's renewable, and it doesn't ruin our environment. Solar power has become increasingly cost-effective and is seen as a more viable option in contemporary times. This means we will see more green energy generation in the future. By 2050, Africa will be home to about 2 billion people – twice as many as today – with 40% living in rural areas and Africa has stacks of sunshine to make it a potentially major player in the production of solar energy. Offering the continent a real chance to fight poverty, affordable electricity would generate better-quality health care, information technologies and education.
Gigawatt Global, the American-owned Dutch company,  is a solar and social development company and a partner of the Power Africa and Power Africa's Beyond the Grid sub-initiative. The company has also signed two international grants for a 7.5 MW solar project in Burundi, aiming to increase the country's generation capacity by 15%. Off the back of the Rwandan solar plant success, Gigawatt Global has been put forward for a 2015 Nobel Peace Prize nomination in view of the significant focus on climate issues. MK Shimon Solomon (Yesh Atid) nominated the company specifying the company's 'new model of impact investing for humanitarian and environmental change'.