Shapers of Our Modern Worldview Exhibitions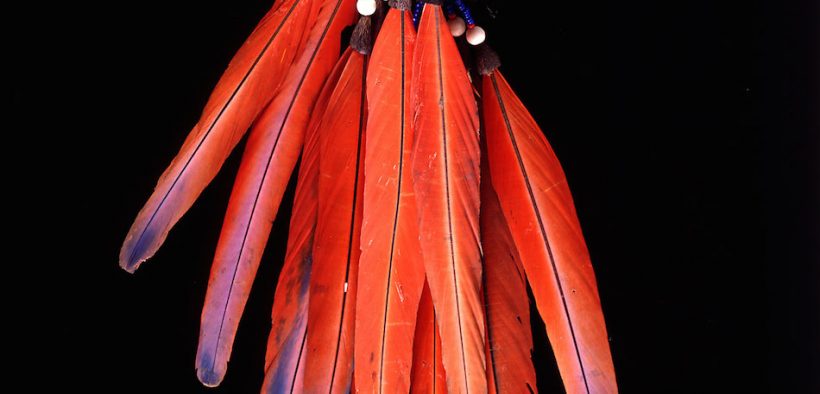 Themed around Humboldt and Napoleon at Pforzheim's Jewellery Museum in 2019
The upcoming year 2019 will mark the 250th anniversary of the births of both Alexander von Humboldt and Napoleon Bonaparte. This prompted Pforzheim's Jewellery Museum to organize two exhibitions themed around two personalities whose thinking and actions significantly shaped our modern worldview. The current exhibition entitled "East Meets West – Jewelled Splendours of the Art Deco Era. The Prince and Princess Sadruddin Aga Khan Collection" will be on display through 6 January 2019. Unconfined Horizons – Jewellery from Humboldt's Travel Routes Born in 1769, the scientist Alexander von Humboldt is regarded as one of the last universal geniuses, whose thinking and actions laid many foundations for our modern worldview. During the 90 years of his life, this world citizen set out on two major expeditions: through South and Central America, and through Russia as far as the Chinese border.
Influenced by the ideals of the Enlightenment, he was convinced that people differ from one another only in terms of their education or culture, and that they are all equally destined for freedom. "The horizons of his mind were unconfined," as the Humboldt expert Ottmar Ette emphasizes. For Humboldt, genuine education was synonymous with being able to perceive the interrelationships between things. Correspondingly, his fields of research were widely diversified.
His importance for us in our day and age is due to his keen observation and scientific analyses, wedded to a profoundly humanistic approach. The exhibition, which will be on view from 13 April through 8 September 2019, will be showcasing a wide variety of artefacts and jewellery created along his travel routes. A Newly Ordered World – Jewellery from the Napoleonic Era Napoleon Bonaparte, who was also born in 1769, reorganized the European world in many respects, something which inspired Pforzheim's Jewellery Museum to organize a special exhibition spotlighting the new kind of jewellery and fashion characteristic of the Napoleonic era. Back then, the Neoclassical "style of the Revolution" and the decorative Empire style spread all over Western Europe well into Russia.
The moral concepts developed during the Enlightenment called for an aesthetic inspired by reason, which met the taste of an increasingly powerful, self-confident and educated middle class, and influenced all areas of culture – starting from architecture, painting, furniture, garments and jewellery all the way through to literature and music. The visual arts were expected to lead to the emergence of an intellectual aristocracy to break with the tradition of hereditary aristocracy.
Over the course of Napoleon's imperial reign, the Empire style unfolded its representative splendour to perfection. Including several pieces created by Chaumet, Napoleon's court jeweller, the exhibition, on display from 19 October 2019 through March 2020, will also be showcasing jewellery worn in his social environment. East meets West – Jewelled Splendours of the Art Deco Era Currently on view under the title of East Meets West – and shown for the first time in its entirety in Europe before it will travel on to the Musée des Art Décoratifs in Paris – the Prince and Princess Sadruddin Aga Khan Collection can be admired until 6 January 2019. Since classical antiquity, the mutual fascination between the Orient and the Occident has repeatedly brought about new art forms.
In the Art Deco period, for example, the ornamental exoticism of Persian miniatures or Japanese prints, of Chinese or Middle Eastern decorative arts lent themselves perfectly to fulfilling people's desire for decorative and unusual luxury. The 1920s and 1930s were also characterized by technological progress and rapid societal change, both of which were reflected in the jewellery and the arts of that era in the shape of flamboyant motifs and colours, wedded to clear-cut shapes and austere materials. The vanity and cigarette cases, clocks and watches from the Prince and Princess Sadruddin Aga Khan Collection – resplendent pieces created by the most prestigious Parisian jewellers – bear eloquent witness to this.
One striking example is the "Panther" vanity case created by Cartier in 1925, displaying a panther against a backdrop of cypresses, the most prevalent trees in Persian miniature landscapes, and crafted from enamel, mother-of-pearl, rubies, turquoise, onyx and diamonds. The panther might have also been inspired by the drawings of Paul Jouves, who had illustrated Rudyard Kipling's Jungle Book. Compared to jewellery, vanity and other kinds of cases provided larger surfaces to accommodate reinterpretations of such exotic motifs.
This masterpiece was showcased at the International Exhibition of Modern Decorative and Industrial Arts in Paris in 1925. A period of profound societal change, the 1920s and 1930s also saw a change in the position of women, who were now responsible for creating their own image. Consequently, they wore dresses in lengths that they desired, and kept their hair rather short and thus easy to style. Bejewelled cigarette and vanity cases were indispensable accessories for complementing the social elite's outfits for their nightlife activities, to be ostentatiously flaunted at glamorous dinner parties in exotically decorated apartments or smoky nightclubs. They served as status symbols demonstrating both their owners' good taste and sense of fashion.
They had room for all the essential accoutrements, such as rouge, perfume, a lipstick or cigarettes, with the latter becoming a symbol of women's emancipation and modernity. The spirit of the times is also reflected in a lapis lazuli case created by Van Cleef & Arpels in 1928. It features a rock crystal triangle reminiscent of runway tracks. In 1927, Charles Lindbergh had landed in Paris after completing the first non-stop transatlantic flight. This achievement is evoked by the decoration's dynamically streamlined design against the lapis-lazuli-blue sky. In addition to cigarette and vanity cases, the Aga Khan Collection also comprises timepieces that incorporate masterfully crafted movements in exquisitely extravagant cases. At Cartier, for example, superbly skilled watchmakers collaborated with exceptionally talented designers. One impressive example of their work is a Mystery Clock complemented with an imperial guardian lion.
Its dial, in front of which the hands perform their circular motion seemingly without being connected to the movement, is supported by a lion carved in jade from the 19th century. According to traditional Chinese beliefs, the lion was regarded as a guardian of Buddhism, watching over houses and temples, usually in the shape of pairs of guardian lion statues flanking the entrances.
This clock was depicted in the Vogue magazine in 1930 under the headline of "Gifts with a Princely Gesture", discreetly alluding to the fact that such magnificent treasures, characterized by consummate designs and superlative handcraftsmanship, were created for Cartier's most prestigious clients like the Prince Sadruddin Aga Khan. To be printed as an information sidebar, if there is space] The Reuchlinhaus, home to Pforzheim's Jewellery Museum, can be rented for events. The auditorium accommodates about 200 chairs, or 160 when tables are also provided.
It is also possible to rent the entrance hall, as well as the foyer and kitchen. In addition to comprehensive event technology, catering services and guided tours through the Jewellery Museum can be booked to complement an event.
For more information : www.schmuckmuseum.de