Trump Must Now Show Clarity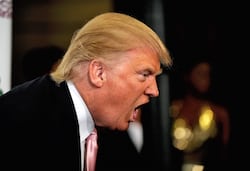 Donald Trump needs to "tighten up and show real clarity" in his economic plan or he could spook the global financial community, warns the boss of one of the world's largest independent financial advisory organizations.
Nigel Green, the founder and CEO of deVere Group, is speaking out after the billionaire front-runner in the Republican candidate race won New Hampshire and as he retains his national lead heading into South Carolina this weekend.
Mr Green states:  "As he is maintaining his pole position, meaning that come November he could very well be President, it's now critical that Mr Trump tightens up and shows real clarity in his economic plan.
"Frankly, it seems that economics is not top of his priority list.  Indeed, he admitted in an interview in January he didn't want to 'inherit all this stuff' after giving a bleak analysis of the U.S. economy.
"It appears he's more focused on bombastic statements about walls and being a great business negotiator to whip up his hard core of supporters, rather than sharing a coherent economic strategy for America.
"The lack of a robust economic plan is alarming. Should Trump win the keys to the Oval Office, he would, of course, be CEO of the world's largest economy and his language and subsequent decisions will have far-reaching domestic and international impact."
Mr Green continues: "There are three main areas of concern. 
 "First, Trump's tax proposals.  He says he wants to restructure and simplify America's tax code. He says he wants to cap business tax at 15 per cent and the highest marginal income rate would drop from nearly 40 per cent to 25 per cent, middle-income earners would pay 10 or 20 per cent, and anyone earning less than $25,000 a year would pay no income tax at all.
"I'm very much in favour of pro-growth, supply-side reforms. I'm favour of keeping more money in families' pockets and companies' accounts, rather than in government coffers.  However, this bold plan would likely send the federal deficit soaring and reduce the revenue.
"Second, Trump's tough trade talk.  Undeniably, he has proven business background. However, some of his plans for trade are highly questionable.
"For instance, he has set out how he would prevent China from fixing its currency, so that U.S. manufacturers can better compete.  The fact is when China's currency is devalued, their goods become cheaper and Americans get to buy things cheaper than if they were produced in America. He claims this plan would bring back jobs to the U.S., but it is highly unlikely those jobs would work their way back to the States. 
"In addition, he intends to impose tariffs on imported goods.  He has proposed a 35 per cent tax on non-U.S. car manufacturers, for example. Again, this might bring back American jobs, but there's a good chance that it won't and that American consumers will simply end up paying up to 35 per cent more for products made outside the U.S.  Of course, this would adversely affect the U.S. and the global economy.
"Third, Trump's immigration policy.  He wants to deport the estimated 11 million undocumented immigrants. Both supply and demand would be affected by this move.  If it were enforced, the labor market would shrink and real GDP would fall. 
Mr Green concludes: "To date, Trump's economic agenda has seemed sketchy – and being a potential U.S. president this is dangerous, as it is likely to translate into uncertainty and volatility in global financial markets.   His plans, in many areas, could trigger economic instability.
"As he moves forward in his bid to be the Republican candidate, failure to articulate a workable, stable plan could spook the global financial community, which in turn would unhinge the U.S. economy and the global economy.
 "At this stage of the race, bluster needs to be replaced by reason."
deVere Group is one of the world's largest independent advisors of specialist global financial solutions to international, local mass affluent, and high-net-worth clients.  It has a network of more than 70 offices across the world, over 80,000 clients and $10bn under advisement.