Get Ready to Deliver Customer Service through Social Media in the Contact Center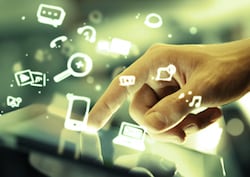 In 2014, the average social media user spent 2 hours and 25 minutes per day using social networks (1).
Social media continues to grow at a fast pace with active user accounts equating to around 30% of the world population at the end of 2014. In 2014, active social media accounts grew 12% (adding 222 million more accounts), and mobile social accounts have grown 23%. In a decade, social networking has gained the attention (and time) of Internet users worldwide.
In this new business environment, defined by digital disruption, increased consumer power and continuous conversations, what are the changes in customer's behaviors?
Accenture's Global Consumer Pulse Research (2), now on its 10th year, highlights a steady erosion of customer loyalty worldwide. The tangible result is a growing "switching economy" that accounts for an estimated $6.2 trillion in revenue opportunity for providers across 17 key markets in 2014 – up 26 percent, from $4.9 trillion in 2010. In 2013, 66% of global consumers switched providers due to poor service, with 80% mentioning that switching could be avoided through better resolution.
Why Customer Service in Social Media?
This new reality brings new challenges and opportunities to companies aiming to build customer relationships and manage customer interactions. This environment requires from businesses a social media customer engagement strategy that can enable fast, relevant and appropriate responses to inquiries, complaints and other interactions in the social networks.
Current research shows that most companies still use social media primarily as a marketing channel, with messages targeted for product promotion and deals, with limited customer interaction. Statistics released by the Eurostat (4) show 73% of enterprises in 28 European Union countries using social media for marketing purposes. Only 50% report using social media to obtain or respond to customer interactions.
Engaging customers via social media should also be perceived as a key opportunity for improved customer service (as it also enables knowledge sharing and peer service); as much as for sales and business development; and to gain an early warning on emerging issues and opportunities in the market.
Image : Alfredo Redondo; CEO; Altitude Software
Why Social Media Customer Service in the Contact Center?
Customer service organizations, normally implemented within a contact center, have always been focused on achieving and developing a 360-degree view of the customer, and on providing a consistent experience across interaction channels – be it voice, web, chat or email. Social media, although it usually requires changes in technology, should be increasingly treated as another customer interaction channel, and integrated into the existing technology platforms, business processes and benefiting from established service levels.
In fact, the contact center is usually the only structure in the organization capable of handling and managing large volumes of interactions on a timely basis. Social media interactions, although qualitatively different, share a great number of characteristics with interactions in other communication channels such as voice and email.
As consumers increasingly turn to social media to seek information and service and to express opinions, there is no question that organizations must engage with those channels to deliver appropriate customer care and to ensure positive experiences.
References
(1) Digital, Social and Mobile in 2015 Report; WeAreSocial; January 2015.
(2) Customer 2020: Are You Future-Ready or Reliving the Past? ; Accenture; January 2015.
(3) 2014 Global Customer Service Barometer; American Express; November 2014
(4) Social media – statistics on the use by enterprises ; Eurostat; November 2013
About the Author
Alfredo Redondo is a seasoned technology executive with more than 20 years of executive management experience in large and mid-sized technology companies such as Alcatel-Lucent and Amper. He has also had significant activity as a consultant and advisor to technology investors and start-up companies in Europe and the US. Altitude Software (www.altitude.com) is a global provider of omnichannel solutions to deliver great customer experiences. More than 300.000 users in 1100 customers in 80 countries use Altitude uCI solutions to manage in real time enterprise functions like Customer Service, Telemarketing, Debt Recovery; Help Desk; Citizen Attention, etc.
—————————————————————————————————————————————————————————————————————————————————————————