London tops European rankings as preferred hotel investment destination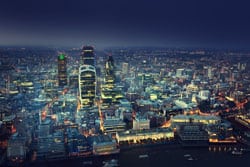 London is the most attractive hotel investment destination in Europe, according to a new survey of senior hospitality industry figures by Deloitte ahead of the 26th Deloitte European Hotel Investment Conference.Over half (51%) of respondents rank the UK's capital ahead of Paris (33%), followed by Barcelona (30%) and Amsterdam (23%).  However, views appear mixed on value with 52% considering London to be overvalued whilst 45% cite it as fairly valued.
European hotel transaction activity is expected to be dominated by international investors underpinned by North America (58%), China (53%) and the Middle East (52%) in 2015.  Continued low interest rates will reinforce traditional bank debt as the core financing option, albeit alternative lenders will be active and mezzanine debt is increasingly available. Against the backdrop of a stagnant European economy, upscale hotels (33%) are the preferred product segment.  However, midscale (25%) and budget (22%) are also attracting interest.  Additionally, survey respondents anticipate continued investment appetite from private equity, whilst trophy assets will be dominated by high net worth individuals.
---
Nick van Marken, global head of hospitality at Deloitte, comments: "There is significant appetite for hotels in Europe and the UK in particular.  In recent months, US private equity buyers have taken advantage of low interest rates and a strong uptick in sentiment."
The UK has been the most liquid market, fuelling a raft of portfolio deals. van Marken continues: "After the trough of 2009, a number of deals were done, in the UK in particular, and some of these may well come back to the market.  Despite both a good number of portfolios and single assets having completed, there are still opportunities to be had.  
"Some valuations from two or three years ago have more or less doubled, so a number of buyers have done very well.  It is easy to say in hindsight that these acquisitions were done at the right time, but real kudos should go to those who had the courage, got in and did deals even in the darkest days.  Now, many will be rewarded if they get out at the right time.  Some of those who missed the exit and held on, may also be rewarded.
"This appetite is not without its risks, however, and a lack of economic growth across the Eurozone along with global geopolitical issues and challenges are all concerns.  That said, we are likely to see yield compression in key European markets as a lack of product and high demand continues to underpin investment appetite."
Regional UK hotel recovery ahead of Europe
Outside London, respondents favour Scottish cities as those of most interest in the UK in 2015.  Edinburgh (60%) and Aberdeen (38%), followed by Manchester (33%) and Bath (19%) are considered most attractive.  They anticipate a focus on the improvement of profitability (52%), rebranding or repositioning (49%), major capital expenditure programmes (44%) and expansion (33%) to be the main strategies adopted by UK hotel owners in 2015.
Van Marken says: "The regions have benefitted from a series of high-profile international events and a return of corporate and meetings demand resulting in double-digit RevPAR growth. The strong upturn in rate is very promising albeit a return to pre-crisis profitability levels is yet to be seen."
Improved operating fundamentals in 2014 and a positive outlook for 2015 is cementing evidence for a real growth story as hotels in the regions are revived by economic recovery.  Van Marken concludes: "Whilst economic growth has remained significantly slower across Europe, any improvement in the economic backdrop still has the potential to rejuvenate the European hotel sector and encourage further investment in 2015."
•North American, Chinese and Middle Eastern investors expected to continue to show strong interest in European hotel sector in 2015;
•Private equity is anticipated to dominate;
•Upscale hotels are the most sought after sector with London considered the most attractive city for investment;
•Scottish cities rank top amongst hotel investors outside London.
Deloitte LLP is the United Kingdom member firm of Deloitte Touche Tohmatsu Limited ("DTTL"), a UK private company limited by guarantee, whose member firms are legally separate and independent entities. Please see www.deloitte.co.uk/about for a detailed description of the legal structure of DTTL and its member firms.