Shipping Innovation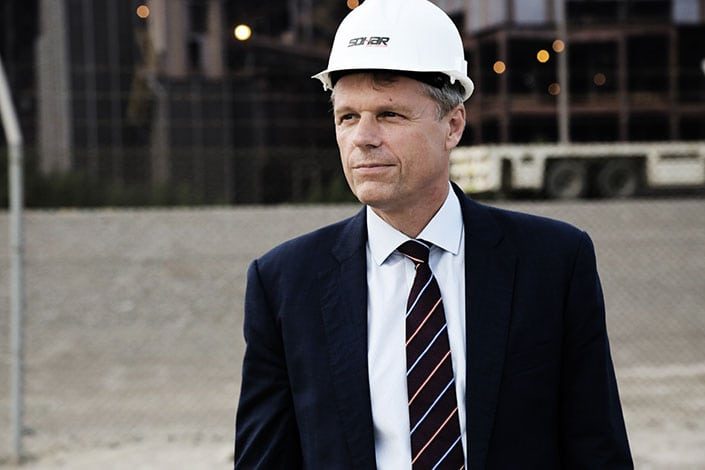 CEO Insight spoke recently with Mark Geilenkirchen, Chief Executive at SOHAR Port and Freezone
SOHAR Port and Freezone is a deep sea port and free zone in the Middle East, located in the Sultanate of Oman, midway between Dubai and Muscat. With investments of over US$26 billion, it is one of the world's fastest growing port and free zone developments and is located at the crossroads of trade routes between Asia and Europe. With a draft of up to 25 metres, it is also the deepest port in the region. SOHAR provides easy access to the fast diversifying economies of the Gulf States and Iran, while avoiding the additional costs for shipping of passing through the Strait of Hormuz into the Arabian Gulf.
CEO Insight: As one of the youngest ports in the Gulf, your growth has been impressive; do the world's major shipping lines already use the Port?
Mark Geilenkirchen: "Our location at the centre of global trade routes has been a key factor in our tremendous growth at SOHAR. We now handle over one million tonnes of sea cargo a week, and we only started in 2004. Thanks to our position outside the Strait of Hormuz, the port is attracting more and more direct liner calls from around the globe, especially the main Asian hubs. This week saw our first call from the newly formed Ocean Alliance, launched last month between CMA CGM, China Cosco Shipping, Evergreen Line, and Orient Overseas Container Line. They offer forty services on east-west trades with close to 500 port calls. We also welcome most of the other major shipping lines, including: APL, MSC, Hapag-Lloyd, Maersk Line, UASC, CIS, MOL, Simatech, OEL and Oman Shipping Company."
CEO Insight: Did the recent consolidation of the alliance networks affect your business?
Mark Geilenkirchen: "Freight rates have been under great pressure since 2007 and this is the latest reaction to try to create more economies of scale. Despite all the bankruptcies and mergers, there's still a lot of overcapacity out there. MOL, NYK and K-Line will invest close to US$4 billion in consolidating their businesses in the hope this will unlock cost efficiencies that are not achievable with vessel sharing agreements. From our side, we hope that it will help to create a more efficient online customer experience that will be good for all of us."
---
"The new power plant project is valued at over US$1 billion and is on track to commence commercial operations by January 2019."
---
CEO Insight: What are the drivers for growth at SOHAR and do you have plans to further expand capacity?
Mark Geilenkirchen: "We recently signed contracts with some significant new tenants who have agreed to lease a new area as part of a land reclamation project at the port. SOHAR Port South will allow us to add more business to drive continued growth. We will build on the Port of Rotterdam's extensive experience with similar projects, like the massive Maasvlakte 2 land reclamation in the Netherlands. Furthermore, we are busy planning Phase II of our adjacent Freezone, part of a 4,500 hectare master plan, as the first 500 hectares of Phase I are now practically leased out. Orpic has recently increased refining capacity in the port to 198,000 barrels a day. And they've just started to build a US$6 billion plant to produce polyethylene and polypropylene, which will be on-stream by 2020. This will really put us on the map as a prime location for downstream plastics industries and will make Oman a world-leader in this sector. We will be focusing our efforts this year on adding more food businesses, so we can create more synergies within the Food Zone. This could include food processing, canning, packaging and logistics. Vale's DRI capacity is now at around 11 million tonnes a year, and we are looking at adding more aggregate to create more value from the same infrastructure. If we added aggregates to our portfolio, it could bring in an additional 10 million tonnes of throughput. We are always on the lookout for high value projects that contribute to the port and to the people in the area. I am confident you will see us add another one billion US dollars in projects this year."
CEO Insight: Why is the new power plant currently under construction at SOHAR important?
Mark Geilenkirchen: "In times of budgetary constraints right across the Gulf, we've once again shown it's possible to develop, finance, build, own and operate a large-scale high performance power plant with a significant share of private investment. The new power plant project is valued at over US$1 billion and is on track to commence commercial operations by January 2019."
CEO Insight: What are the unique characteristics of the 'Innovation Zone' planned for SOHAR?
Mark Geilenkirchen: "We want to operate the Innovation Zone as an ideas factory. We'll be working in close cooperation with Port of Rotterdam, to try to find innovative ways to solve tomorrow's logistical problems. From new ways to track containers and their loads moving between our Port and Freezone; through the use of 3D metal printing to create high quality industrial parts onsite; to the world's first self-sustaining Freezone logistics cluster, we believe that everything is possible. The Innovation Zone will have a special focus on sustainability, and will not be connected to the national power grid, instead getting all its electricity needs from renewable sources, while all waste will be recycled. We are busy with detailed planning and are looking at and assessing the best mix of technologies for the new Zone. We have already allocated the land required and are expecting construction to commence in 2017, with the first phase to be completed by next year."
CEO Insight: Why are you undertaking this unique project?
Mark Geilenkirchen: "As a company, today it's more important that we become good at learning how to do new things, and doing that faster and better than ever before. That's our focus at SOHAR, and ensuring that we have the management structures in place to deliver against that. SOHAR Innovation Zone is central to our efforts. However, the Innovation Zone is not a hypothetical, futuristic concept. It will use trusted and proven techniques, brought together in one integrated system for the first time, to demonstrate the full potential of the region's technology sector."
For more information: www.soharportandfreezone.com