The Factory of the Future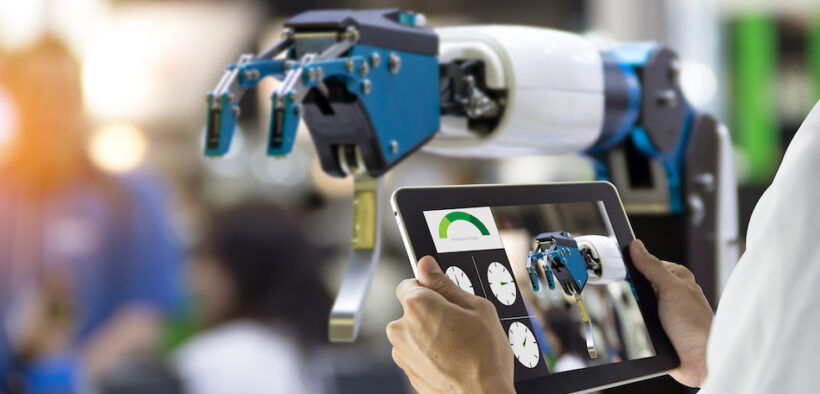 The Industrial Internet of Things (IIoT) has huge potential and is transforming key industries. Many companies across Europe are realising its value, including how it can increase efficiency, reduce costs, speed up innovation, decrease errors and help gain economies of scale.
Before the pandemic, digital transformation in manufacturing was mostly experimental. While manufacturers had integrated apps or software to monitor operations, they were effectively add-ons, and not a vital part of the processes. However, during the global financial crisis of COVID-19, industrial companies are turning to the IIOT to remotely monitor their systems, increase productivity and prevent unplanned downtime. A study from Juniper Research found that the global number of industrial IoT connections will increase from 17.7 billion in 2020 to 36.8 billion in 2025, representing an overall growth rate of 107%.
"New technologies can deal with and compute huge amounts of data and help make real-time decisions."
The UK boasts an impressive industrial heritage, spanning nearly 90,000 organisations, and there is a major push to implement innovative technologies as part of the global megatrend that is Industry 4.0. The IIoT has been implemented across numerous sectors, including manufacturing, logistics, oil & gas, transportation, energy, mining and air travel. It adds a new layer of technology, offering opportunities to integrate automation, intelligent manufacturing and smart industry, asset performance management, maintenance and industrial control applications across businesses.
The IIoT is of particular interest to the manufacturing industry, providing information on how well production lines operate, facilitating better forecasts about when machines need servicing, reducing unexpected interruption and eliminating lost time. It improves the connectivity, efficiency, and scalability of an organisation, while saving time and money. New technologies can deal with and compute huge amounts of data and help make real-time decisions.
IBM claims a single manufacturing site can generate more than 2,200 terabytes of data from 100 to 200 sensors in 30 days. But the data is worthless if it is left untouched or unexamined to its full potential with the latest technology. The capability to identify environmental costs, equipment failure and prevent unplanned interruptions is crucial. This is even more relevant in today's turbulent times, and after the last 12 months, with companies feeling the financial impact of the pandemic, the need to maximize manufacturing output is more pertinent than ever.
According to Accenture, by 2030, the IIoT market is estimated to have a $14.2 trillion price tag – highlighting its importance and influence on the future of business today. So, what's stopping this grand revolution, considering there are far more smart devices connected to the Internet than people on the planet? In our quest of everything smart, challenges remain, as companies start to accelerate their digital transformation for industrial networks to manage the demands of the IIoT.
Firstly, there is a lack of common software interfaces, standard data formats and common connectivity protocols throughout companies, and the absence of an interconnected infrastructure is an enormous stumbling block. As businesses install IIoT devices on legacy equipment or on several devices made by different companies, it is difficult to monitor and manage end-to-end operations. Operating multiple IoT platforms and applications across multiple clouds or locally creates a hugely complex operation. Manufacturers need technologies that can bring together and unite all the functions and operations across the board.
Secondly, the skills gap is proving problematic.  IIoT offers companies a complete digitization of production processes, co-operating the digital and physical worlds within the factory, but the human expertise is not there yet. For many manufacturers, finding qualified staff to design, deploy and maintain modern industrial networks and the urgent need to update and transform business operations is a huge challenge. Implementation is not a simple process–particularly because no two systems look the same.
However, change is afoot. A recent collaboration between Siemens, IBM and Red Hat will empower IIoT users, offering a hybrid cloud designed to deliver an open, flexible and more secure solution for manufacturers and plant operators. This will bring manufacturers' physical and digital worlds closer together and extract real-time value from operational data. As the world becomes increasingly connected, digitalization is a key differentiator that will enable companies to remain competitive. The IIoT market continues to evolve, in line with the rising preference for cloud integration and the implementation of ground-breaking data analytics tools and smart sensors for facility and inventory management.
While potential threats to the IIoT infrastructure exist, it's clear that the positives outweigh the negatives. With a commitment to maintaining security, businesses can reap the benefits that IIoT brings, improving productivity and efficiencies in an ever-competitive sector.  This is no longer a preference or choice; the IoT in manufacturing is here to stay.
With a growing focus on investing in digital literacy rather than in infrastructure, the IIoT is transforming the future of manufacturing, and in an industry where time is money, it is providing huge possibilities to streamline processes and maximise production yields. Here's to facilitating smarter and more sustainable manufacturing, faster.