The Time to Invest is Now.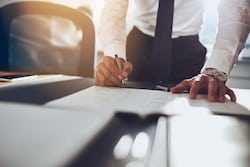 Dr Siamak Goudarzi, worked as a senior judge in Iran for many years, migrated to the UK to specialize in International Business Law at PhD level, formed and managed ILBS, International Legal and Business Solution Group in the UK. Now back to Iran, he is an international lawyer, Senior Partner of Afarin Law Firm in Iran, CEO of Open Iran Group. 
The group under his management is now concentrating on bringing international businesses to Iran, introducing investment opportunities to foreign companies, and assisting them in securing contracts. At the same time, Open Iran Group assists Iranian companies and organizations, including trade related government agencies to attract investment and technology to Iran.
2.  What is your role in the company? Tell us about the work you do behind the scenes.
I work as a leader for Open Iran Group and as MD and senior lawyer for Afarin Law Firm
3. How can your firm help those already investing in the Iranian market?
We help foreign companies from A to Z, when investing in Iran, companies must make sure that legally they are on the right track, prevention is much effective and efficient that solutions once falling into a legal battle. We help firms with advice and services that can save them trouble so that they concentrate on business.
4. What expertise can you offer those considering investing?
We offer them background information regarding the filed they want to invest in terms of licensing, best ways of registering a company in Iran or registering a branch of their existing company. We put them in touch with those in need of their investment or technology so that they go straight to the heart of the business they are in.
5. What sets you apart from the other firms within Iran?

All our lawyers and business consultants have been living abroad, they speak fluent English, the understand western culture and the expectation of western clients in terms of communication, costumer care, customer service, and most importantly delivering the promised service in a timely manner.
6. When working in an industry that is constantly changing, what do you do to ensure that you are at the forefront of your industry?

We always closely observe trends, predict changes based on practice, and stay on the top of developments.
7. What makes your company unique? What distinguishes your firm from its competitors?
In the current market, firms must be able to handle work in the areas of oil and gas, IP and IT law, E-Commerce, JV contracts, Mining, Banking and Finance, Investment Management and more specialized sections. This would need recruitment of lawyers with wider experience and of course the ability to communicate in English. Afarin Law Firm is one of the most versatile and accessible teams of Iranian lawyers at Afarin Law Firm and this opened the firm up internationally and created a completely new breed of legal consultancy. 
8. What does the future hold for your firm?  What are your plans for 2016  and beyond?
We are going to concentrate only on serving foreign companies and assisting them in many aspects of their quest in investing in Iran. Afarin Law Firm, combined with the business services of Open Iran will be one of the main points of reference to foreign companies and their Iranian counterpart.
9. What is the main aim of  Open Iran? 
My aim is for Open Iran to be the primary contact for all sorts of companies and organizations from UK and European who are interested in making business in Iran. We firmly believe that Open Iran is equipped to offer business and legal advice and networking to clients. For this reason, Open Iran has introduced  a membership scheme through which members can, by a small nominal yearly fee, obtain many benefits that they could not normally from one organisation. 
10. What industries are expanding or open to investment ?
Iran is now an open market for all type of investments in Oil and Gas, Infrastructure, Road and Rail construction, Water and Waste Water Management, ICT, Health, Banking and Finance, Insurance, Consumer Goods, Tourism and many more fields.
11. Where are you seeing interest from in terms of  foreign investment ? 
We already see interests from financiers who are seeking secure and profitable deals.  We also see technology providers in the mentioned fields that are ready to offer their latest technology to the right and viable projects, and some with their own financing packages.
12. What 's the advantaged of investing in Iran ? 
With 1.6 million square kilometres of territory, Iran is the 17th largest country in the world and its population of 80 million is similar in size to Germany situated in a very strategic location offering a safe heaven for investors. Iran can provide an access point to 25 countries with a total consumer base of 350 million population. Remarkably, 41% of Iranians are below 25 years of age, offering a firm foundation for economic growth. Despite the sanctions and their consequences, Iran's GDP still stands at a sizeable USD 415 billion – almost equal with the United Arab Emirates. Apart from its sheer size, Iran is rich in natural resources: it is the world's largest proven natural gas reserve holder (18.2 % of total) and the third in terms of conventional crude oil reserves. Iran also boasts vast reserves of copper, iron ore, zinc and lead. Iran is not only rich in natural resources but also in history and culture as one of the world's oldest civilizations dating back over five millennia and this rich heritage and friendly social environment make working in Iran a pleasant experience. 
13. How can open Iran assist in these opportunities ? 
The combination of growth, political impetus and the attraction of foreign investors to the Iran market means that the professional services industry will have to develop rapidly in order to keep up with the growing demands. When it comes to legal services, only a handful of Iranian law firms can currently compete with their international counterparts and very few can offer services to specialized areas.  Afarin Law Firm, the main partner of Open Iran group can handle work in the areas of Oil and Gas, IP and IT law, E-Commerce, JV contracts, Mining, Banking and Finance, Investment Management and more specialized sections.  Directing Investors and business  owner to the right direction, effective negotiation skills,  making the best use of available networks and tools  to make the transition easy for both parties are among the benefits of using Open Iran that can offer a peace of mind to its clients.
Contact 
Dr Siamak Goudarzi, PhD Law
CEO, Open Iran Group, MD, Afarin Law Firm,     

Address: 25, Arikeh Iranian Complex, Farahzadi Bulvar,
Shahrake Gharb, Tehran,
Iran

Tel: +98 21 2235 1161     +98 21 2235 1171      
Fax:  +98 21 2209 4856

Mobile: +98 912 177 2116

Goudarzi@open-iran.com