Winning in Business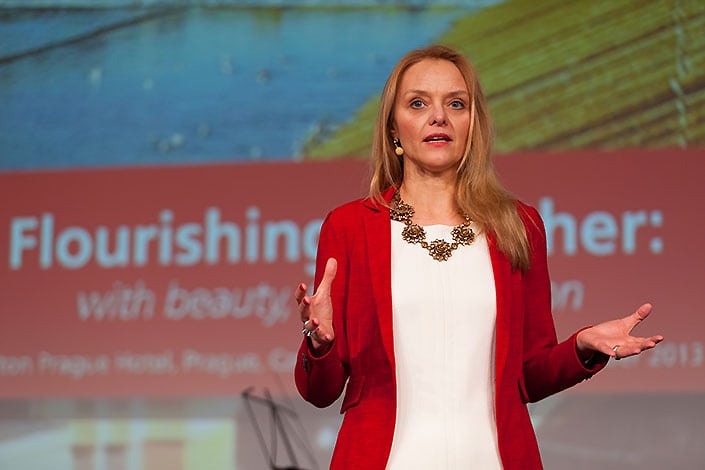 CEO Insight talks to Kristin Engvig, founder and president of WIN, about how we can obtain a more empathetic, global and sustainable vision to work by embracing the feminine; through respect, diversity and inclusion. Working in partnership with men and women, young and old, WIN integrates feminine values, connecting leaders and businesses across the globe, thus helping to transform our work-life balance.
Patricia Cullen: WIN's 20th anniversary global conference in September 2017 invites reflection. What then, would you point to as the network's greatest achievements over the last two decades? To what extent has WIN's championing of a more collaborative and empathetic approach to business been picked up by the private sector in that time?
Kristin Engvig: When we started 20 years ago, women had to fit into a male dominated world and activism played a key role in those early days. WIN helped to introduce an empathetic approach to business at a time when women were concerned with how best to be heard and how best to fit in and manage the work/life balance. It was important to bring with us our feminine qualities, and not only still be efficient, but be even more efficient.
I'm proud of the fact that we didn't build a conference around 'fixing' women; it was about how we could do better, be better and grow. We focused on how to work together across boundaries and borders, and integrate as much as possible. Being more collaborative, more creative, more empathetic and essentially being confident to show these qualities within work hours is a legacy close to WIN. The WIN effect reinforces that just because you are intuitive, does not mean you can't operate a spreadsheet – you can do both.
It's not this or that, it's this and that! The WIN Conferences try to integrate both feminine and masculine properties and we have witnessed a lot of progress, where women's networks, embracing diversity and acting in a more global way, is becoming the norm in the corporate sphere. WIN has also been behind the scenes in a lot of the changes like women's expectations of work and discourses around how to become inclusive leaders. Not everyone is adopting this human approach, but a lot has been picked up by the private sector, with approximately 70% of our conference participants coming from big corporates or smaller companies.
Patricia Cullen: With all the accountable progress over the last 20 years in respect of women's empowerment and gender parity, how do you explain the voting in of a US President who has made such publicly disparaging remarks about women? Do you think this is an anomaly, or does it speak to a more worrying trajectory? How is WIN working to ensure a more positive global narrative prevails?
Kristin Engvig: I compare this in a way to the Stockholm syndrome. Donald Trump was saying all these very damaging, chauvinistic things, but women still voted for him. It's a curious thing, but many women were upset about the power in Washington and wanted to see change. But there are positives. By being so provocative, we are out marching and uniting, instead of fighting against something; we want to focus on what we have. If there are threats to our healthcare system or our human rights, we have to fight for what we want.
We have to defend what's there and stay vigilant, as we could regress and lose it in a moment. It highlights that as women we need to accelerate and up our capacity to stay awake and say no, and never accept unacceptable behaviour. It's a worrying trend if we don't speak up, but I feel we are in the middle of an exciting revolution, and we can create a new future together. At our WIN Conferences there is an emphasis on personal development as well as leadership skills, on how to face issues such as shame, how to feel sisterhood and stand up together.
---
"WIN, even from the beginning, has always been focused on an international approach and finding common ground with those from other continents, allowing change to become a possibility."
---
Patricia Cullen: What, in your view, is the "acceptable face of power"? Who would you say is providing inspirational leadership in the politics and banking arenas?
Kristin Engvig: Many women are inspiring and doing amazing work on the global agenda, including Michele Obama, motivating young kids, promoting education and openness. We need to speak on openness and set boundaries at the same time. It is a difficult time and this is going to be an interesting year. At WIN we try and fight for things, not against. If you fight for, you open possibilities up, and see how we can grow as humans. This year is our year in many ways as the behaviours that many women have tolerated inside the workplace can't continue for much longer, with increased mobilising being led by women. Women are keen on growing, stepping up and stepping out and longing to do work that has meaning and give, share and be generous, benefiting the future generations.
Patricia Cullen: What role is WIN playing across areas such as job creation, global warming, youth unemployment and migration?
Kristin Engvig: WIN isn't engaged specifically in any projects on these topics, but we assist women in following their goals regarding such subjects. Our aim is to encourage and stimulate women and WIN is great for networking and practical support in making things happen. We motivate and facilitate the women in the room and encourage them to initiate their own ambitions. Projects have been kicking off in this way, by sharing passions and ideas. Networking is at the core of WIN, creating a community, taking responsibility and finding opportunities for ourselves and for others.
Patricia Cullen: What can you tell us of the agenda and hopes for the Oslo Conference in September 2017? Who will be attending and how is it unique?
Kristin Engvig: At WIN we are all about accelerating and how we can help create a better future. The Oslo Conference focuses on topics including how feminine values can contribute to the global market, and contribute authentically. What would that future look like, what are the trends and how can you take the lead or support? We will look at the future of work and what robotics, company closures and short term contracts mean for the workplace.
We will cover the future of gender balance and diversity, and examine how we can grow through courage and feminine power, building sisterhood, to mobilise and stand up. It is a great networking opportunity with speakers like the CEO of Sodexo amongst attendees. We offer training workshops to teach and share and morning sessions with meditation. It's different in many ways not least because of the intercultural music interwoven into the programme that encourages communication, combining feminine influences with business.
Patricia Cullen: WIN is about much more than one annual conference. What can you tell us about other events and initiatives around the globe?
Kristin Engvig: WIN, even from the beginning, has always been focused on an international approach and finding common ground with those from other continents, allowing change to become a possibility. We were in India at the beginning of April where the focus differs from our European conferences. It is one of the fastest growing economies in the world, but it is quite far down in the gender gap. We will be focusing on the empowerment of women and safety and security.
In June, we will be in Japan, a country boasting the best educated women according to the OECD. At the national level, the Japanese government is hoping to encourage a better work-life balance to help equilibrate the gender balance. We also have interest from China, Russia and the Emirates.
We grow in the meeting with others. It is happening. www.winconference.net