Appsolute Business Satisfaction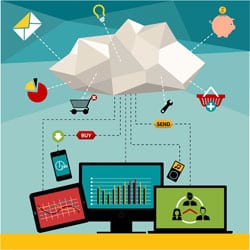 When we think about bank accounts, the age-old, reliable current, savings or basic accounts spring to mind, with the main function of the bank still reserved for storing our money. However in 2014, financial institutions should be looking at a variety of new techniques to provide modern services, offering different ways to use bank accounts more effectively and seizing these new opportunities by proposing innovative, sought-after services to their personal and corporate customers. Banks are constantly looking for ways to increase lending and reach potential new consumers with their latest products and services, but some financial institutions have failed to appreciate the technological changes necessary to flourish in this digitally dominated era.
Banks and other financial institutions can grow their market by acting as much more than just a piggy bank to their business clients, generating new value for all consumers by assisting them in managing their money and realising their financial objectives. To achieve this goal, however, technology, such as cloud-based platforms and modern App systems must take on a much more central role. The 1960s brought us developments such as the ATM and credit cards, the 1990s saw vital technological inventions like Internet banking, and now mobile banking and payments influence how modern business is carried out. While start-ups and tech giants have launched numerous mobile payment solutions over the past few years, many banks have sat on the sidelines, arriving late to the party. Now is the time to get in on the action. 
The way that personal and business consumers manage their money is shifting and banks need to adapt to these changing needs to stay afloat. From digital wallets to mobile payments, financial institutions are beginning to acknowledge this change but are going to have to pick up the pace if they are to protect their patch and outdo the numerous competitors in this ruthless market space. Companies face corporate headaches on a daily basis, and when financial institutions can offer answers to these dilemmas, everyone comes out a winner. For example, an ongoing problem such as significant operational costs that slow down business, causing companies to lose money, was, once, in dire need of a solution. Say hello to the problem-solving virtual visa card that allows companies to maintain complete control of spending, tracking business expenses without difficulty, while helping to manage reconciliations, resulting in satisfied customers, returning time and time again.  
Banks can reduce the time and cost it takes to create and deploy payment products with new app-store like payment systems that are available on the market. Of course, security is a primary concern for financial institutions and one that should not be taken lightly. However, by working together with secure organisations, banks can be so much more than just a holding vessel for business customers and can see in 2015 in a whole new light. 
Modern banking means connecting people and businesses to their money quicker and more proficiently than ever before. As banks start to place more focus on what corporate and personal customers want, banking will begin to develop into a very different business model from what it is today. The financial institutions that embrace new expertise and equipment will be best placed to guide the industry forward. And what about the survival of those institutions that reject technological development? Personally, I wouldn't bank on their staying power.  
Who knows what kind of new financial device we will all be talking about in ten years time, but if the fast tempo of recent years is anything to go by, it will definitely be worth writing home about. Make sure you stay up to speed.
Did someone say App-tastic?
Banking on a good service:
Ixaris – the payments innovator that has already broken new ground with virtual prepaid cards – recently introduced a revolutionary approach for banks to bring new payment programmes to market. With Ixaris Payments Server, banks can single out and tailor payment solutions in an 'app store' type setting, before bringing them to their customers, freeing financial institutions from countless, frustrating IT problems.
Ixaris is committed to opening up payments to app developers and non-technical staff without compromising security. This new technology deals with issues such as corporate and SME purchasing, travel and expenses, consumer e-commerce and payroll. 
The system provides a platform for considerable change in how banks do payments. This very latest technology – that doesn't require technical expertise – is at your fingertips.