Blending Business and Pleasure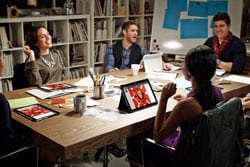 Gone are the traditional 9-5 hours reserved solely for the purpose of work. According to the recent People – Inspired Security study by Samsung, the age-old concept of 'work-life balance' is quickly  diminishing due to the cross-over in the technology that workers use in their professional and personal lives. Three quarters of the Europeans surveyed are using work time for personal chores, whilst the same number are fast using their leisure time for work-related tasks. In place of clearly defined boundaries between work time and leisure time, the concept of 'work-life blending' is emerging.
This knitting together of work and personal lives reflects the emergence of new behaviours and attitudes amongst workers, spurred on by the increasingly technological and mobile world we live in. These changes and modern developments continue to blur the once championed and identifiable work-life boundary, but as the study of 4,500 European workers asks; what impact will this apparent sea change have on the productivity of businesses and workers, and more importantly, what are the risks?
Of the 75% of European employees who spend up to an hour of the working day carrying out personal tasks, Italians are the biggest culprits (86%), with some 63% taking 45 minutes out of the working day to check social networks and 51% spending 30 minutes on news sites. Although the least likely in Europe to succumb to the temptation to complete personal tasks within the working day, some 62% of British workers are guilty of digital procrastination, with 76% taking 30 minutes out to check personal emails or pay bills, and a whopping 65% engaging in a spot of online shopping or simply checking the weather forecast. Sound familiar? These statistics portray just one side of the work-life blend coin – the flip-side also generating impressive percentages – with 77% of those quizzed working during their leisure time. Some 78% of these workers add an extra hour onto the end of a standard working day, and 63% get up earlier to squeeze in extra time before the typical working day begins. Now that's dedication for you!
As Rob Orr, VP Enterprise Business for Samsung Electronics Europe explains; "Nearly four in every ten workers in our study say work-life blending helps them get more work done in the same amount of time, and almost one third believe it helps them manage their personal tasks better and makes them less stressed". Adding further comment to this study, Dr Dimitrios Tsivrikos, Consumer and Business Psychologist at University College London notes that "UK workers equipped and empowered to blend, felt more focused and responsive". These findings are proof of a shift in workers attitudes towards positive work-life blending, but what about the consumerisation of IT and the proliferation of personal device use in the work environment, defined in the study as 'device blending'?
Generic and often slow company IT equipment means that workers are becoming increasingly reliant on the more advanced capabilities of their personal devices to get the job done. Rapid advances in connectivity and portability of mobile devices mean it's not uncommon for workers to respond to emails or access spreadsheets when queuing for their morning coffee or navigating the commute home. This mobile approach to business inevitably leads to increased productivity, something that any worker or employer can benefit from.
The shift towards work-life blending reveals advantages to workers but not necessarily to employers, who are faced with the increased risk of compromised security. The study exposes the presence of hired hackers; more than 26% of workers, largely comprising of so-called millenials, aged 18-34, who circumnavigate company-imposed obstacles and corporate security measures, using their digital intelligence to get the job done. What's more, some 55% of the study's respondents claim to be unaware of company IT security policies or are aware but simply disregarded the rulebook, a serious problem in the UK.
Since personal devices are not within the remit of company IT departments the risk of compromising data is increased when information is not processed securely. Secure use of company data is the subject of a proposed EU General Data Protection Regulation expected later in 2014, which could spell the introduction of fines for companies who fail to process records securely. However, it appears from the study that 70% of workers are increasingly more conscious of IT security than they were previously, whilst some 95% of workers have implemented security measures as a result.
Samsung have recognised the ever-changing needs of workers and businesses, alongside the limitations of technological developments, responding with highly evolved KNOX-enabled devices and delivering enhanced mobile data, platform security and employee privacy.
In a move echoed across Europe, UK workers are looking to blend instead of balance in 2014. 
http://www.samsungatwork.com