Made in Italy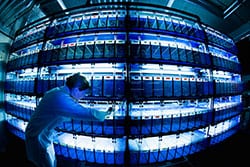 Biotechnology is at the forefront of medical science, facilitating the future of healthcare, vis-a-vis the treatment of disease and long term health conditions, and the biotech sphere is growing in Europe. 
The North American pharmaceutical-biotech industry continues to return a strong capital investment profile, but the amount of project activity across this side of the pond can't be ignored. While the global biotech boom weakened last year, 2015 has set a new record for the European biotech sector, making €6.26bn compared to €3.44bn in 2014. European countries are among the most innovative on the planet when it comes to drug development, and Europe is a world-class hub for new ideas and collaborative research with over 2,000 companies and more than 50,000 employees. In excess of €2bn is invested annually in R&D and there is growing recognition that Europe is home to high-quality, resourceful biotech start-ups. SME's are already getting better funding, thanks to innovative, streamlined procedures for collaboration and applications for funding under Horizon 2020. With a financial plan of approximately €80b, the European Commission's research and innovation programme, developing a high-value, globally competitive sector alongside the Bioeconomy Strategy and Action Plan for Europe, will help connect great people with great ideas, offering the opportunity to make great things happen. 
---
 "Italy ranks 3rd in Europe for the number of pure biotech companies, producing some of the best growth, fresh thinking and new drugs the industry has ever seen."
---
Through initiatives such as Horizon 2020 that has been running for 2 years, the potential is clear to see.  Europe offers a combination of exceptional innovation with a venture environment keen for investors. The leading life sciences clusters in Europe lay claim to a history of excellence in medical research, with highly educated employees, first-class infrastructure and reputable technology transfer organisations making important headway. Clusters flourish when companies, research centres, academic institutes and government agencies work together and on-going financial support for innovation, exemptions for corporations involved in internal R&D and speedy support for clinical trials exist. All of these are crucial for life science clusters to continue developing and modernising the European healthcare system.
Italy ranks 3rd in Europe for the number of pure biotech companies, producing some of the best growth, fresh thinking and new drugs the industry has ever seen. Italy's biotechnology industry is regarded as an exciting and accomplished sector, in spite of tough economic challenges, with a large and lucrative industry working in the medical, industrial, and agricultural sector. Biotechnology in Italy has a high level of innovation, with more than 80% of its R&D employees boasting a second level university degree or a PhD, and the domestic government further encourage progress through generous tax incentives for research. The Italian government have instigated changes to help make innovation key to competitiveness. Recognising the status of pioneering start-ups, introducing a tax credit on R&D costs and investments and providing preferential taxation on intellectual property incomes are helping to bring about this change.
---
 "The Dompé name is strongly associated with innovation and flexibility and its renowned reputation is well-established."
---
With 191 European listed biotech businesses one Italian biopharmaceutical company founded by the Dompé family, stands out from the crowd. Dompé, whose current President is Sergio Dompé (former Farmindustria President) has its headquarters in Milan, major industrial and biotechnological research facilities in L'Aquila which develop primary care drugs intended for markets in about 40 countries, an R&D unit in Naples, an affiliate in New York and offices in Tirana. The Dompé name is strongly associated with innovation and flexibility and its renowned reputation is well-established, concentrating on quality and cost-competitiveness, with an ongoing passion and strong belief in its objective of innovative solutions. Dompé is a leader in its field, and has transformed from a restricted, commercially-driven company to an international, R&D-driven one. Under Eugenio Aringhieri, the CEO of the biotech firm, Dompé has restructured making the Group a globally recognised science-based company. He has succeeded in this endeavour by reinforcing a commitment to research, encouraging an innovative approach and extending the company's global possibilities. In 2016, the Group will invest 30% of its revenue in R&D, concentrating on areas with treatment needs such as ophthalmology, oncology, diabetes and organ transplantation.
This advanced pharma company aims to enhance awareness of the importance of biotechnology and the role of research in the field of rare disease. For this reason Dompé promoted "The Rarest Ones", an outstanding video who went viral on the web for the #ICareAboutRare campaign under the patronage of the Italian Federation for Rare Diseases, UNIAMO F.I.M.R. Onlus, on the occasion of the World Rare Disease Day.
The Italian Job
Italy is expected to develop into one of Europe's strongest biotech markets. The Italian biotech industry has undergone extraordinary growth due to the tremendous impact of technologies, the renowned excellence of academic and industrial research and the capacity to convert innovation into valuable therapeutic products and solutions. 
Read more in our exclusive interview with Eugenio Aringhieri.