Robo Shop
For decades now, futurists have been predicting the dawn of the robot era, envisaging a time when autonomous mechanical devices would be doing everything from repairing bikes to performing surgery. That vision may not have come about as quickly as first thought, but artificial intelligence, mobility and connectivity have made robots more sophisticated than ever.
New navigation and cognitive abilities have allowed robots to become more nimble and take on more tasks. Wi-Fi connectivity and advances in the Internet of Things and artificial intelligence have grown, and the cost of such technologies and components has fallen. So, are robots about to finally transcend the realm of sci-fi and revolutionise the world of work? One industry at least, retail, is a good candidate for this.
Amazon now has more than 100,000 robots operating in its distribution centres. It is working on a new warehouse robot called Hercules that can lift a third more weight than its predecessor. It recently announced that it would spend more than £625m to make one-day shipping the new standard for Prime members. This is expected to include new automation initiatives.
"Bossa Nova's robots are in use in 50 Walmart stores across the US, the largest deployment of this kind anywhere in the world."
But while retail companies have used robots in their warehouses for years, some stores now have robots working on retail floors. Walmart, the world's largest retailer, recently announced the adoption and deployment of robots from San Francisco-based Bossa Nova to help automate on-shelf inventory data collection and analysis. These robots allow Walmart to better meet customer demands and ensure stock is available in the right place, at the right time.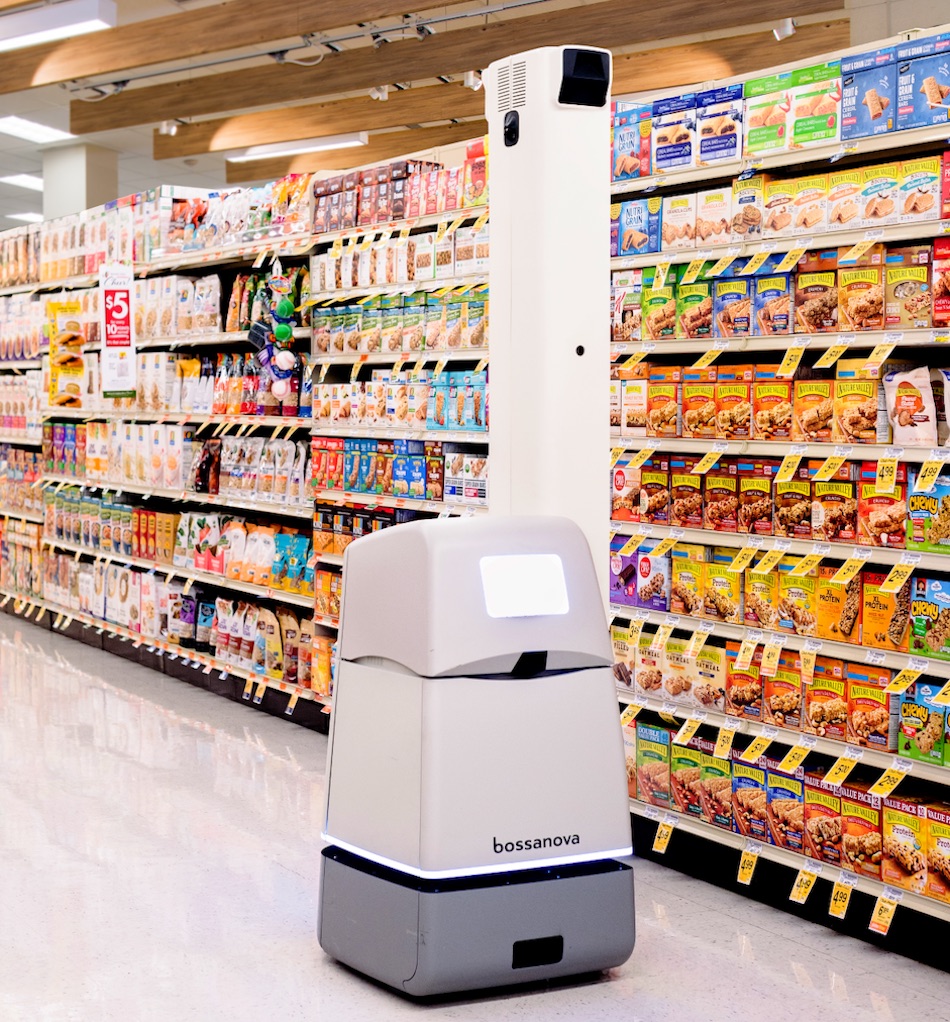 The robots are programmed to manoeuvre around the shop, capturing product images and other identifiers in real time. Store staff instantly receive this information, which tells them whether or not they need to order additional stock, replenish shelves or fix pricing labels. The tech has been developed to remove repetitive and labour-intensive tasks like scanning thousands of labels, freeing up staff to address key jobs such as stock replenishment and customer service.
Bossa Nova's robots are in use in 50 Walmart stores across the US, the largest deployment of this kind anywhere in the world. The robots have scanned around 20,000km autonomously, with no human or environmental collisions. They have a tamper-resistant skin, with a battery of 3D sensors to detect and avoid obstacles. They are completely autonomous, requiring no human intervention to undock, capture and process data, and return home to recharge.
Bricks-and-mortar stores are facing strong competitive pressures. Mothercare was recently just the latest familiar UK high-street retailer to go into administration. These pressures look set to intensify in the coming years as e-commerce businesses raise the stakes on convenience and price. To deliver both satisfaction and good service to customers, retailers need to reduce the risk of running out of stock. Those leading the pack are doing this by adopting technologies to increase customer satisfaction through improved operational efficiency.
Bossa Nova is now working with UK supermarkets as they launch projects to boost operational efficiency and customer shopping experiences. In 2018, it opened a UK office to enable the company to meet UK and European demand for its autonomous robot and real-time data services. Bossa Nova expects the office to grow rapidly and chose Sheffield as its base due to its universities' excellence in robotics and access to world-class talent. The company will also advance its partnerships with the UK robotics industry.
According to Red McKay, European managing director at Bossa Nova Europe, "The UK's retail industry is at a critical inflection point. The biggest bricks and mortar retailers are facing significant external pressures, combined with the customer expectation that they should have a seamless omnichannel experience, every time. the data collected helps deliver real, measurable return on investment that improves the bottom line".
Given different time zones and long distances, and with the increasing awareness and need for Bossa Nova services in Europe, it was not a difficult decision to support the European retail markets with a head office in Europe.  McKay says that Bossa Nova technology is proven in the US, delivering retailers a return on investment of up to 200%. It is a business that works to large scale, aiming to supply its market-leading data service solution to leading retailers around the world. ‍
There is an interdependent relationship between in-store staff and Bossa Nova's robots. The robots are good at repetitive tasks and analysing data but are not equipped to move individual products onto shelves. Store associates are good at physical tasks, so the labour is divided between both groups and they work in tandem. In a well-optimised store, one can't work without the other.
On the customer side, children by nature are playful with the robots, but most members of the public ignore them and continue with their shopping. Customers who want to understand the technology ask questions. It might not be too long before the technology is widely deployed across Europe. So if you think you see a robot coming down the aisle zapping lasers at the shelves, you may not be dreaming!
For more information : www.bossanova.com