Samsung Kicks For Front In Semiconductor Race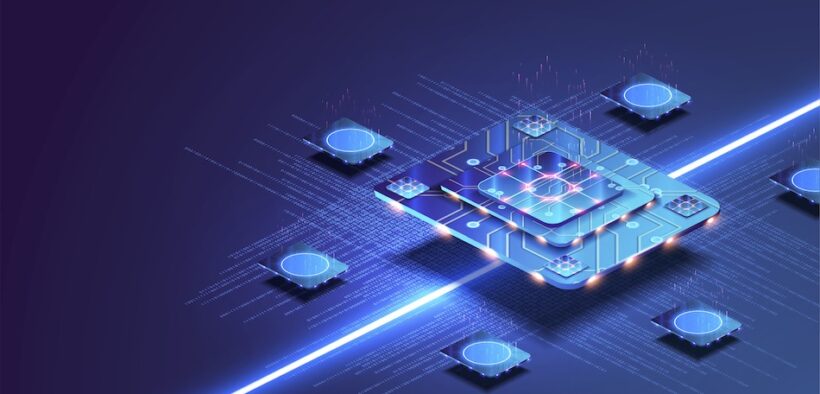 In 2021, Samsung overtook Intel to become the world's top chip manufacturer in terms of revenue. The South Korean tech giant's semiconductor business generated $20.3bn in sales between April and June, up 19% over the previous quarter, according to data released by IC Insights, a US semiconductor market research firm.
California-based Intel, which had reigned as the largest chipmaker since the fourth quarter of 2018, posted $19.3bn in chip sales in the second quarter, up 3% quarter on quarter. The other giant of the industry is Taiwan's TSMC, which has spent decades building its position as the world's biggest chip contract manufacturer and is planning capital investment of $100bn over the next three years.
Samsung put its strong 2Q performance down to higher-than-expected prices of DRAM (used for temporary storage in desktops) and NAND (permanent storage in mobiles) flash memory chips amid a cyclical upturn. Intel is weaker in the memory chip sector, as it concentrates on central processing units. TSMC makes key components for everything from mobile phones to fighter jets. It is Apple's exclusive provider of chips.
"President Biden wants to dedicate $50bn to US semiconductor research and production, part of an overall ambition to safeguard America's supply chains."
Samsung has two main units. The first makes smartphones, TVs and household appliances. The second makes components – semiconductors and displays – for those products and for external clients such as Apple. It has a 44% share of the global market for DRAM chips and a 36% share in NAND devices. The memory business accounts for just over 20% of revenues but nearly half of operating profits.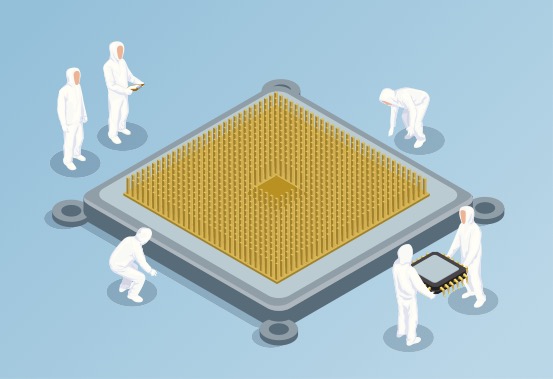 Now, Samsung wants to become as dominant in chips as it is in memory and smartphones. In October, it announced that in 2022 it will make some of the world's most advanced logic microprocessors, with transistors measuring three nanometres. It also unveiled a plan to mass produce two-nanometre chips from 2025 and is expected to have a huge $37bn in capital expenditure across its businesses this year.
The first silicon transistor was built in 1947 in the US. Until then, computers used vacuum tubes, which were sluggish and large. Silicon transformed everything. Transistors manufactured using silicon could be made small enough to fit on a microchip, paving the way for an array of gadgets that become ever smaller and smarter – all because a massive computer can be put onto a minute chip.
"Samsung's move could also have broader ramifications as the world's regions move to shore up semiconductor capabilities"
The outcome of Samsung's chip gambit could be significant, and not just for Samsung – it matters to South Korea. This summer, the country's government unveiled ambitious plans to spend c.$450bn to build the world's biggest chipmaking base over the next decade, joining China and the US in a global race to dominate the technology. Samsung and some 150+ other Korean companies will lead a push to safeguard the nation's most important industry.
As a major exporter to China and a security ally of the US, South Korea has been navigating choppy waters between the two while bolstering its own production prowess. The Korean government will incentivise its domestic industry via tax breaks, lower interest rates, eased regulations and reinforced infrastructure. It will also secure water supply for the next 10 years and reinforce power supplies, both essential to advanced chipmaking factories.
Likewise, the US, China and EU are aiming to shore up their semiconductor capabilities after the global chip shortage exposed a dependence on Asian manufacturers and hindered efforts to repair pandemic-damaged economies. The shortages have recently been spreading from vehicles to smartphones and displays, putting semiconductors onto the radars of governments around the globe.
President Biden wants to dedicate $50bn to US semiconductor research and production, part of an overall ambition to safeguard America's supply chains. US semiconductors accounted for half of global sales in 2020, but only 12% of those chips were manufactured in the US. So while the US still leads in design, supply-chain issues have become an issue and give China plenty of leverage over the US.
China for its part has earmarked hundreds of billions of dollars toward developing its own chipmaking industry. It is the world's second-largest consumer of semiconductors behind the US but is way behind the US when it comes to making advanced microprocessors. China's main role in the semiconductor world has so far been that of assembler and packager.
The EU too is seeking to bolster its semiconductor manufacturing, aiming to double its share of the global chip market by 2030. While Europe has leading strengths in some niches of the semiconductor supply chain, it is well behind Asia in particular when it comes to making very high-end chips. The strategy will strongly rely on buying in foreign expertise, most likely supplied, at least initially, by US-based Intel given the limited extent of cutting-edge chipmaking in Europe.