Tomorrow's Data Centres Today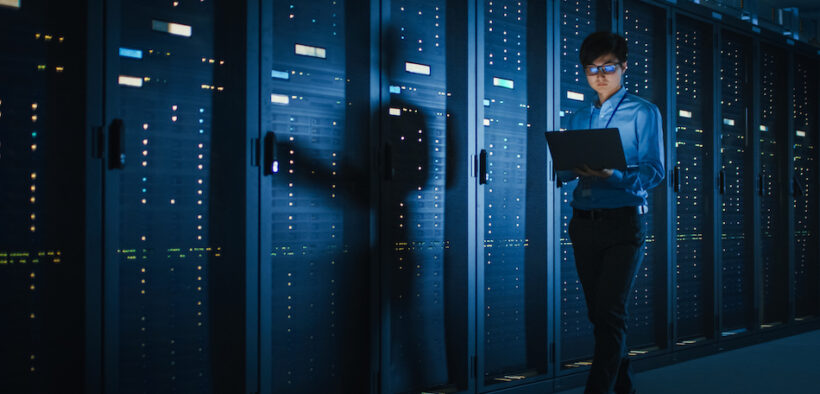 As data centre demand continues to grow, so there is greater clamour for optimisation and improvement to ensure these power-hungry facilities are green, energy efficient and at peak performance. This means maximum returns for owners, customers and investors, as well as impeccable ESG credentials.
Central to this process are commitments to harnessing innovative cooling techniques and facilities being fully powered by renewable energy. Talk is cheap, however, so are these commitments translating into action that sees the replacement of outdated, inefficient kit?
Behemoths of tech, such as Microsoft, Oracle and Google are leading the way, with the latter's data centre power having been driven by 100 percent renewable energy since 2017. Yet, the future involves an enhanced commitment that sees optimisation of the entire data centre life cycle, starting with design and construction.
"For those parties interested in progressing their interest, Node Pole is a one-stop-shop gateway to the Swedish market, offering optimised costs and mitigated risks."
Downtime is the Devil
Downtime is the devil for data centres, since the increasingly digitalised global economy has become reliant upon them. As such, measures to ensure 100 percent availability and an uninterruptible power supply are of paramount importance, as is the ability to be scalable, since customers' needs vary, hence the growing popularity of modular building techniques.
Yet, first, one must decide where to locate. Cooling is key, so cold climates score highly, explaining the proliferation of data centres in Scandinavia. Countries with abundant supplies of renewable energy and advanced associated infrastructure also possess inherent advantages. Again, Scandinavia ticks the boxes.
With power and cooling constituting the chief operating costs of a data centre, R&D has been focused on innovations in these areas to drive efficiency and performance. Work around indirect evaporative air, liquid and immersion cooling are of particular note in this regard.
The ability to attract and draw on technical skills pertaining to AI and big data are more important these days than those relating to networking or hardware for data centre operators, as the world becomes ever more cloud-oriented. That said, the volume of staff needed on site is likely to reduce over time as remote monitoring and management capabilities are enhanced.
"With the global COVID-19 crisis having compelled the world to stay at home, the amount of data creation has sky-rocketed."
The Jewel in Scandinavia's Crown
For those looking to invest in data centres, Sweden is perhaps the most attractive proposition. Possessing  plentiful supplies of clean cheap energy and marked by business-friendly regulation, an absence of corruption and competitive costs, the Scandinavian country understands that the minimum level of expectation is 100 percent reliability. It is blessed with a robust grid network, as well as a hydropower and wind-oriented energy mix that allows for near net-zero operations. Moreover, it has world-leading high-speed connectivity and a highly skilled labour pool schooled in mission-critical and digital industries.
Furthermore, Sweden's industrial past is steeped in innovation, with Ericsson, Spotify, IKEA and ABB just some of the world-renowned names it can claim as its own. And, this frontier tech spirit is stronger today than ever. Meanwhile, numerous unicorns, a thriving start-up scene and a decidedly international outlook testify further to its credentials. In addition, time to market is swift and the commercial landscape is competitive. On the permit front, many sites are ready to go, while there is a can-do attitude from authorities in terms of assisting companies to obtain the necessary paperwork.
The Arcadis Data Centre Location Index 2021 pointed to Sweden's excellent energy security and download speeds when positioning it as Europe's best location for data centre investments. It also marked out for attention the government's comprehensive programme of incentives that serve to make investments more attractive.
Expertise on Hand
For those parties interested in progressing their interest, Node Pole is a one-stop-shop gateway to the Swedish market, offering optimised costs and mitigated risks. With a substantial portfolio of pre-permitted sites at its disposal, the time lag between procurement to deployment is greatly reduced, thereby enhancing ROI and competitiveness and facilitating first mover advantage. Economies of scale are brought about by the fact that Node Pole does not limit itself to agent status, but is involved in the development and build processes too, while it focuses on best use of resources from the outset to ensure long-term environmental viability.
Node Pole CEO, Christoffer Svanberg highlights the abundance of green energy and available land, the energy security, the ease of doing business and the best-in-class broadband connections as Sweden's key assets for data centre investors.
With the global COVID-19 crisis having compelled the world to stay at home, the amount of data creation has sky-rocketed. This means more critical infrastructure is being placed in data centres, and thus more power is required to meet that increased demand. This brings with it important questions about the ability of data centres to meet their environmental responsibilities in a world gone digital that must at the same time transition to net zero in order to meet the existential challenge of climate change head-on. Informed by this, as well as locating in the Earth's cooler regions, predictive platforms informed by AI and machine learning will help to establish more efficient, cost-effective and sustainable data centre operations.