The Art of Business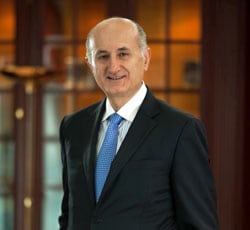 An interview with Issa Abdul Salam Abu-Issa  the Chairman and Chief Executive Officer Salam International Investments Ltd
Based in Qatar, Salam International Investment Limited (SIIL) is a leading conglomerate with a highly focused approach to establishing, incorporating, acquiring, and owning enterprises. It has a track record of consistent entrepreneurship, innovation, performance, reliability and customer satisfaction. SIIL aims to become one of the most successful diversified public companies in the Middle East and an inspiring example for regional family groups.
1. Salam International Investment might not be a name that is familiar to everyone. Can you give us an overview of the company's history and current status?
Our history:  The history of the Salam organisation dates back to 1952 when Abdul Salam Abu Issa opened the first studio and film processing laboratory in Doha – Salam Studio. In 1954, he converted the adjoining restaurant into a gift shop and the joint establishment was named Salam Studio & Stores. The business flourished. By 1963, the original showroom had become too small, and a move was made to larger premises. The next ten years saw a consolidation of business, with much travel to distant countries in pursuit of manufacturers and new products for an increasingly discerning clientele. The growth of Salam Studio & Stores accelerated in tandem with the economy. The pace of growth continued through an ever-increasing program of diversification and international expansion into the United Arab Emirates and Oman.
 The birth of Salam International: Within a few years, Salam's operations would encompass studios, stores and companies for wholesale, retail merchandise and services serving the entire Gulf region under the umbrella of Salam Holdings. In June 2002, Salam Holdings merged into Salam International Investment Limited, and in October 2005, Salam Group merged into Salam International, both landmark examples of how to transform family-owned businesses into public companies.
Salam International as it stands today: Salam International Investment Limited (SIIL) is a leading conglomerate pursuing a highly focused approach to establishing, incorporating, acquiring, and owning enterprises. As an inheritor to a rich, 62-year heritage, SIIL has enjoyed a track record of consistent entrepreneurship, innovation, performance, reliability and total customer satisfaction. Underpinning SIIL's success is its many strategic business activities, which have been astutely diversified.  As a trusted conglomerate, SIIL is building on the strength and growth dynamics of the region and combining its approach with international best practice management disciplines. SIIL is an organisation with regional expertise enhanced by local knowledge.
2. What are the company's main areas of business and what is its geographical reach?
SIIL specialises in five lines of business: retail, technology, energy and industry, contracting, and real estate. It owns and manages over 33 business units.  Its operations are spread across Qatar, the United Arab Emirates, Palestine, Saudi Arabia, Oman, Bahrain, Jordan and Lebanon.
3. Can you give us a few examples of businesses that you own and manage? 
Retail: Salam Stores, which is spread across the region, is one of SIIL's best-known luxury retail businesses. SIIL also has a robust distribution sector dealing with leading international brands in their retail operations. Real Estate: The Gate, located in West Bay Doha is one example of an SIIL real estate sector operation. Owned by SIIL, The Gate is of Qatar's most luxurious and elegant  retail and office spaces, located at the heart of Doha's business district.
Construction:  In the construction sector, the companies we own and operate in the region include Alu Nasa, Salam Enterprises, Modern Decoration Company, Gulf Steel and Engineering and Salam Industries. These are some of the diversified portfolio of business units that target different segments within the contracting sector. Energy & Industry: Salam Petroleum services the Oil & Gas industry, offering both upstream and downstream expertise, and Stream Industrial Engineering and Qatari German Switchgear offer MEP, power generation and transmission solutions.  Technology: In the technology sector, one of our operations is Salam Technology. The company operates in IT and office automation and is a leading market player in these domains, representing many leading names. In the field of media technology, Salam is a renowned regional player.
4. The global economy has been struggling in recent years. How can Salam International achieve sustainable growth amid the current pressures and challenges?
Firstly, the fact that SIIL's operations are rooted in Qatar and the UAE provides a measure of external insulation. During previous global crises, the governments were the main drivers of the economy, and Qatar and the UAE took steps to protect industries and markets in the region. That foresightedness has worked very well, providing a layer of protection that has benefitted businesses. Secondly, the region is set to host such huge events as the World Cup in Qatar, the Expo in Dubai, and a variety of events in Abu Dhabi. These events will facilitate the continuous expansion of the population and the growth of the retail, construction, and service industries in the region. They will also create opportunities for SIIL, which we will certainly convert into profitable initiatives. The real challenges for companies like SIIL come in the form of changing market dynamics, including new entrants and heightened competition. SIIL has put in motion stable plans to strengthen our operations all round to combat these challenges. The other challenge is what happens after five years! This is something that we are working on intensely. Regional expansion, entry into other promising markets, a continuous focus on diversification –we have put in motion all these measures to prepare for the future.
5. Salam International announced a massive program to transform the company. What does this entail?
The transformation program began a number of years ago and continues to date. The approach we took was a holistic one. The program had a number of angles we simultaneously launched. The diversification of SIIL's businesses was a pre-emptive move that has already placed SIIL on a strong footing. We also strengthened our infrastructure, including all information technology, financial and operational aspects of the business, preparing us for the hugely competitive realities we forecasted. SIIL invested and continues to invest heavily in human resources, providing high-level training to staff while attracting industry-leading talent to build a highly competent outfit from within. We continue to streamline all operational aspects of SIIL's businesses. As part of the transformation programme, we also began working strategically to consolidate our offerings, bringing the competencies of SIIL together under one umbrella in order to capably take on massive projects as a single entity.  These are just a few elements of SIIL's transformation programme.
Website