An interview with Herbert Wigwe, Group Managing Director, Access Bank Plc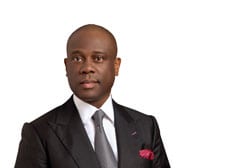 Over the past 26 years, Access Bank Plc has evolved from being an obscure Nigerian Bank into a world-class African financial institution. Today, it is one of the five largest banks in Nigeria in terms of assets, loans, deposits and branch network, a status that has been achieved through strong long-term approach to client solutions. Access Bank has built its strength and success in corporate banking and is now taking that expertise and applying it to the personal and business banking platform following its acquisition of Intercontinental Bank in 2012. The last two years have been spent integrating the business, investing in infrastructure and strengthening the product offering.
CEO Insight: Access Bank might not be a name that is familiar to everyone. Can you give us an overview of the Bank's history?
Access Bank is a leading African bank, operating 366 branches and 1066 ATMs in major centres across Nigeria and with subsidiaries in Sub-Saharan Africa and the UK. For over 26 years, the bank has been providing leading corporates, SMEs and retail customers with the highest standards of speed, service and security in its banking offering while delivering exceptional returns for its 800,000 shareholders.
The bank's history begins in December 1988 when it was first issued with a banking license. It was incorporated as a privately owned commercial bank in Feb 1989 and operated from its head office at Burma Road in Apapa, Lagos, Nigeria. From those humble beginnings, the bank grew and was subsequently listed on the Nigeria Stock Exchange in November 1998 and in 2001 was issued a Universal Banking License from the Central Bank of Nigeria.
In 2002, the board of Access Bank entrusted two business partners Aigboje (Aig-Imoukhuede) and I, (Herbert Wigwe) with the task of repositioning the bank as one of Nigeria's leading financial institutions within five years. Whilst we saw this as a unique opportunity to transform the Nigerian banking sector and we saw it as achievable, many thought it was impossible. With the help and experience of the board and all our staff we achieved just that.
We began on our journey of building the bank and within the first year grew its balance sheet by 100% and posted an impressive N1 billion profit before tax, more than the cumulative profit made by the bank in the previous 12 years. This marked the beginning of what would be a record six year triple-digit growth trend. In just 12 years, Access Bank has been transformed from an obscure Nigerian bank into a world-class African financial institution. It has grown from the 65th of the 89 largest banks in the country to become one of Nigeria's four largest banks, serving over 7m individual and corporate account holders. The bank continues to provide innovative products and offerings which have strengthened its positioning and perception as a customer-centric institution while extending banking services to a greater proportion of the Nigerian population
Access Bank is a Tier 1 bank with robust financial indicators and possesses an enlarged resource base with strong upside potential. The bank's leadership has a clear focus on value creation for shareholders. Over the years, Access Bank has consistently demonstrated strong corporate governance with a track record of strong performance. We are especially proud that we have met every target we have set since 2002. As part of its continued growth strategy, Access Bank is focused on mainstreaming sustainable business practices into all its operations. The bank strives to deliver sustainable economic growth that is profitable, environmentally responsible and socially relevant.
---
"AS PART OF ITS CONTINUED GROWTH STRATEGY, ACCESS BANK IS FOCUSED ON MAINSTREAMING SUSTAINABLE BUSINESS PRACTICES INTO ALL ITS

OPERATION."
---
CEO Insight: What are the bank's main areas of business and what is its geographical reach?
Knowing our customers is at the heart of our business model. Working with some of the world's biggest companies, we grow their businesses by empowering their employees, suppliers and distributors. Today we give 6.5 million individuals the power of banking, serving customers through personal, business, commercial and institutional banking divisions. The Bank currently operates through a network of 366 branches across major cities and commercial centers in Nigeria, Gambia, Sierra Leone, Zambia, Rwanda and the Democratic Republic of Congo. We have an office in the United Kingdom and a representative office in China.
CEO Insight: Access Bank has demonstrated a commitment to the principles of sustainability. How did this focus come about?
Access Bank is driven by the conviction that ethical behaviour is the only way of building a strong business for the long term. Our mission is to set standards for sustainable business practices that unleash the talents of our employees, deliver superior value to our customers and provide innovative solutions for the markets and community we serve. Through these practices, it is our ambition to become the world's most respected African bank.
Along the way, the bank has built a strong corporate culture by adhering to socially responsible goals and has continuously displayed a strong commitment to global health issues by leveraging its people and financial resources to invest in successful health programmes in Nigeria and other African countries.
We believe that creating a sustainable business is the right thing to do, as it creates equity for our business, the environment and the community around us. That is why we aim to embed sustainability into the core of our operations. It is the only way to build a business that delivers an enduring legacy of value to shareholders. We continuously evaluate our performance to ensure that we adhere to best practices, set new milestones for ourselves and provide the necessary tools for the implementation of our sustainability objectives while striving to deliver sustainable economic growth that is profitable, environmentally responsible and socially relevant.
We also focus on building our institutional capacity. We do this by leading through example and engaging the wider financial industry to share in and understand our sustainability objectives. That is why we aim to embed sustainability into the core of our operations. It is the only way to build a business that delivers an enduring legacy of value to shareholders. Our efforts and focus on sustainable banking have seen us win a number of accolades, with the most recent being the 2014 World Finance Banking Award for the most sustainable bank in Nigeria.
CEO Insight: The banking industry has seen margins come under pressure following the crises of recent years. How can banks achieve growth amidst the current pressures and challenges?
The current banking sector reform in Nigeria was designed to promote the stability of the system to enable it to adequately meet the aspirations of the economy in terms of accelerated economic growth and development within the ambits of a tougher operational global economy. The overall objective is to guarantee that the economy and Nigerians do not remain fringe players in the context of a globalizing world.
---

"We believe that creating a sustainable business is the right thing to do, as it creates equity for our business, the environment and the community around us."
---
Our growth strategy, within the context of a difficult market,is focused on carefully targeting growth segments and we have seen this deliver strongly in 2014. Our asset yields have improved through this. We have seen our loan book and retail books grow whilst funding costs and the cost to income ratio are showing a downward trend. Our contribution from personal and business banking has increased over time as we have built momentum in the key retail and SME segments. All this has been achieved whilst maintaining our leadership in corporate banking.
Although we have seen strong loan growth, we have not rested on our laurels from a risk management perspective. Our ability to effectively identify, assess, monitor and manage market risks involved in our activities has been critical to our soundness and profitability. The bank continued to implement a disciplined and conservative capital enhancement plan, designed to ensure maintenance of our moderate risk appetite. In line with our efforts to grow the business whilst concurrently protecting the capital base, we have focused on high-quality obligors and have accordingly seen a decline in our NPLs. Access Bank has maintained its risk rating and maintained investment grade credit ratings. We were recently upgraded to an A+ with a stable outlook by local agency Agusto and Co. Our growth is supported by the compelling growth opportunities in Nigeria and sub Saharan Africa.
CEO Insight: The bank has come a long way over the past 25 years. How do you see it developing over the next 25 years?
Looking forward, we believe that the platform that has been created through our transition into a large diversified financial institution will ensure a stronger and better capitalised bank, enabling us to remain competitive and take advantage of significant market opportunities in the execution of our long-term strategy. Access Bank has also continued to improve its capacity and infrastructure to serve customers in line with its mantra of speed, service, and security.
We are making significant strides in gaining retail market share and becoming a key player as the bank deploys bespoke services for specific segments of the retail market including women, children and youth. As we build momentum, we have ensured that our capital position allows us to deliver on our ambitions. The successful raise of $400 million of subordinated notes in the global markets during the second quarter underlines our continued focus on the enhancement of capital. The next step in this process is our ₦68bn rights issue, which we anticipate will be launched in the middle of November 2014.
We are confident in our strategy of sustainable growth,ever-improving governance standards, and focus on risk management. We are excited by the group's potential and confident in our objective to become the world's most respected African bank and a top-3 player in select markets
More information: www.accessbankplc.com