Interview with Daniele Guidi, CEO of Banca CIS- Credito Industriale Sammarinese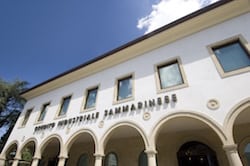 CEO Insight: How do you ensure continual product and service improvements for customers?
In line with our long history of Private Banking expertise, Banca CIS attention is focused on continuous improvement of product and service for customer. Today, the Bank boasts 90 collaborators, a major business network in the country and internationally. Its extensive presence in the republic is most definitely highly beneficial for local savers and investors and also results in strong support for cultural, sports and social initiatives widely popular. In the framework of a deep reorganization of Bank structure, the Private and Investment Banking development unit has been reinforced with a few managers, with prestigious curriculum and high-level professional networks.
Banca CIS boasts an asset management company, Scudo Investimenti SG, with about fifteen San Marino Investment Funds, including an innovative Modern Art Fund, based on a collection of over 50 works of famous Italian and international artists. This is a medium/long-term investment fund of closed-end type, with assets invested in works by well-known modern and contemporary artists (Modigliani, Keith Haring, Fontana, etc.) which avails itself of the consultancy of prestigious art advisors able to guarantee the validity of the works and constantly update their estimated value. Scudo Investimenti plans and provides Funds both for Private clients and banks.
In addition, Banca CIS has built a quantitative model to help the strategic planning department and the top management to simulate different strategic alternatives, calculating the impact on the main financial variables and indicators of the balance sheet and assets of the bank.
On this basis in 2014 and in 2015 Banca CIS has gained recognition as Best Private Bank of the Republic of San Marino from World Finance, one of the most famous international magazines in the world of business and finance.
CEO Insight: What philanthropic or charitable projects – if any – is the Bank involved in?
According to the historical role of Credito Industriale Sammarinese within the social and economic context of the Republic, the Bank is focusing on a lot of activities both on charitable projects locally and internationally developed and is sponsoring many Associations especially aimed at developing young people education, sport and training. Not forgetting of course the support to local cultural and arts Associations.
CEO Insight: How have you reacted to recent regional and national industrial reforms?
At the moment the Republic of San Marino, after being included at least in the Italian White List, is engaged in a process of entering into agreements with Europe dealing with the exchange of information starting from 2017, and consequently in a relevant number of reforms in economic, fiscal, social topics. At the same time several proposals are put forward to negotiate association agreements between San Marino and the EU. Particularly interesting for investors are the fiscal incentives approved by the Government aimed at establishing new companies in the Republic, which are extremely attractive for foreign investments in firms and starts up.
After the merging process initiated in 2012, Banca CIS has been busy reengineering its operations and organisational structure in order to achieve a number of objectives. One of its many accomplishments has been its improved strength in relation to compliance, legal, auditing and risk management functions according to the regulations introduced and coordinated by the Central Bank of the Republic of San Marino. Banca CIS has also been extremely proactive in updating its inner structure in order to fulfill the regulators requirements and to improve the use of new technologies in all the business areas.
CEO Insight: What are your projections for 2016? How will the organisation remain competitive?
In 2016 the main objective of the Bank is to completely exploit the economic potential through improvements in efficiency and further injection of high-skilled resources. The new status of normalised relations with Italian institutions, which is a result of the EU's willingness to strengthen relations with microstates and attempt a better integration within the European single market, will result in new opportunities and new commercial links with the Italian economic system. Banca CIS expects that the possible cooperation with foreign financial institutions will provide various benefits for all countries.
Closer links and cooperation between countries will help financial institutions to improve the assistance towards the interests of their own customers and will facilitate the creation of a wider agreement for the development of new products and services for customer assistance. At the moment, the investment collective scheme of San Marino cannot be distributed as a retail product outside the Republic, but this initial agreement represents one step in a much larger process, which in the future will hopefully build the premises for the creation of new opportunities.