Caribbean Countries Boasting Investment Potential in 2022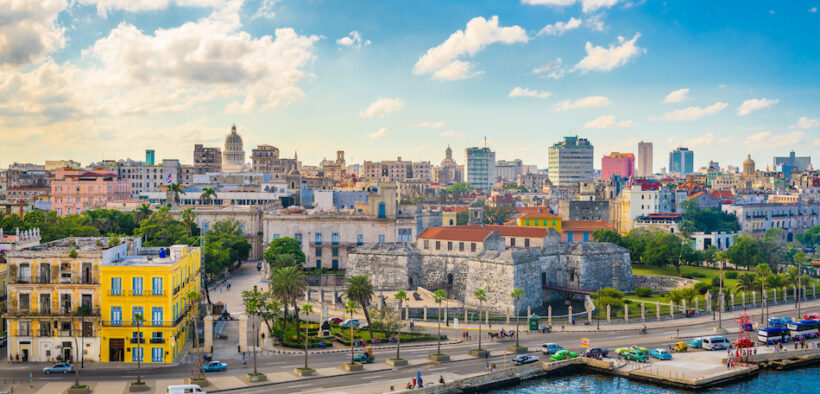 The Caribbean. Host to 7,000 islands, 25 countries, infinite growth opportunities and an emerging capital market.
As seen across the globe, the COVID-19 pandemic has caused major trade shifts, and this tourist-dependent region was left devastated by border closures, flight cancellations and the near-collapse of the cruise ship industry. The Caribbean economy contracted 8.6% in 2020, and by 12.6% excluding Guyana. However, with vaccine rollouts well underway, the world can finally look beyond COVID-19 and towards future investments.
The COVID-19 crisis exposed the vulnerabilities of the economies of St. Vincent and the Grenadines, Barbados, Saint Lucia and other small, tourism-dependent Caribbean countries. It highlighted the region's age-old structural problems including a lack of investment and productivity, casual labour, unemployment, inequality and poverty. Nevertheless, the Caribbean economy is set to grow this year.
Burdened by some of the world's highest public debt levels even before COVID-19 hit, many countries have borrowed more to bolster their health programmes while providing support for businesses impacted by the pandemic.
"Investor confidence in Jamaica has been boosted by the country's debt management stance."
What countries are leading the way post-pandemic?
As the vaccine continues its rollout and global lockdowns start to lift, Caribbean countries join the international effort to 'build back better' by investing in education and economic diversification. What countries are supporting innovation and pushing progressive policies?
Fewer travel restrictions and more successful vaccine campaigns means tourism is already thriving for the U.S.V.I. and Turks and Caicos. Catering for a wealthier market and luxurious longer stays, visitor numbers are expected to rise as the islands market a Caribbean summer to an increasing number of vaccinated Americans. Many small Caribbean islands such as Bermuda and the Caymans have succeeded in securing foreign companies to invest or relocate, by offering low corporate tax rates and wages, alongside a high standard of living.  Gross National Income per capita varies from US$800 to US$30,000 throughout the Caribbean.
Antigua and Barbuda is a member of the Organization of Eastern Caribbean States and the Eastern Caribbean Currency Union. According to the Eastern Caribbean Central Bank, as of December 31 2019, Antigua and Barbuda had an estimated GDP of $1.72 billion, with forecast growth of 6.75% in 2020. Following the pandemic, the economy contracted by 17.3% that year. The government have formulated a Medium-Term Fiscal Strategy, seeking to restore debt sustainability and resolve outstanding domestic and foreign debts, prioritize policies that tackle COVID-19 and create optimal conditions for robust growth and job creation.
Proportionally, Cuba has fewer visitors now than in the 1950s, and is not part of the principal US-based market, including Caribbean cruises that move nearly as many tourists as airplanes. The embargo on US trade was put into place in 1960 and, after a brief pause under one president, there it stays today. The Cuban government ended its dual currency system, devaluing its peso for the first time since the 1959 revolution, in a bid to strengthen the economy. This is a big step towards eradicating issues that hinder production, drain capital and keep people poor.
However, this is leading to a rise in inflation. The easing of travel restrictions comes just in time for Cuba's peak tourism season of November to March. This is highly likely to stimulate the industry, which accounted for 10.6% of Cuba's pre-pandemic GDP and enticed 4.6 million arrivals in 2018. It will also reveal President Miguel Diaz-Canel's tentative economic reforms announced in 2021 in response to tourist arrivals plummeting 80% in 2020 and GDP subsequently contracting 11%. The revisions include offering private enterprise a greater share of the largely Marxist-Socialist economy. As part of the efforts underway to encourage foreign investment, Cuban authorities announced that beginning 2020, a new strategy will be implemented to attract more business and investment growth. The 'Single Window' project seeks to eliminate current red tape and delays regarding the issuing of permits, licenses and authorizations required to facilitate foreign investment on the island. It will improve Cuba's co-operation with the international market and increase product competitiveness.
Jamaica is one of the world's leading producers of bauxite. The ability of the Jamaican government to finance private-sector and public welfare stimulus packages without resorting to external borrowing, including the refusal of special drawing rights allocation from the International Monetary Fund, highlights the country's strength and resilient capacity. Investor confidence in Jamaica has been boosted by the country's debt management stance. Its proximity to the US and sharing a similar time zone, offers investors a lucrative setting for outsourcing activities owing to lower costs, location benefits and language factors.
The JSE market index rose by 97% in 2015, due to foreign acquisitions and a recovering economy. Vision 2030 Jamaica is the first long-term National Development Plan which aims to put Jamaica in a position to achieve developed country status by 2030. The government have been working on economic reforms that have gained support from the International Monetary Fund and the World Bank. For Jamaica, the industry's total contribution is estimated at 31% of GDP and there are 45 companies listed on the JSE.
The twin-island nations of Trinidad and Tobago have an energy system completely reliant on natural gas, and the changeover to cleaner energy generation is a pressing priority. Per capita, carbon emissions from energy-related activities in T&T are nearly 2.5 times greater than the world average, according to the Inter-American Development Bank. The challenge, and opportunity, for T&T lies in having to maintain a faltering economy built on fossil fuels while positioning itself to leap onto renewables.
The global drive toward net-zero carbon emissions in the next three decades will create many opportunities for businesses in T&T, according to Planning and Development Minister Camille Robinson-Regis. The government's overall development and policy agenda is driven by the environmental agenda. As a member of the Caribbean Community and Common Market, T&T benefits from trade alliances among other Caribbean states.
A popular host country
The Dominican Republic has one of the largest GDPs among the different Caribbean territories, but it's dependence on tourism negatively dropped the GDP in 2020 by 6.7%.The economy has been growing since 2004, with GDP peaking in 2019, at $88.9bn. While it is the fastest growing economy in Latin America, the Dominican Republic's economy is still not diversified enough. With a mix of manufacturing and services, tourism sustains an estimated 16.3%. Although the country's trading partners increased from 98 in 2000 to 147 in 2017, the US still buys over 50% of Dominican exports, and the economy continues to specialize in commodities rather than more sophisticated products and services. But change is afoot.
The Dominican Republic is the top recipient of FDI in the Caribbean, with 297 projects recorded since 2003. Free zones and low labour costs also attract foreign investors to the country. Opportunities abound as the country intends to generate 25% of its energy from renewable sources by 2025 and plans to be carbon neutral by 2050. The 2019 World Economic Forum Global Competitiveness Report ranks the Dominican Republic 78 out of 141 countries, with challenges in the skills sector, where the country ranks 86th.
As the COVID-19 crisis eases, new economic policies will optimize its productive potential and increase the resilience of its economy, according to the country's first Production Transformation Policy Review. Several improvements undertaken as part of the National Development Vision 2030 include the deployment of digital technology in schools, the digitalization of administrative procedures required to start a business and the approval of a national quality infrastructure system. However, the country ranks as one of the worst in the region in the Corruption Perception Index.
Best Business Base:
Barbados upgraded in the recently released Transparency International Corruption Perception Index 2020 report. The jurisdiction has taken 1st place as the least corrupt country within the Caribbean, 3rd place among the Latin American and Caribbean countries and 29th globally among 180 countries. More than 2,500 people – mostly from the US, Britain, Canada and Nigeria – have applied since the Barbados Welcome Stamp Visa began in July, according to recent data from Barbados Tourism Marketing, Inc. Barbados ranks as the least corrupt country in the Caribbean, offering a stable environment in which to do business. However, borrowing during the pandemic helped inflate Barbados' debt levels to 144% of GDP in 2020, so new policies and strategies hope to combat this growing concern.
The Bahamas will boost growth and promote business continuity of Micro, Small and Medium Enterprises, alongside their Blue Economy environmental resiliency, with a US$140 million loan approved by the Inter-American Development Bank. The government is prioritizing reforms geared at promoting economic competitiveness under a framework of environmental sustainability and resilience. Actions are well underway for improving the business climate and commercial diversification.
The Bahamas National Development Plan: Vision 2040 sets economic diversification as a priority goal for resilient growth, including the sustainable development of new sectors, increased employment for young people in blue jobs and greater protection of coastal and maritime ecosystems. The country offers investors a 0% corporate tax rate and has a long-standing reputation in offshore finance. Corruption in the country is relatively low, ranking second best in the region in Transparency International's Corruption Perceptions Index in 2020.
"With about 217 days of sunshine a year, the Caribbean has excellent solar resources enabling solar PV plants to generate electricity at similar or less expensive costs than conventional power plants do."
Renewable Energy
The global strategy for mitigating climate change is no secret, with many countries embarking on initiatives to transition to clean energy sources. With about 217 days of sunshine a year, the Caribbean has excellent solar resources enabling solar PV plants to generate electricity at similar or less expensive costs than conventional power plants do.
Monte Cristi Solar, a two million-square-metre solar plant in the Dominican Republic, will produce 103,000 MWh of electricity per year and will supply up to 50,000 households with clean electricity. It reflects the awakening of a new energy age, as solar energy opens new, unprecedented opportunities and will have a lasting impact on the country's future. Investment opportunities abound targeting clean energy, pushed by a worldwide drive towards a sustainable recovery. Other industries showing signs of a rebound include information and communication, electronics and medical device manufacturing.
Haiti runs consistently large trade deficits, is the most corrupt country in the region and starting a business takes 97 days, 69 days more than the Latin America and Caribbean average. The Caribbean state has weathered multiple foreign interventions, enduring political instability and devastating natural disasters. A further earthquake in 2021 and the recent assassination of Haiti's President Jovenel Moïse is likely to bring more turmoil to an already struggling country.
Skills centre
St Kitts leads on human capital and was the first Commonwealth Caribbean country to introduce free universal secondary education. St Kitts entered the COVID-19 pandemic from a position of fiscal strength following nearly a decade of budget surpluses. The pre-pandemic GDP level is expected to be reached in 2024. The economy is resilient, even when faced with external shocks like a global pandemic, and there is dedicated investment in education and healthcare.
Investment flows to and from the Caribbean are expected to remain at a low level in 2021 and most likely will not recover to their pre-crisis level before 2023. Looking ahead, it is not all doom and gloom. The Caribbean has a unique opportunity to reimagine and refine the development agenda with foreign business becoming a key partner on the path to recovery and resilience. Strategies to promote development across the region will be key to recovery and growth. Undoubtedly, the recovery will vary across countries and industries and diversification is key to progress.
The Caribbean region consists of small island economies that are major players in a wide range of global industries. While the small island developing states have bounced back after various shocks over the years, there is room for improvement. To transition to more sustainable and inclusive economies, nations must build on this good start to further align their development priorities with a green recovery, positioning themselves as innovative and appealing investment locations.