Personal Paradise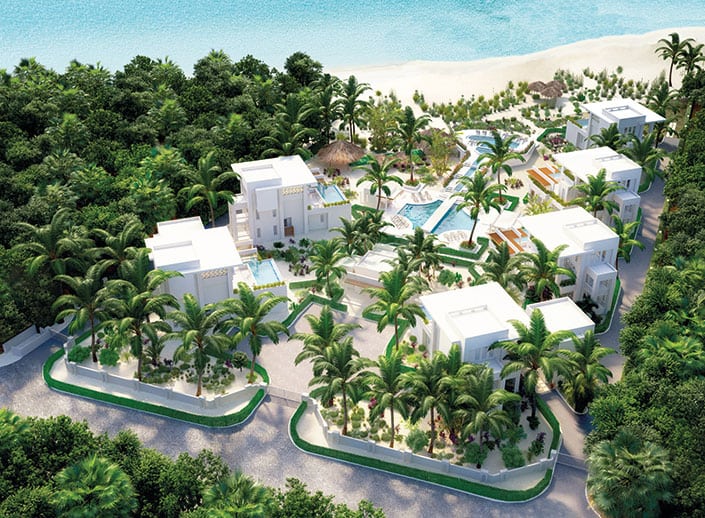 Recently awarded "Best Caribbean Architecture & Design Company" by Caribbean world magazine, R.A. Shaw Designs has been creating some of the most sophisticated luxury residences in the Turks and Caicos Islands.Architect Ronald A. Shaw has recently commenced what may be his best work yet, The Villas at Turquoise Banks.  Nestled on two secluded acres just steps from Long Bay beach, unlike Providenciales' Grace Bay tourist area, Long Bay is untouched in comparison and far more exclusive, allowing villa owners their own Caribbean paradise. This incredible luxury villa community is uniquely situated and comprised of six distinct residences designed by award-winning architecture and design company RA Shaw Designs.
Each Villa has been specifically designed to maximise both indoor and outdoor living space while featuring a gorgeous second-story infinity edge pool that enhances stunning south shore views. The Villas at Turquoise Banks encompasses a true Caribbean experience, from wet bar to shuffleboard, snorkelling at some of the world's best coral reefs to sunbathing in the seclusion of your own private residence. Home to four 3 bedroom 3,675 sq. ft. villas, and two 4 bedroom villas at 4,392 sq.ft., this uber-chic upcoming development offers a short-term rental management program and unlimited use of your villa.
---
"The unique ambiances of each room and fine details in every curve and corner is simply remarkable."
---
The Villas at Turquoise Banks integrates a single-source rental management and maintenance company to allow for a head-ache free process, and a sound investment. Equipped with two community pools, spa, poolside bar, as well as access to water sports equipment such as kayaks, standup paddle boards, onsite kiteboarding lessons and more. "At The Banks, we understand the importance of having both privacy and a sense of community – and we've found a way to combine the two, so you don't have to choose between one or the other." – Ronald Shaw.
With a rise in investors opting for exclusive private villas to escape the condo crowds, the Turks and Caicos Islands ranks among one the world's top destinations and best kept secrets. Frequently visited by celebrities and high-net worth individuals, Providenciales and the surrounding islands offer some of the most breathtaking turquoise waters and powder white sandy beaches in the world.
This British overseas territory is a low-density tax haven immersed in an abundance of natural beauty and showcasing world-class cuisine, simple luxury and an island lifestyle like no other.  Relaxing after the perfect day of hand-crafting memories at a residence designed by the team at R.A.Shaw Designs is an experience unto itself. The unique ambiances of each room and fine details in every curve and corner is simply remarkable.
RA Shaw Designs integrates the best materials and state-of-the-art technology to create modern, free-flowing spaces that when combined, result in some the most stunning Caribbean luxury properties you'll ever lay eyes on. It's this apparent gift for recognising the vision desired by clients of this award-winning firm that has made Ron Shaw one of the leading architects in the Caribbean today.
Architect Ronald A. Shaw has an extraordinary ability in creating awe-inspiring masterpieces that capture the uniqueness of living in a paradise. The perfect marriage of structure to topography where leisure space lends itself to open air atmospheres and showcase panoramic views and accenting water features.
R.A. Shaw Designs is a full-service architectural design and construction firm of highly-skilled experienced professionals that stay engaged throughout the entire process, from design through the development and completion of your luxury home. R.A. Shaw Designs attention to detail ensures the highest level of quality and accuracy. This renowned Caribbean agency makes the process and enjoyable one, a journey full of wonder and excitement. Achieving the ideal balance between luxury and uniqueness,
R.A. Shaw Designs work speaks for itself. With just a glimpse it's clear to see the connection point where form meets functionality and style meets substance.  Founder Ron Shaw and his team understand that Caribbean architecture and design is the unique environment that surrounds it, such as beautiful views, beaches, water and warm tropical climate make It like no other place on earth.
This advanced team of professionals intuitively bring client visions to life. Managing the process in its entirety ensures flawless execution of every stage of the process from initial drawings through the construction and completion phase, to the day you are handed your keys.
Coming from a rich architecture and construction background, first in North America and followed by Turks and Caicos, where they're privileged to serve a variety of wonderful clients on projects ranging from simple renovations to the complete custom design and construction of this exclusive new luxury villa community in the Turks and Caicos Islands, The Villas at Turquoise Banks.
The popularity of custom private villas and R.A. Shaw designed residences simply can't be denied. To learn more about The Villas at Turquoise Banks or RA Shaw Designs architectural services,
visit us online at www.rashawdesigns.com