Orlando hosts the world of business aviation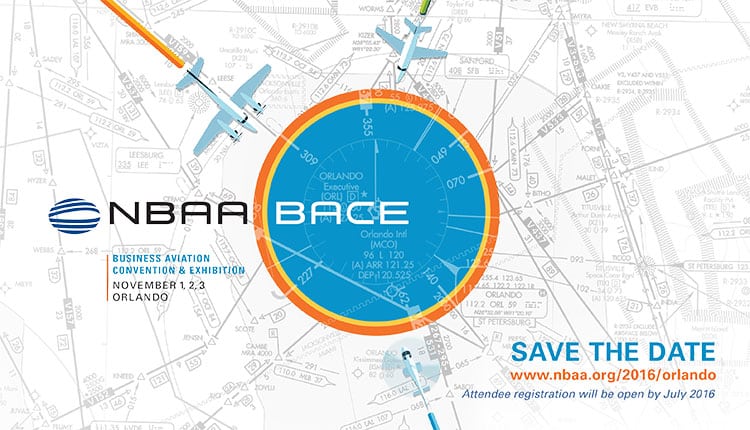 MAKE PLANS TO ATTEND NBAA-BACE
The 2016 NBAA Business Aviation Convention & Exhibition (NBAA-BACE) is the premier business aviation event of the year, and the sixth largest tradeshow in the United States. Business aircraft owners, operators and industry leaders will meet in Orlando to conduct business, make buying decisions and set the stage for business aviation activity in the year ahead. NBAA-BACE exhibits will showcase the world's finest business aircraft, services and products, with highlights including:
PROGRAM SCHEDULE NBAA-BACE
Special events and education sessions covering topics of interest to all attendees. Schedule information is subject to change, but the most recent updates along with full session descriptions will be reflected in the mobile app and online at www.nbaa.org/2016/agenda.
PRE- AND POST-CONVENTION SEMINARS & PROFESSIONAL DEVELOPMENT PROGRAMS
There are several programs held in conjunction with NBAA-BACE, before, during and after the convention, including the NBAA Tax, Regulatory & Risk Management Conference, Single Pilot Safety Standdown, National Safety Day and PDP courses. Some require separate payments, most of which include registration for NBAA-BACE and are noted in the program descriptions. For a full listing of these programs, descriptions, pricing and to register, please visit the online agenda.
GENERAL SESSIONS
Join NBAA President and CEO Ed Bolen as he welcomes keynote speakers David McCullough, New York Times best-selling author, R. Gil Kerlikowske, Commissioner of U.S. Customs and Border Protection (CBP) and other notable speakers at the NBAA-BACE Opening General Session, held Tuesday, Nov. 1 from 8:30 a.m. – 10:00 a.m., and the Second Day General Session featuring political power couple James Carville and Mary Matalin, held Wednesday, Nov. 2 from 10:00 a.m. – noon. Additional details will be posted to the online agenda as new speakers are announced. Students should plan to attend NBAA's Careers in Business Aviation Day General Session held on Thursday, Nov. 3 from 9:00 a.m. – 10:00 a.m. The event will feature presentations from keynote speakers about exciting opportunities, the growing talent demand and career resources available.
MAKE PLANS TO ATTEND NBAA'S COFFEE SOCIAL
Tuesday, November 1 2:00 p.m. – 3:00 p.m. NBAA Headquarters Booth enjoy a cup of coffee while you learn more about NBAA, network with your peers, share ideas for new benefits and learn how membership can help make your business even more successful.
MAINTENANCE & OPERATIONS (M&O) SESSIONS
As the specific M&O's are scheduled, they will be posted on the NBAA-BACE website: www.nbaa.org/2016/mo.
EDUCATION SESSIONS
The education sessions are one of the most important components of the convention. Whether you are considering the use of an airplane to support your business needs, or have long used an airplane to help your business succeed, NBAA-BACE will offer an impressive agenda, with over 50 education sessions to meet your needs.
The sessions will primarily focus on:
•Safety and Security
•Leadership and Professional Development
•Small Flight Department Operations & Management
•International Operations •Regulatory Compliance
•Recruiting Talent and Future Workforce Considerations
•Unmanned Aircraft Systems For a complete list of all education sessions, including session descriptions and times, visit www.nbaa.org/2016/agenda.
As the sixth largest tradeshow in the U.S., NBAA-BACE will be the single most efficient way to: Showcase your aviation products and services Meet qualified buyers Reinforce existing customer relationships Promote your brand to the industry's most influential buyers Display your aircraft across two static displays – one inside the exhibit hall and the other outside at Orlando Executive Airport
{youtube}SjPbRnuU5lM{/youtube}