Interview with Andrew Main Wilson, Chief Executive, AMBA (Association of MBAs)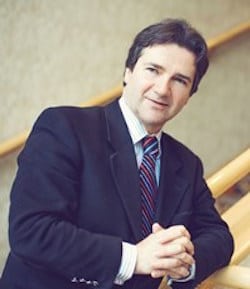 1.  Can you outline the history of AMBA and describe its goals?
 AMBA (The Association of MBAs) is the international impartial authority on postgraduate business education, established in 1967 by a small group of business graduates with the aim to raise the profile of business education and the MBA qualification in UK and Europe. The founders saw a lack of awareness in Europe of the value of the MBA degree, which at that time was primarily an American qualification. They decided to form a lobby and membership group to promote the benefits of postgraduate business education, under the name of Business Graduates Association (BGA). The organisation's development helped shape the growth of management education in Europe and the UK and coincided with the setting up and growth of London Business School and Manchester Business School in Britain.
Today, as the only global MBA – specific Accreditation & Membership Organisation, AMBA advises, supports and connects the World's leading Business Schools, their MBA Graduates, Students & potential MBAs and the World's leading MBA Employers. Our strategy is to build a larger global network of business schools (currently 219 and rising, and in more countries than ever before) and to accredit top schools in emerging markets (we recently accredited top schools in Kazakhstan, Egypt and Lebanon).
---
2.  What services does the association offer in pursuit of those goals?
AMBA's unique alchemy, bonding together our four global Customer Constituencies – Members, Business Schools, Employers and Sponsors – ensures AMBA is becoming an organisation of huge global influence and significance, in the fields of Education, Business and Government. We continue to expand our portfolio of Schools worldwide, launch stronger products and services for Members, engage many more of the world's leading Multinational employers and create prominent global marketing and PR campaigns to highlight the quality and superiority of an MBA from an AMBA-accredited school.
---
 "Employers looking to acquire the best managers and future business leaders know that graduates of our accredited programmes have received the highest quality and most relevant management education."
---
Accreditation is at the heart of AMBA's commitment to developing standards in global postgraduate management education. We accredit MBA, DBA and MBM programmes at 219 business schools in over 60 countries. Our rigorous assessment criteria ensure that only highest calibre programmes which demonstrate the best standards in teaching, curriculum, and student interaction achieve AMBA accreditation. Accreditation gives business schools international credibility and status. The number of MBA qualifications available worldwide is now in the thousands, but only a small percentage of these would achieve accreditation if they were submitted to our rigorous international criteria. The developmental nature of our accreditation process often helps business schools spot potential shortcomings in their programmes, and our comprehensive and consultative report outlines recommendations for improving provision in the future. 
For students, the decision to take an MBA represents a major commitment, both in terms of time and money. In a crowded and complex market, our accreditation provides a reliable list of meticulously tested programmes and ensures that students' investments are rewarded with the finest business education available.
 3. With the advance of online businesses, social media, digital marketing and technology, the business world is very different now than it was a generation ago. How relevant is an MBA today?
Despite the advances in technology and the impact of an ever-shrinking world, the MBA is more relevant today than ever before. Indeed, business schools and their MBAs graduates still play a crucial role in creating and disseminating knowledge that can affect corporate policy and practice through robust research programs, and in providing the leadership that is required to move organizations and the world forward in positive ways. The challenges of a changing world have been met head-on by the best schools, and they now offer far more flexible learning options, have embraced technological and social advances, offer a far greater range of specialisations, and have inculcated corporate social responsibility, ethical business practices and entrepreneurialism into their core modules.
4.  What advantages are there to becoming a member of AMBA?
AMBA individual members can profit from a range of new membership benefits. Below you can find a list of our main benefits:
–          Digital Community for networking, learning and career support
–          Affiliation with AMBA, the leading body in Global Business School Accreditation and largest network of MBAs
–          Staying in touch with MBA classmates who can make valuable introductions and recommend members for their next role. AMBA's brand new Global MBA Network provides access to international MBA students and graduates, connecting our 219 accredited schools world-wide in over 110 countries
–          Benefiting from the diverse experiences and career stories of people who live on every continent, who work in corporations, not-for-profits or have begun their own entrepreneurial adventures
–          Expanding their career opportunities from a rich resource of new industry contacts and information world-wide, whether they are looking for an industry expert or need hands-on experiential advice
–          Meeting the employers who are devoted to MBA recruitment and are searching for their next employees
–          Access to MBA Career Toolbox: Access and search for MBA-level jobs globally
–          Access to MBA Career Toolbox: Employer training videos, written tutorials and interactive career resources
–          Access to MBA Career Toolbox: Keeping their skills topped up using interactive, multi-media tools, including a CV builder, aptitude tests, career assessments and bite-size online courses
–          Career development events: Refreshing their knowledge with industry experts, at our interactive face-to-face, CPD-certified learning sessions
–          More-for-less learning: MBA news feeds, professionally selected career articles and global business stories
–          More-for-less learning: Access to online webinars, group discussions and live Q&As
–          Raising their profile: By joining AMBA's Global AMBAssador programme, which provides unique and progressive career opportunities for the ambitious individuals
5.  What organisations do you work to promote business education and the MBA qualification? What benefits do these partners bring to students and educational establishments?
AMBA has established a number of high-profile strategic partnerships and alliances with organisations that share similar values and work to improve standards within business and management education. These partnerships and alliances have been developed in the interests of professionalism and to assist with the sharing and benchmarking of ideas and best practice.
 Our main strategic partners are:
GMAC (the Graduate Management Admission Council) who meet the needs of management schools and students through a wide array of products, services, and programmes. They also serve as the leading source of research and information about quality graduate management education and we frequently share our resources for the benefit of both schools and students.
ETS (the Educational Testing Service) advance quality and equity in education for people worldwide by creating assessments based on rigorous research. ETS serves individuals, educational institutions and government agencies, as well as conducting education research, analysis and policy studies.
Independent Print Limited is a widely respected national newspaper group which regularly publishes MBA and Business Education supplements and features. These insightful and thorough publications have enabled The Independent, Independent on Sunday, i and Independent.co.uk to be acknowledged as leading sources for impartial advice and information regarding the MBA market.