Berlin – Rebirth of Cool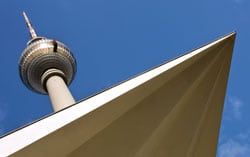 After 30 years of stagnation, the German capital's real estate market has re-ignited. In fact, it's been singled out as one of Europe's top cities for property investment. We report on how Berlin got its mojo back.
After re-unification, Berlin was anything but desirable – except to artists and bohemians vibing on cheap rent (or even free rent) and the incongruity of an isolated city. But all that has changed. Berlin is experiencing a rebirth similar to the one London went through in the late 1990s. It's becoming a place where people want to live, tourists want to visit, and where commerce wants to do business.
According to a recent report from PricewaterhouseCoopers, Berlin now ranks fourth amongst Europe's most attractive markets for residential investment.
The PricewaterhouseCoopers (PwC) and Urban Land Institute (ULI) report 'Emerging Trends Real Estate Europe' places Istanbul, Munich, Warsaw, Berlin and Stockholm as the top five European cites for real estate investment. Berlin's appeal, like that of Munich, is stability – but it's growing popularity with young professional interviewees reflects a growth potential in today's market environment.
Berlin's population grew 1.9% to 3.5 million between 2005 and 2010, based on the latest data available. In mid-2011, its working population had grown by around 138,000, or 14%, from six years earlier, according to the city's statistics office. This corresponds with figures in a recent report from Wall Street Journal which suggests that in 2011, the average price paid for apartments in popular Berlin locations was €1,700 a square meter – up from €1,625 a year earlier. Standard locations were valued slightly less at €1,300 – up from €1,200 the previous year. Compare this with €2,230 a square meter for high-quality condominiums in Hamburg, and €2,890 in Munich, and you begin to get an idea of the gains that could easily be made over the medium term.
PWC acknowledges that the economic crisis has left the European real estate industry in limbo – with preferred markets chosen more on their potential as safe havens than high-growth hubs. However, they single out Berlin as a region capable of major growth. Between 1977 and 2010, Munich's property values rose by 135%. During the same period – which was far more tumultuous for Berlin – prices were just 25% higher during the same period, according to real-estate association Immobilienverband Deutschland.
The developers certainly believe in Berlin's potential and have already voted with their feet. Swiss luxury developer Peach Property Group has already broken ground on its second apartment development, titled Yoo. Superstar designer Philippe Starck is the creative mind behind the look of this high end development.
Occupying the last of Mitte's choicest downtown river front locations, 'yoo berlin'is the newest, most prestigious address in the heart of the city. Rising ten stories above the Spree, yoo berlin's playful exterior conceals two open air atriums within. Beneath the dramatic façade, Starck's inspired designs juxtapose modern with classic, satire with passion and shape with form to create an extraordinary living experience that chimes with Berlin's growing youthful professional classes.
Berlin's new vitality has also proved irresistible to visitors with tourist numbers in the German capital reaching new record levels in 2011.
The apartments come with a choice of four off-the-peg styles – all designed by Starck;
"Classic is for connoisseurs who favour understanding the finer things in life and have an intuitive attraction to sensual connotations in their lives," says the developer's website, who clearly see the benefit in being all things to all people. The Classic apartments are aimed at the already affluent who've achieved a level of comfort and wish to underline it.
The Culture style is for the more adventurous or indulgent buyer, while the Minimal style palette is aimed at "people who work in demanding environments but prefer to live in an oasis of calm and tranquillity". Finally, Nature is for free-spirited people "attracted to playful combinations that can inspire their inner dialogue and dreams of creating a better world for themselves and everyone around them".
Berlin's new vitality has also proved irresistible to visitors with tourist numbers in the German capital reaching new record levels in 2011. More than 22 million room nights (an increase of more than 1.5 million on the previous year) and almost 10 million guests were recorded last year. In addition, Berlin has successfully held its ground in the international city and convention tourism and further consolidated its ranking as a top three travel destination in Europe – behind London and Paris and ahead of Rome.
"The interest in Berlin as a travel destination is unbroken", said Berlin's Senator for Economic Affairs Sybille von Obernitz . "Tourism is one of the most important businesses for Berlin and is continuing to gain in weight." This sector generates gross sales revenues of around EUR 9 billion and has a high employment impact – 230,000 people make a living in the tourism sector in Berlin. Tourism has become one of the German Capital's major successes since the Berlin Wall came down in 1989, rising to become one of the city's key industries.
Senator von Obernitz sees a lot of potential for the city in the new infrastructure for Berlin visitors: "The BER airport, with its many new air links, will continue to strengthen the tourism industry. The sector considers 30 million room nights to be realistic by 2020." Frequently tourism comes first and is followed by investors. "Tourism conveys a positive image of Berlin to the world and lays the foundation for the further strengthening of the business location. Berlin's Senate will, therefore, intensely support Berlin tourism in the years to come", the Senator added.
The city authorities recognise the need to focus on the meeting and convention market, says Burkhard Kieker, CEO of visitBerlin. "More than 22 million room nights suggests the world likes to come to Berlin," he says. "Despite economic crises in other European countries, increasing numbers of international guests come back to Berlin. The city has proven to be crisis resistant."
The highest growth rates were reached last year by visitor groups from Iceland, India, Russia and Brazil. Tourists from the United Kingdom were the strongest foreign visitor group, followed by the Dutch, US Americans and Italians.
Keiker expects the BER airport to create new momentum for the city: "BER is an important stage on Berlin's way back to a cosmopolitan city," he explains. "New long haul flights will contribute towards turning the city into an even more successful tourism and convention metropolis."