GLASGOW: READY FOR YOUR BUSINESS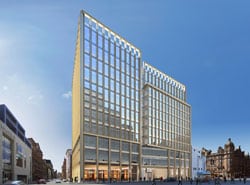 Glasgow is a city bursting with life, energy, passion and personality. It's one of the world's great cities, offering residents, visitors and businesses an extraordinary quality of urban life. As host of the 2014 Commonwealth Games, it is Glasgow's time to shine on the world stage and showcase its remarkable offer. As one of Europe's top twenty financial centres, one of the most popular conference venues worldwide and one of the world's top ten sporting cities, Glasgow has a lot to shout about. Recently announced as Winner in the Large European Cities Category for FDI Strategy by The Financial Times' fDi Magazine, Glasgow can boast a number of accolades: voted number one UK destination "on the rise" by TripAdvisor; a UNESCO City of Music, home to the finest    civic art collection in Europe, and second only to London's West End for retail in the UK.
 Commercial hub
Glasgow is competitive when it comes to cost and, indeed, is more affordable than many UK centres for commercial property and labour costs. As well as driving the commercialisation of research, the vibrant academic environment is home to 30 percent of Scotland's higher education students and 24 percent of Scotland's overseas students making it an easy city in which to recruit highly qualified and skilled staff. Glasgow clearly has the talent to meet all demands.
With a total investment of over £6 billion in infrastructure over the last three years, Glasgow currently has three speculative Grade A office developments under construction, placing it in the vanguard of commercial office development in the UK. All three developments are on schedule to be completed in early 2015, increasing the availability of new, BREEAM excellent, city centre office accommodation by some 460,000 sq ft. 110 Queen St will provide 143,000 sq ft of world class office and 22,000 sq ft of high spec. retail accommodation. The nine storey office block just off George Square will be encased with a concave façade of curtain wall glazing.
St Vincent Plaza comprises 170,000 sq ft of Grade A office space with panoramic views. Located on St Vincent Street, within the International Financial Services District and core business district, it is an exceptional and competitively-placed workspace. 1 West Regent Street will become a landmark Grade A development of the highest quality. Designed to an exacting specification, it will provide approximately 143,000 sq ft of high quality space over 11 floors and retail units with high profile street frontage.
Building the future
Building on the economic successes the city has enjoyed in recent years and reflecting its unique capacity for invention and reinvention, Glasgow is tapping into new investment opportunities to fuel future growth: it is the first city in the UK to implement the Tax Increment Financing scheme to support major city centre developments, while at the same time aspiring to be Scotland's first city region to access the UK Government's City Deal which would bring significant resources to improve the region's infrastructure, support labour market needs and bolster innovation.. 
Always focusing on the future, Glasgow is entering a new cycle of transformation based on a clean-tech revolution, a smart city agenda and innovation in life sciences. Taken together, this represents the essence of a confident and buoyant city with outstanding opportunities for investment and growth. With a vibrant business community, outstanding academic environment, top-notch infrastructure and a wealth of talent, what's not to like?
Glasgow is ready for your business.
Contact Invest Glasgow, your one-stop-shop for information on doing business in Glasgow:
www.investglasgow.com