ONLY IN GOTHENBURG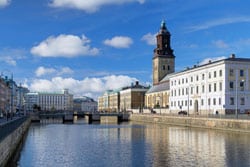 Situated right in the centre of Scandinavia, Gothenburg's port is the largest and most important harbour in the entire region. When the European Commission announced in their recent report that the Swedish economy was experiencing the fastest growth in the Nordic region, it never really came as much surprise to those already familiar with Scandinavia's top FDI destination. But Sweden is also one of Europe's largest countries, so one of the big questions for many people has always been which destination stacks up best for investors?
 The answer to that question might well be found in Gothenburg. Founded in 1621, it has taken less than 400 years for Gothenburg to become Sweden's second city, during which time it has also managed to become Sweden's music capital, its culinary capital and has even been awarded the title of its well-being capital.
Situated right in the centre of Scandinavia, Gothenburg's port is the largest and most important harbour in the entire region. As home to Volvo and Stena Line, Gothenburg enjoys one of the highest rates of automotive, shipping, R&D development and venture capital investments in the country. But scratch beneath the surface and a whole host of other reasons why people are bringing their businesses to Gothenburg are revealed.
Whilst Gothenburg's focus areas for FDI are general sales, ICT, life science and technology, it is very much a destination which successfully aims to nurture all types of businesses and attract them from all over the world. This approach has provided Gothenburg with an impressive reputation as a hub for foreign companies, and taking a look at the academic clusters backed by some of the world's leading educational institutions, it is easy to see why. Investors get full use of the advantages that doing business in Sweden offers, such as low corporation tax and a high quality of life index, but do so in a city which is equidistant between the three Scandinavian capital cities and in a city which is rapidly expanding. Four new districts have been earmarked for new development in central Gothenburg by 2035, which will be distributed across some 5 million square metres. Everything from bridges, apartments and meeting places to retail spaces, offices and quays will be part of the new mix and will provide ample fresh opportunities for investors.
But there is something else which truly sets Gothenburg apart from your typical promising foreign investment destination, and that is its ability to espouse sustainability. Green Gothenburg, in collaboration with Business Region Göteborg's Business & Environment division, is a project focusing on environment and sustainable development. They organise study visits for companies and organisations which demonstrate Gothenburg's sustainable approach to housing, housing construction, waste management and energy issues. It is a project which has garnered a great deal of international attention and has helped provide companies with new ideas about what they could be doing differently in terms of sustainability.
We are on the subject of doing things differently, Volvo has begun a pilot project which will                                                              see 100 self-driving cars on the streets of Gothenburg by 2017. 
Yes, you heard that right. The world's safest car manufacturer is bringing car safety to a whole new level with cars that will quite literally drive themselves. This is just another reflection of how Gothenburg has the ability to bring great minds, great business sense and innovation together in one location and integrate it seamlessly with concepts of the future.  As a recent tweet by Business Arena so eloquently put it, "Something very right, very good, is happening in Gothenburg".
We couldn't agree more.
CEO Insight touched base with Petra Sedelius,
Head of International Establishment and Investment at Business Region

Göteborg,

and Bernt Svenson, Project Manager at Green Gothenburg,

to get the lowdown on what's been happening in Gothenburg.
Q & A with
Petra Sedelius – Business Region Göteborg
Q. Gothenburg enjoys one of the highest rates of automotive, shipping, R&D development and venture capital investments in the country. What do you believe makes Gothenburg so successful and what is the outlook for your region in terms of investment in other emerging sectors?
Gothenburg has always ranked very highly when it comes to human resources and quality of life, and this has always been an enormous attraction for investors. Then there is the fact that in general, people tend to move to the big cities with the universities. Gothenburg has managed to attract an average 10,000 new inhabitants every year and the expansion plans in the city centre and for the region makes us an exciting place to be right now.
In terms of the outlook, the tourism and MICE industry are rapidly growing sectors in Gothenburg and life sciences have also recently been making a big impact. Then there is our capacity for technical innovation, our financial stability and a strong transaction market. So really it's a combination of several factors that makes us so attractive to investors.
 Q. If you had to sum up Gothenburg's top three advantages as a foreign investment destination, what would those be?
Of course, it's largely dependent on which particular business sector we are talking about, as each will find its own unique set of advantages. But one main advantage which comes to mind is Gothenburg's strategic location in the middle of Scandinavia, with its biggest harbour, excellent infrastructure and a long and strong tradition in logistics. Then there would be Gothenburg's strong focus on research and development, backed by three science parks and some of the world's leading educational institutes. The final advantage would be the presence of strong brands and international companies who have already made Gothenburg their home.
Q. The Gothenburg 2020 strategy plans to nearly double the region's population to 1.5 million inhabitants by the year 2020. How significant a role do you see foreign direct investment playing in all this?
That's a good question. Our strategy is to engage with and invite in companies from Europe, Asia, America and all over the world. We understand that we need a global approach if we are to meet the 2020 target. We need to be appealing for people outside of Sweden, and not just for Swedes. Truly speaking, the role of foreign investment cannot be over emphasised.
 Q  & A with
Bernt Svensen – Green Gothenburg
 Q. Green Gothenburg's Study Visits highlight environmental and sustainability issues within the housing, construction, waste management and energy sectors. Can the Study Visits benefit companies from outside of these industry sectors and what would you say to those who might be interested in finding out more how Green Gothenburg can benefit their organisation?
The thinking behind Green Gothenburg (GG) is to take advantage of investments already made in areas of green transport, buildings, urban planning, energy, waste, etc., to showcase the competencies that could be associated with the study objects. This means not only the municipal competency, but the competencies within companies and organisations too.
GG is constructed to show both how things work and to create a meeting point for businesses. We invite companies in our network to meet the delegations that are interested in doing business. So both the companies and the visitors stand to benefit from GG.
Q. The focus at Green Gothenburg at the minute seems very much to be on the Green Program – Waste to Energy. Can you tell us a little more about this?
The Gothenburg region has an excellent waste management system which is connected to the district's heating and cooling system. The outcome is very good – 30 % of the heat demand and 5 % of the electricity demand in Gothenburg comes from waste energy and only 2 % of the waste goes to landfill.
Our experience has been that a lot of foreign visitors are asking about what the waste management system looks like and how it works. There is a wealth of knowledge from municipal organisations and companies which we can draw upon. We have packaged this knowledge and experience in the form of a training course which lasts for up to five days. The program is for decision makers that want to improve their capacity to make the right decisions for their business. The program is in the form of seminars, site visits and discussions. The training course is divided in three modules – the basic module with the Swedish eco concept and the advanced module with waste management and energy production. 
Q. Gothenburg is currently leading the way in terms of clean public and private transportation, namely Gatubolaget's leasing of biogas and electric powered vehicles and the new plug-in hybrid bus from Volvo. What lessons do you think have been already learned and could we perhaps be seeing a wider rollout of these activities in the not too distant future?
In the early 2000's the green vehicle project started in Gothenburg. At the same time Biogas West also started. Over the years we gained a lot of experience in how to implement new types of vehicle, fuel, fuel production and infrastructure. We learned a lot about regulations, policies and incentives, i.e. what types are needed and how to best use them. We also learned to work together with actors in value chains in project, such as. Biogas-producers, distribution companies, car and bus manufactures, car sales, PTA's and costumers (municipalities, private companies, transport companies, etc. Today the Gothenburg region produces biogas, biodiesel and renewable electricity.
For the future I think we will see a strong development regarding electricity in the vehicles. The plug-in buses will be further developed from today's 1st generation. A new project has already started – ElectriCity.  A new fully electrical bus from Volvo will be running in Gothenburg before summer 2015. These buses with less noise and zero emissions will go on a line between two Science Parks Johannesberg and Lindholmen through the city centre. The zero emissions will open up for indoor bus stop at both ends. 
Q. Last year the Swiss investment group RobecoSAM named Sweden the most sustainable country in the world. In a country where social governance issues are very high on the agenda, what in your opinion sets Gothenburg apart from other regions in terms of environmental friendliness?
Our most important attribute is good collaboration between industry, academy and society. Gothenburg have farsighted politicians, whilst an increasing number of companies are working more and more towards the sustainable development of products and services, and the universities in the city provide excellence in many areas. We understand that our whole is greater than the sum of our parts and we invite businesses to come and see for themselves just what Gothenburg has to offer.