Bogotá, the Business Hub in Latin America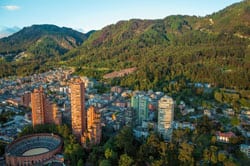 Bogotá, the Business Hub in Latin America, Bogotá is a prosperous cosmopolitan city with 7.6 million inhabitants, and it is fast becoming the hub for business in Latin America.
International executives find in Bogotá a  city with benefits that facilitate transactions and offer a favourable climate for business. Juan Gabriel Pérez, Executive Director of Invest in Bogotá, explained: "The advantages offered by Bogotá over its Latin American peers include: the first cargo airport and the third in terms of passengers; 36 direct flights to international destinations; a privileged location that facilitates access to an extended market; a young, skilled workforce,     and strength and economic stability".
Pérez continued: "Bogotá has secured its position as a hub for business in Latin America, with the vote of confidence of nearly 1500 companies with foreign capital operating from the city. The list of companies includes Google, Accenture, General Motors, Mexichem, Siemens, Schlumberger, BlackBerry, Dole, Prebuild, Cargill and 85 Fortune 500 companies, among others. Foreign investors have found that Bogotá is the ideal destination for their investments due to its young, skilled workforce of more than 4 million individuals, its strategic location that ensures access to major markets in the region, its economic strength, favourable business climate and excellent quality of life". 
Recently, the city moved up two places in the ranking published by América Economía Magazine's Best Cities for Doing Business in Latin America, and it ranked sixth among fifty in the region. In turn, the fDi Magazine recognized Bogotá as fifth in business climate, among 120 cities in the region (Ranking of Latin American Cities of the Future 2013). In addition, World Travel Awards recognized it as the first Latin American city for business tourism: business activities are the main reason for foreign tourists visiting the city, which reaffirms Bogotá's importance as a business platform in Latin America on the international level. The city is ranked as the seventh city in Latin America for corporate tourism and the first in Colombia, according to the corporate tourism ranking of the International Congress and Convention Association (ICCA). 
Colombia's capital is the economic center of the country, concentrating 54% of its financial transactions and 24.7% of its GDP. At USD 93 trillion, Bogotá's GDP exceeds that of countries such as the Dominican Republic, Uruguay, Panama and Paraguay. There are interesting business opportunities in Bogotá for sectors of added- value to the city, such as services (IT and software development; BPO and shared services; creative industries, business services and consulting, services for mining and clean technologies); manufacturing (automotive and transport, cosmetics; chemicals and processed foods); life sciences (biotechnology, pharmaceutical and medical supplies and equipment); and infrastructure and city projects (infrastructure and logistics, city projects and hotel management and tourism). 
Pérez concluded: "Just as Bogotá is recognized as a hub with business opportunities and a friendly environment for investment, it is also related with an exceptional quality of life. This latter is reaffirmed by its extensive range of gastronomic, cultural and nightlife offerings and for being considered a center for cultural events in the region: Bogotá is the host of the Ibero-American Theater Festival – one of the most important festivals in the world- and Rock al Parque – the largest free rock festival in Latin America and one of the largest in the world. Bogotá has been ratified as a creative, young and diverse city in constant transformation. It is the ideal city to do business, live, visit and enjoy."