Glasgow: Scotland's leading city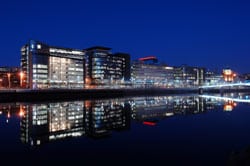 The fervour that began last summer as Scotland's largest city welcomed the world for the 20th Commonwealth Games has never really ceased. Walk along any of the city's streets and there is a real sense of something happening here. The city is abuzz with three new speculative office developments. In high demand with a number of pre-lets, all are on course to complete and open in the next quarter adding over 450,000 sq ft of BREEAM Grade A office accommodation to the city centre. This will supplement an already outstanding office market.  Glasgow provides high quality, competitively-priced workspaces. From modern, award-winning, waterfront offices, or the very best converted and refurbished offices, Glasgow can provide a truly sustainable working environment. And for investors, Glasgow's commercial office market offers healthy yields of on average six percent.
The city's key sectors are flourishing – from low carbon and renewables to life science, engineering and financial and business services. 
It is in the heart of Glasgow's thriving business quarter that you will find the International Financial Services District (IFSD). Established in 2002 with support from Glasgow City Council, Scottish Enterprise and private sector partners, the IFSD is home to global corporations and blue chip companies such as Morgan Stanley, JP Morgan, Barclays Wealth, BT and Santander Asset Management. Located within one square kilometre along the River Clyde and the city centre, a real centre of excellence for financial and BPO services has emerged.  
More than 52,000 people are employed across all the financial services, insurance, IT and business services sectors, making it one of city's most important sectors. With labour costs up to twelve percent lower than Edinburgh and 33 percent lower than London, companies find it easy to attract and retain staff. The Glaswegian reputation for hard work and friendliness translates to excellent customer service skills. 
Over 130,000 students from 135 countries call Glasgow home guaranteeing a constant pipeline of skilled employees. The city's universities and colleges fuel a robust talent pool, with 19,000 students in business, administration, financial services and computing sciences courses. Recruitment for specific language skills is straightforward thanks to the sizeable population of international students and residents in the city in addition to those completing language degrees. 
Glasgow is also emerging as a top location for business process outsourcing (BPO) and legal process outsourcing (LPO). In 2013, NewGalexy set up Scotland's first LPO centre in the IFSD. This was followed by another new legal and business support services office opened by Ashurst, who were the first international law firm to launch an office of this nature in Scotland, the fourth largest in their global network of 28 offices. 
Glasgow's financial and business services sector is experiencing a real convergence of talented workforce, superb office accommodation, high quality infrastructure and technology, and local expertise. Glasgow is one of the most-business friendly locations in the UK and Europe and has been named fDi Large European City of the Future for Foreign direct Investment Strategy 2014-15.
Choose Glasgow and you'll be in excellent company. 
To find out how Invest Glasgow can support you, contact: 
invest@glasgow.gov.uk