BUSINESS HUB VIENNA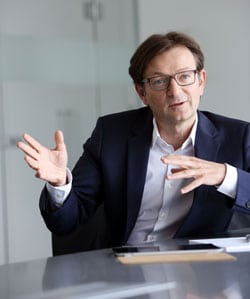 Vienna stands for tradition and centuries-old culture. For the fifth time in a row, employees of international companies from 223 countries worldwide have selected Vienna as the city with the highest quality of life. Vienna is safe and economically stable!
However, the city is much more than that. Vienna is Europe's most innovative city. In global comparison it places before the San Francisco Bay area (including Silicon Valley). This metropolis on the banks of the Danube comes in third place in the European Smart City comparison. Vienna was furthermore voted the world's best city for young people.
Vienna works
Vienna is the city of short distances and provides the best infrastructure. Independent of weather conditions, public transportation is on time. With its 74 million annual kilometers, at peak times public transportation is operated at 90 second intervals. In Vienna, fresh mountain spring water comes directly from the tap. Daily, 330 kilometers of water pipelines deliver crystal-clear water from the mountains directly to each one of the 1.7 million Viennese.
"As simple as it sounds: Vienna works. More and more international companies appreciate this fact. With the location initiative we offer a special incentive to settle in Vienna," emphasizes Gerhard Hirczi, managing director of the Vienna Business Agency. Since the year 2004, international companies have been investing around 800 million euros in Vienna. With up to 500,000 euros, the location initiative supports their settling in Vienna, assisting with expansion or remodeling of their sites.
Vienna – smart and visionary
In Vienna, traditions are kept while looking far into the future. Vienna is growing and becoming younger. The city is preparing for the future and together with the lakeside city of Aspern is currently constructing the geographically largest urban development project in Europe. Businesses, apartments, a school campus as well as kindergartens are being built around the lake. By the way, in Vienna the latter are free of charge. In the future 20,000 people will work and live in the lakeside city of Aspern. Vienna's imperial city center can be reached within 25 minutes by subway. Covering an area of around 240 hectares, the new district combines central urban design elements in order to meet the requirements of a future smart city. With the establishment of the technology center aspern IQ, surrounded by a developing technology hot spot, the Vienna Business Agency has set new standards for an intelligent and energy-efficient design of a smart city. The global corporation HOERBIGER with its over 500 employees will join the immediate neighborhood in 2016 as the first major operation of this lakeside city.
Room for research and development
Vienna specifically invests in research and technology projects and sets important trends in areas of strength such as life sciences, information and communication technologies, as well as mobility, environment and creative industries. Thus, between 1998 and 2013 about 645 life science projects with more than 144 million euros were supported by Vienna's funds and another 130 new life science companies with R&D activities were founded in the city. The city furthermore supports a cutting-edge research infrastructure. For this purpose Vienna cooperates with specialized real estate developers and invests in high-tech devices that are shared between universities and companies. At the same time Vienna sets priorities on energy efficiency and environmental friendliness. Due to the initiative "Smart City Vienna" it provides structures and general conditions for a sustainable and environment-oriented urban development.
Cosmopolitan metropolis and international hot spot
 As the only city in Europe, next to New York, Geneva and Nairobi, Vienna is one of the   four headquarters of the United Nations. Around 30 international organizations such as the  OSCE, the IAEA or OPEC are based here, and more than 200 headquarters of multinational companies manage their businesses in the CEE region from here. Eastern European companies increasingly use Vienna as a starting point for entry into the established European markets. If you desire a long term investment in the future, Vienna is a wise choice.
Vienna Business Agency – your partner in Vienna!
Our international team supports all international players in developing and successfully implementing their business plans in Vienna. We accompany each entrepreneur individually. We are here for you, to help you select a location, to advise you on various business issues, and to assist you with your search for employees!
We also support employees of international companies in their start in Vienna. A service center with its helpful team is available to the entire expat community.For the international scene, we have a private club for information and networking. We organize exciting, surprising and valuable events around the topic of Vienna. Service is our priority – because we are aware of the fact that multinational companies with their global linkages make Vienna a hub of global economy. Furthermore, members of the Vienna-based expat community, international executives of large companies, and members of the diplomatic community are all valuable ambassadors of Vienna.