Learn to Play Qatar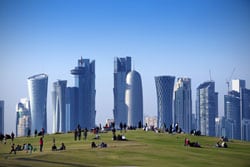 Qatar now offers a wide range of incentives to attract foreign investment
 A former pearl-fishing hub and once one of the poorest Gulf states, Qatar has become one of the wealthiest countries in the region thanks to the exploitation of large oil and gas fields in recent decades. Now, Qatar is investing its large revenues from oil and gas in other economic sectors in order to expand its economic base and develop a strong private sector. As a member of the World Trade Organization, Qatar has opened various sectors of the economy to foreign participation and has relaxed business regulations. Many promising sectors have emerged as Qatar maps out a future marked by progress, prosperity and sustainable growth.
 Qatar has 25 billion barrels of proven oil reserves and the world's third-largest reserves of natural gas. Oil and gas account for about 85% of export revenues and more than 50% of GDP. The country has allowed widespread foreign investment in its natural gas industry and in 2007 became the world's largest exporter of liquefied natural gas. With one of the world's highest per capita incomes and almost no poverty, Qatar has largely avoided the political instability that other Middle Eastern countries have suffered as a result of the Arab Spring.
The objectives in this new era in the country's modern history have focused on widening public participation in national decision-making processes and emphasising the role of the Qatari people in running their country's affairs. This has been realised through a focus on democracy, the principle of liberty, and elections instead of appointment in many governmental bodies and authorities. Qatar supports women's right to be nominated and elected in municipal elections.
To attract foreign investment, Qatar offers a wide range of incentives, including low electricity, water and gas charges; no taxes on importing heavy machines, equipment, spare parts and raw materials; no taxes on exports; no income taxes on individuals; no quantitative quotas on imports; no restrictions on foreign currency exchange and overseas profit transfer; flexible immigration and residence laws for highly skilled and unskilled workforce; easy access to global markets via air and marine cargo networks that connect Qatar to the rest of the world.
The significant strides made by Qatar in improving its business environment has facilitated FDI flows into the region. Apart from possessing one of the most favourable tax regimes in the world, the country has embarked on substantial reforms over the last decade to make it easier to start a business, obtain credit, enforce contracts and trade across borders, for example. This progress is reflected in the prominent position held by Qatar in the World Bank's Doing Business rankings. 
Qatar's goal is to become a global leader in terms of business environment and foreign investment. It has made significant progress in this regard in recent years thanks to its environment of its political stability, the high quality of its infrastructure, one of the lowest corporate tax in the world (10%) and a law enacted in 2010 on investment that allows foreigners to own the totality of a company in some sectors such as information technology, counselling, culture, sports and distribution.
The main sectors that attract foreign investments are oil and gas, construction and public works, and financial services. The main investing countries are the US, Japan, South Korea and Singapore. The organisation of the 2022 World Cup will surely attract a large amount of foreign investors during the coming years. Moreover, industry leaders expect enormous foreign investment in the country's manufacturing sector in the mid to long term, and the small and medium enterprise sector is also set for a major take-off.
The Index of Economic Freedom is an annual index and ranking created by The Heritage Foundation and The Wall Street Journal in 1995 to measure the degree of economic freedom in the world's nations. Qatar's score is 71.2, making its economy the 30th freest in the 2014 Index. Its score is essentially unchanged from 2013, with improvements in half of the 10 economic freedoms, including business freedom, labour freedom, and monetary freedom. Qatar is ranked third of 15 countries in the Middle East/North Africa region, and its overall score is above the world average.
Qatar is the world's richest country per capita. It is one of the safest places in the world. It has a modern network of roads and ports, as well as a state of the art airport that facilitates passengers' travel and goods movement in and out of Doha. Opened in April 2014, Hamad International Airport cost $16 billion and took 10 years to build. It has a shopping centre with 70 retail outlets, 30 cafes and restaurants, a spa, two hotels, squash courts, and a public mosque. Qatar is the rising star of the Middle East, and its influence on the world stage is set to endure via its strategy of economic diversification and investment.