Golden Times in Pforzheim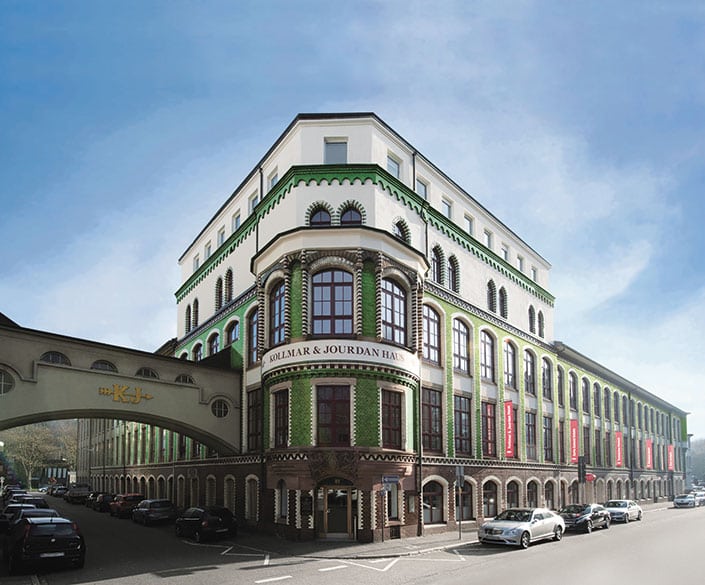 "Must haves" and "Must sees" at the city's Jewellery Museum during the 250th anniversary of its jewellery and watchmaking industries and the reopening of its Technical Museum
Whether it's timelessly elegant, lavish, sumptuous or discreet: jewellery is endlessly enthralling. At Pforzheim's Jewellery Museum, a unique one of a kind location devoted exclusively to this topic; visitors can see precious originals of all genres from five millennia.
In 2017, the focus is all on Pforzheim's anniversary: 250 years of its jewellery and watchmaking industries. It was 1767 when Margrave Karl Friedrich of Baden licensed entrepreneurs from Switzerland and France to establish a watch and not long afterwards a jewellery manufactory in the city's orphanage. This was the starting point for a successful development and gave rise to Pforzheim's reputation as 'Goldstadt' (Golden City), exporting jewellery and watches to many cities and countries in the world. From these two branches, modern precision technologies have evolved, such as medical, dental and stamping technologies.
---
Within the context of the anniversary, Pforzheim's Jewellery Museum presents twin exhibitions "Must have" and "Must-see," from May 21 through September 10. In addition the Technical Museum, just a five minute walk away, will be reopened after thorough redesigning in April.
Must-have Jewellery created by greats of the craft Cartier and Tiffany are just two of the prestigious brands that will be showcased in this exhibition at the Jewellery Museum which marks 250 years of Pforzheim's jewellery and watchmaking industries. The show will be focusing on the jewellery created by major luxury brands whose specific designs have always been highly coveted and have become firmly established in the luxury segment over the course of decades.
They also include those that started out on their road to success in Pforzheim, like Wellendorff whose headquarters are located in Pforzheim. On the other hand, the exhibition will also be showcasing selected haute joaillerie creations that have strongly influenced the evolution of the individual brands' identities, like Cartier's panther. Must-sees — jewellery in the arts Celebrating the anniversary of Pforzheim's jewellery and watchmaking industries, this exhibition will be showcasing unique jewellery creations that are particularly impressive examples of the goldsmith's art, juxtaposing them with paintings and sculptures from the respective era. The show will be spanning the eras from classical antiquity to the 20th century.
The jewellery on show will include important pieces from the Hellenistic period, masterly crafted Etruscan and Roman goldwork, exquisite Renaissance jewellery, extravagant pieces created by René Lalique and at the Vienna Workshops, all the way through to creations from the Art Deco period and the modern era. One example here are pieces of London based Maisie Broadhead. She integrates jewellery into her photography in a three dimensional way, combining motifs that echo the works of Old Masters with modern accessories.
Technical Museum of Pforzheim's jewellery and watchmaking industries: reopening After almost one year of redesign, the Technical Museum will be opening its doors again on the weekend of April 8th featuring new themes, references to our present-day era, new and comprehensive information, and a contemporary exhibition ambience. It will be showcasing the technology involved in jewellery and watch production in its historical context. Focusing on manufacturing techniques is only one part, with a deeper holistic depiction; on people, working conditions, as well as ideas and developments in these industries and in the City of Pforzheim.
Many of the historical machines will be shown in operation bringing the celebration of 250 years of Pforzheim's jewellery and watchmaking industries to life. Because the jewellery and watchmaking industries have such a long tradition in Pforzheim and are still active today, the exhibition will also be exploring how this history is being perpetuated in the present. Numerous companies have been further developing their special skills in jewellery and watch production and are also successful in new markets today.
A place where history comes alive and is explained by the staff, the Technical Museum also offers informational media for visitors to explore the museum unassisted. While the museum's factory atmosphere has been preserved, the newly designed rooms communicate the exhibitions' up-to-date character and helps visitors to explore the themes covered by the museum. Whether it is the twin exhibitions or the Technical Museums — they are all must-see!
Opening hours of Pforzheim's Jewellery Museum:
Tue–Sun and holidays from 10 a.m. to 5 p.m. (except for Christmas Eve and New Year's Eve)
Admission to the permanent exhibition €3, reduced fee €1.50, free of charge up to age 14 and for holders of the Upper Rhine Museum Pass
Guided group tours by appointment
Public guided tours through the permanent exhibition Sun 3 p.m., € 5.00, reduced fee € 3.50
Partners: Pforzheimer Zeitung and SWR2
For more information, please visit www.schmuckmuseum.de
Image credits
01 Kollmar & Jourdan Building — housing the Technical Museum of Pforzheim's Jewellery and Watchmaking Industries
02 Two clip brooches Gold, topaz, Cartier, London, ca. 1935/40 © Schmuckmuseum Pforzheim Photo Rüdiger Flöter
03 Portrait medallion of Empress Eleonore Gold, enamel, Vienna about 1680 © Schmuckmuseum Pforzheim Photo Günther Meyer
04 © TMP Photo Petra Jaschke04 add Portrait of Empress Eleonore © Schmuckmuseum Pforzheim Photo Günther Meyer Ball and Chain Pearls series Maisie Broadhead, on loan from the artist
---