Under the Hammer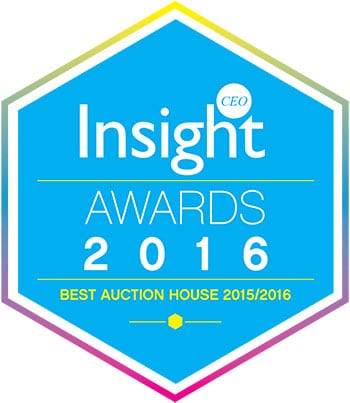 Auction house of the year, Fellows auctioneer
Birmingham-based Fellows Auctioneers is one of the UK's most respected firms of auctioneers and valuers, offering a professional and friendly advice on all aspects of auction and valuation services. Over 100 auctions are held a year, selling antique and modern Jewellery, watches, vintage pieces, antiques and collectables. 
JEWELLERY AUCTIONS AT FELLOWS
Fellows hold jewellery sales which include everything from statement diamonds to affordable items of jewellery on a fortnightly basis; Interesting and important jewels are auctioned monthly in The Antique & Modern Jewellery Auction. Featuring jewels from across the ages along with a fantastic range of designer and branded pieces, this is the auction to uncover unique pieces. Fortnightly auctions are tailored to meet varying needs of the broad jewellery market for both trade buyers and individual collectors. High quality costume jewellery and Silver pieces find their place in the eclectic Vintage Jewellery auction. Modern pieces of amber and coral jewellery are found alongside gems from the Victorian and Georgian eras, as well as pieces from Scandinavian, Chinese and other international heritages.
THE WATCH SALE
The monthly Watch Sale at Fellows auctions the widest range of vintage and modern timepieces. Offering luxury brands, limited edition and rare pieces to commercial lots Fellows has an ever changing inventory of watches authenticated by a team of specialists. This auction commands large audiences in the saleroom as well as online platforms, which is a great incentive for international buyers resulting in bids being placed and paid for on a global scale. 
ANTIQUES & FINE ART
Auctions of Antiques & Fine Art are held approximately every eight weeks, and consist of around 1,000 lots of glassware, pottery from England and international sources, collectors' items such as toys, clocks and paintings and a selection of highly popular unique furniture pieces from the 18th century through to the modern day. Delicate tea and coffee sets, candelabras, tableware and centrepieces along with highly covetable novelties, pincushions, small boxes and vinaigrettes feature in the quarterly Silver & Plated Ware auction. Catalogued by the same department, auctions of Coins & Medals features gold and silver coins and military, sporting and art medals and is held three times a year.
Fellows has locations in Birmingham's world famous Jewellery Quarter and Mayfair London, making it ideally placed to visit for viewing events, valuations and auctions. 360° imagery of lots and detailed condition reports can be viewed online at www.fellows.co.uk.
Contact us
Jewellery Quarter Saleroom | Augusta House, 19 Augusta Street, Birmingham B18 6JA
0121 212 2131 | info@fellows.co.uk 
Mayfair Office | 2nd Floor, 3 Queen Street, London W1J 5PA
020 7127 4198 | london@fellows.co.uk 
CALENDAR OF UPCOMING AUCTIONS
May
Jewellery – Thursday 5th at 10am
Antique & Modern Jewellery – Thursday 12th at 11am
Watches & Watch Parts – Monday 16th at 10am
Jewellery – Thursday 19th at 10am
The Watch Sale – Tuesday 24th at 11am
June
Vintage Jewellery & Accessories – Monday 6th at 10am
Jewellery – Thursday 9th at 10am
Antique & Modern Jewellery – Thursday 16th at 11am
Silver & Plated Ware – Monday 20th at 10am
Jewellery – Thursday 23rd at 10am
The Watch Sale – Tuesday 28th at 11am
For more information or additional images please contact Stephanie Jenkins on 0121 212 5500, or email Stephaniej@fellows.co.uk 
All lots featured in auctions at Fellows are available to view online at www.fellows.co.uk alternatively contact Fellows on 0121 212 2131 to request a catalogue. 
Founded in 1876, Fellows Auctioneers has their Head Office and Saleroom located in Birmingham's historic Jewellery Quarter, with a Valuations Office in London's Mayfair which can be contacted on 0207 127 4198.
For a full list of upcoming auctions and auction catalogues visit www.fellows.co.uk 
Fellows can be found on Twitter, Facebook and Instagram @FellowsAuctions