All Roads Lead to Hessen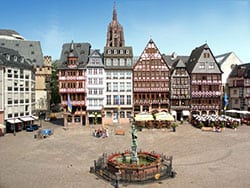 "Given the largest European electronics market exists in Germany, we believe that having a presence in Darmstadt plays a key role in strengthening our market position", says Oliver Mihm, the Regional President of the EMEA region for Plexus Corp. Plexus is an industry-leading provider of electronics engineering, manufacturing and aftermarket solutions; serving OEM's (Original Equipment Manufacturers) out of their 26 facilities across the globe. Plexus opened its Darmstadt Design Center in March 2011 by leasing office space in the Europa Arkaden building. Consistent with Plexus' other global Design Centers, this space hosts engineering offices and laboratory facilities enabling Plexus to provide engineering solutions to customers in higher complexity markets.
Companies such as Vodafone, Aviva, British Telekom, Rolls-Royce Group, Marks & Spencer, Standard Life Group and Babcock International Group are examples for British success stories in Hessen. In 2013, Rolls-Royce even celebrated an anniversary: 100 years of aircraft engine construction in Oberursel. Approximately 1,300 employees work directly for the British company, while more than 1500 people are employed at around 200 suppliers. Companies like Rolls Royce are indispensable for the region.
The German state of Hessen, with Frankfurt at its core, is a leading business location in Europe. Hessen is centrally located in the heart of Europe and retains an excellent infrastructure; a highly skilled workforce and an outstanding research landscape. The state is accessible from every business European metropolis within in a maximum of three hours. Companies located in Hessen have Europe at their doorstep with easy access to new markets, customers and suppliers.
Hessen has produced the highest gross domestic product for the past 25 years of all the German federal states. It has an exceptionally high labour productivity and many globally successful companies from a wide range of industries. Foreign direct investment in Hessen continues to grow – currently there are 12,500 foreign companies and 745,000 people from 180 countries in the region.
Among the best-represented sectors in the region are the IT and the financial sector, automotive industry, pharmaceutics and chemicals, aerospace, bio and energy technology, medical engineering, logistics and services. Chemistry and pharmaceuticals are by far the largest exports, amounting to more than one quarter of all Hessian exports. They are followed by products from the engineering and automotive manufacturing industries as well as from the electronic engineering industry.
With high levels of productivity, creativity and stability, Hessen has one of the strongest German regional economies and is one of the most dynamic business areas in Europe
The Frankfurt/Rhine-Main area is the continent's leading finance and trading centre. In addition to the German Stock Exchange and European Central Bank, approximately 300 banks and investment companies from more than 50 different countries maintain their headquarters or a branch in the region.
Hessen is ranked among the Top 10 most innovative regions in Europe. No other German state has a higher proportion of people working in science and research. About 3% of Hessen's GDP is spent on research and development. In comparison, the average in the EU is 2%. In addition, Hessen has a high share of corporate R&D spending: 80% of R&D investment is represented by companies, while the EU average is 62%.
Finding qualified and motivated employees with a high level of training is unproblematic in Hessen. With 13 universities, five Max-Planck-Institutes, eight Fraunhofer Institutes, and more than 100 scientific research institutes, Hessen provides investors with a highly skilled workforce. This is how Hessen differentiates itself and what makes it so attractive for business.
Hessen has excellent connections to EU countries. Thanks to the free trade of goods and services within the EU, trade is freely conducted in the 28 countries. It is not surprising that two-thirds of all imports and exports are from/to EU lands. Three-quarters of all foreign direct investment comes from the EU, and more than one-third of Hessen's direct investment was destined for the EU. Approximately €75 billion in foreign investment came to Hessen – nearly 14% of the total investment in Germany.
Hessen has produced the highest gross domestic product for the past 25 years of all the German federal states.
Foreign companies are most active in the sectors of software/IT services, corporate services, financial services, biotech/pharmaceuticals/healthcare, and automotive supply. About one-third of all foreign investments are sales and marketing offices providing various services such as distribution and logistics or serving as German or European headquarters. In 2014, Hessen achieved a new record: 144 international companies either established a new business in Hessen or expanded their existing facilities. In addition, Frankfurt am Main has recently experienced an explosion of new data centers from U.S.-based companies. These developments have further established the City of Frankfurt as the leading data center hub in Germany and will help continue attracting investors to its exceptional (digital) infrastructure. Frankfurt is Germany's primary data node with the DE-CIX Frankfurt (German Commercial Internet Exchange), the largest internet exchange point world-wide. DE-CIX handles about 90% of all domestic and 35% of all European internet traffic.
Frankfurt Airport, one of the ten largest in the world boasts more than 290 destinations to more than 100 countries. No other airport in the world has more international and intercontinental connections: nearly 4,000 direct connections per week and 58 million passengers and 2.1 million tons of freight annually. 500 companies with 70,000 employees are located in and around the airport. Viewed collectively, the Frankfurt Airport is the largest single workplace in Germany.
For further information on Hessen and potential investment opportunities, contact Hessen Trade & Invest GmbH (HTAI), the state's economic development agency, for cost-free location advisory services. HTAI supports foreign companies from the initial inquiry to the final decision confidentially. Together with representatives from industry, science and government, HTAI works as a catalyst to develop Hessen further and to remain competitive for the future.
www.invest-in-hessen.com
—————————————————————————————————————————————————————————————————————————————————————————-