Winning the Race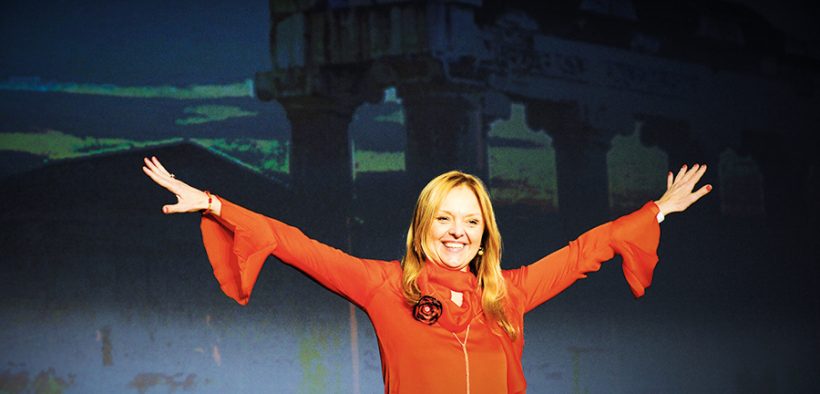 CEO Insight talks to Kristin Engvig, the founder and CEO of WIN, about the latest high quality conference in Rome, feminine leadership and the winning plans for 2019.
Focused on integrating feminine values and understanding global interconnectedness, the WINConference 2018 is the 21st in a series of global leadership experiences motivating both women and men worldwide.
CEO Insight: What would you describe as the headline achievements, outcomes and the binding message emanating from WIN's Global Conference in Rome in September this year?
Kristin Engvig: The head message from WIN's Global Conference 2018 centred on trust, discover, create, new ways of living, working and leading. We talked about what we could achieve if we had more balance between women and men, and more specifically, a better balance between and the feminine and masculine values. We explored what the future could look like if it was more acceptable to share, care and use our intuition, and how this would enable us to do things a bit differently.
CEO Insight: Which speakers really stood out for you?
KE: We had representatives from numerous big name companies including Novartis, European Central Bank and Shell, amongst many others, all offering new ways of thinking about the future of work and creating change.
We had such high quality speakers in attendance, and I asked them about some of the forces that are shaping the environment in which we live and work, and what we can do about them. We are more empowered than ever to make new strategies for the companies we are working in and the lives we are living, especially when we are more aware of global trends, AI, statistics and the world around us.  Paul Hudson, CEO of Novartis Pharmaceuticals, Novartis Pharma AG, shared his approach and practical thoughts on the company of the future, what it would look like and what are the best strategies and initiatives to create more conscious businesses.
One Italian keynote speaker, Ilaria Capua, Professor, University of Florida, Gainesville, talked about how hard it can be to be a woman in an empowered position, like a scientist or politician, proving that if you are standing out and getting power, there is still more to do and more change to implement. Capua spoke from a female perspective, about how it can still be very difficult to be in a position of power in an era of fake news, showing that we have to support each other and wake up to all of these things.
Marina Haydn, EVP, Managing Director of Global Circulation, The Economist, was another interesting speaker, discussing the latest understanding, data and statistics on equal pay, providing information that allowed us the opportunity to be more empowered for change. Agnieszka Majszczyk, Managing Director, MoneyWise, did a workshop on how to make space in your busy agenda for the things that really matter. These are only a handful of the inspiring speakers in attendance as the WIN Conference attracts many more high quality speakers.
CEO Insight: How did 2018 compare to Global Conferences from previous years?
KE: This year was calmer, with more of an understanding amongst the women themselves. Interestingly, there were more men attending this year than in previous years. There was more male participants in the room, listening and learning, which in turn gives power to the subject, and there are a growing number of women who are more awake, who realise they can't just say yes to everything.
There was also a strong focus on the environment this year, reinforcing that it can't be 'business as usual' when it comes to climate change. Not only do we need to care about diversity and each other, but we also need to take care of the environment, incorporating recycling and reusing into business.
There was a strong feeling within the room that we can do something, more hope that we can be part of creating a different future. There has been a shift. For example, Shell want to attract women engineers, but the majority of graduates today do not want to work in polluting companies, they want to work in renewables. So, the quicker these companies can transform, the better for everyone, allowing them to attract new talent and work environmentally.
Obviously things cannot change overnight for these big corporations, but the discourse is open, and that alone is a major step. They are listening. We are embodying and modelling the integration of how everything is done with feminine values. We have been on this for 20 years and I think this year it is finally being heard.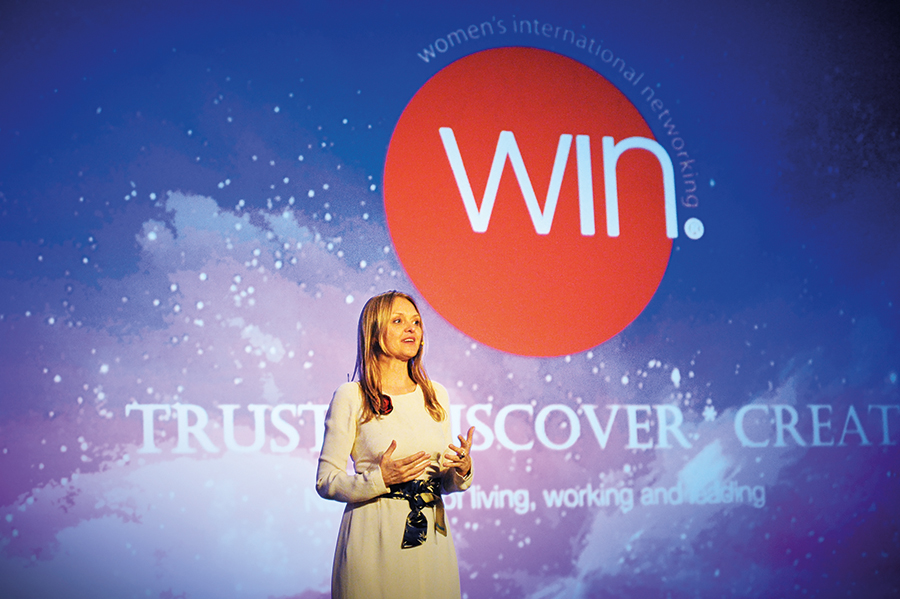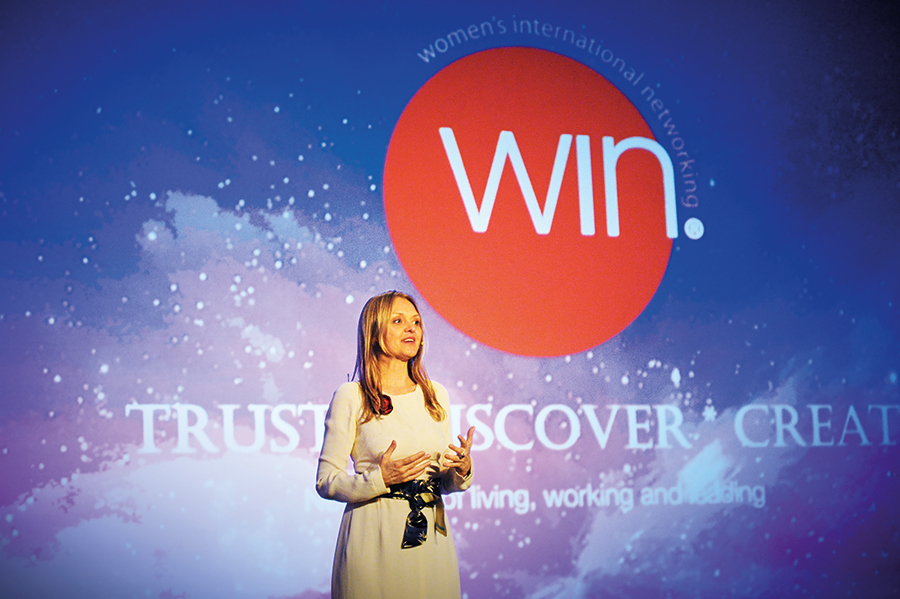 CEO Insight: Was the influence and impact of the 'Me Too' movement palpable at the event?
KE: Since MeToo everyday discrimination and sexual harassment have reached a new level of consciousness, and it was a very important time to come together since the MeToo movement. We had a workshop about MeToo, which encouraged participants to share stories, focusing on how to learn to be empowered, speak up and take action. We all need to learn to speak up more and that's very relevant at the moment. We need to start a conversation about discrimination and sexual harassment that motivates people to share their own stories now and in the future.
CEO Insight: Are you witnessing the dialogue started by 'Me Too' crossing over into the corporate arena?
KE: Yes – it has crossed over and again, we need to learn to speak up. Of course, we want to see massive changes in the organisations, but it will take time, and there is also a part that women can do better when they are confronted with this demeaning behaviour.
Many women have been victims and we must get into an empowered state, wake up and support each other. The power balance that is happening in homes and in the workplace is not necessarily a man/woman thing, it's more a patriarchal type thinking, as there are also women who are harassers.
CEO Insight: What is your strategy to ensure you build on achievements from previous years and that the event always remains fresh, vital and ambitious?
KE: Our event is organised in a way that on Day 1 we examiner the big issues and trends etc., before we dig into the more personal stories as the conference progresses. I have kept the same format for the event, a good combination of plenaries and workshops, because this format works. We look at the world, look at the future of work and look at ourselves. To stay fresh, WIN has to stay in tune with what's going on and stay up to date.
In the most recent WIN Conference for example, we had a speaker talking on technology and AI, discussing the impact that technology and robotics will have on the future of work. For WIN, it is important to always be open to the fresh topics, to be willing to discuss the difficulties and the challenges in work, and what is happening in the world. Everything needs to be high quality, from the speakers to the subjects, especially when you sharing new dialogues.
CEO Insight: What do you believe to be the secret behind the event's enduring and ever-growing appeal?
KE: Fundamentally, it is less a conference, and more an experience. We look at the world as a whole – we are global – even the team is global.
The speakers are from different nationalities and the plenaries have an international composition. In Europe, it is a bit more European, but still it evokes a global atmosphere. Another reason for its appeal is its solution focused atmosphere. Yes, we acknowledge there are problems, but we focus on action, which creates a brilliant optimism in the room, reinforcing that each and every one of us has power. We encourage a holistic perspective – emphasising that a feminine quality is not only about women, it's about embracing humans.
We are here to be productive, we embrace and include, taking on a human perspective. However, it's important to realise that by putting humanity and creativity back, does not mean that we don't have structure and quality. Take the Renaissance time, a very flourishing period in Europe, for example. Leonardo de Vinci was an artist, he was a doctor and a scientist. The bankers sponsored the artists because they knew this was needed.
This feeling of interconnection – to understand that one thing is interconnected to everything else – is priceless. In an era of global interconnectedness and scientific breakthroughs, it is startlingly clear that we need to find new solutions to emerging challenges. For example, regarding global warming – if you are polluting in one country, it spreads to others. I also think WINS pragmatic approach is part of the success format. It is a great arena for networking and supporting and leaves participants feeling more equipped to deal with the professional and the personal challenges.
CEO Insight: How would you describe that which distinguishes feminine leadership?
KE: Feminine leadership is a leadership that is more consultative, engaging, one that listens and includes. It focuses on listening to your senses and intuition, allowing you to navigate as much as you plan. Ultimately it is a balance issue as everyone needs to focus on and achieve their goals. Feminine leadership is aware of the cycles and the seasons, is highly energetic, and it comes with learning how to trust others. We constantly question how we can bring leadership forward as women. The increase in technology means we are getting inundated with data, and things are happening very fast.
Feminine leadership combines planning and letting life unfold. While we need the healthy masculine qualities such as structure, focus and action, it is the feminine qualities of collaboration, receptivity and empathy that are becoming fundamental as we develop our leadership to restore, create new balance and discover new ways. Driving a company based purely on profit will not succeed. There needs to be a purpose that goes beyond the company only, including the planet, the people and profit. That aligns with our agenda.
CEO Insight: How does WIN monitor its effectiveness at driving change and realising its vision?
KE: It can be quite difficult to gauge as people may write in their evaluation after the event 'I feel so inspired' and 'It changed my direction' etc. but we need something more tangible so we are gathering information over time. Sometimes people may leave the event feeling amazing but we need to hear from them a few months later to fully understand the level of impact. It is definitely creating change but it is a long term process so we will continue to gather data from participants over the years.
CEO Insight: Which events is WIN focused on for 2019, and what is its focus for the year ahead?
KE: We hope to integrate even more men into the events. We could still have sessions where there's only women, but intend to offer sessions where there's only men also. There will be a continued focus on more technology and more humanity. We are in such a time of change right now, with numerous political and environmental challenges, so now more than ever, we need to instil and believe in democracy. We have to focus on solutions, how to build a stronger community and continue to work on the reasons why women still hold back coming into 2019. It is not always easy to speak up, so there is still lots more work to be done.
For more information please visit: www.winconference.net