A Modern Economy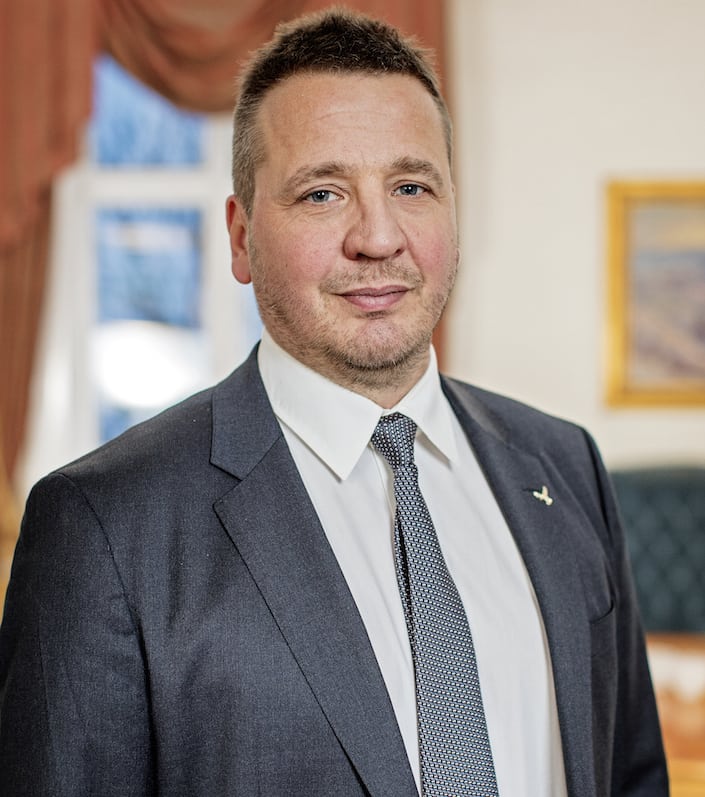 Henry Martin speaks with the Icelandic Minister for Foreign Affairs, Gudlaugur Thór Thórdarson
CEO Insight: As you asses the External Trade potential for Iceland going forward, what do you consider to be important short term goals for the Ministry?
Gudlaugur Thór Thórdarson: As a small island country with an open economy, Iceland's development and prosperity are dependent on trade – and progressive trade liberalisation. We know very well from our history the consequences of isolation and protectionism, and the benefits of being integrated into the global trading system.
One of our immediate goals is therefore to communicate our vision of an inclusive and open international trading system as a counter-balance to a growing climate of protectionism and anti-globalisation. At the same time we must ensure that our trade policy adapts to the challenges of the modern global economy, distributes the benefits fairly and evolves in step with the needs of our citizens, businesses and values.
In the short term, we will continue our efforts to improve market access and standards of competition for our economic operators to foreign markets. We are pursuing this policy as a priority in the WTO/multilateral trading system, but also through free trade agreements and other bilateral arrangements.
Iceland already has a sizeable network of free trade agreements with its EFTA partners and our immediate focus will be to explore the potential of extending that network to important markets such as the US, Japan, Nigeria and Vietnam, as well as markets that are expected to be growing fast over the next years such as India, Indonesia and Brazil.
---
"Some of Iceland's strongest industries and companies have emerged where the latest technology and scientific knowledge has been applied in the traditional natural resource based industries, such as fishing and harnessing renewable energy resources."
---
Our aim in such agreements is to cover our trade policy and reflect the depth and complexity of our trading relationships in a comprehensive manner. For goods, this means not only coverage of traditional market access in terms of tariff preferences but also common rules for increasingly important non-tariff barriers such as technical standards, sanitary and phytosanitary measures, trade facilitation and customs cooperation. We also expect meaningful outcomes in other key sectors such as services, investment, government procurement, IPR as well as robust provisions on human rights, labour and the environment.
As a minister of external trade in country which is highly dependent on external trade, I put strong emphasis on ensuring market access for our products and services. Our mission continues to be to create and foster a robust, competitive and a friendly environment, to ensure a level playing field for our enterprises in the globalised world of trade and to promote our businesses. We must also understand their challenges and the threats in this ever-changing world and not least the opportunities.
Authorities must be ready to adapt quickly and to implement effective and efficient policies to lead the way forward. The far biggest share of Iceland's exports of goods goes to member states of the European Economic Area (EEA), or about 80% in 2016. Also 52% of our services. Exports to these countries are mostly without or with very low custom duties.
Other major exporting countries for Iceland are the United States, China and Japan, but also Canada, Russia and Nigeria. Iceland has a bilateral free trade agreement with China, but not with the other countries. The short-term goal of the Ministry is to foster trade relations with these countries.
Special interest will be paid on improving markets in Russia and Nigeria, that have historically been very important for particular seafood products. Low oil price in both countries and trade sanctions against Russia have, however, seriously deteriorated market conditions in these countries.
---
"The fast growth of foreign visitors to Iceland has also opened the eyes of investors for new opportunities."
---
CEO Insight: How does the Ministry plan to encourage and support economic growth for key areas such as tourism and inward investment?
GTT: Iceland focus is on favourable business environment, including low corporate tax rate, advanced and reliable infrastructure and active support for research and development. We have recently adopted an efficient framework legislation for incentives for investments and increased research and development support. In addition to being a member of the European inner market via the European Economic Area, we have concluded a number of comprehensive free trade agreements, including a recent one with China. Free trade and flow of investments is very important for our economy.
Promote Iceland is a public/private organisation that operates under the auspices of the Ministry of Foreign Affairs and works actively to promote Iceland as a tourist destination, as a place of origin for goods and services and as an ideal location for new foreign direct investment. Our consular network and diplomatic missions support this work.
Promote Iceland has commissioned a number of independent benchmarking studies, confirming Iceland's competitiveness and value proposition for a number of industries. Our challenge is getting the message across and increasing awareness. We have seen this awareness grow, not least in the knowledge based industries. The fast growth of foreign visitors to Iceland has also opened the eyes of investors for new opportunities. We are seeing a number of investment projects there, including a 5 star Marriott Edition hotel by Reykjavik harbour.
CEO Insight: What do you consider to be Iceland's' biggest strengths in comparison to other European countries?
GTT: Historically, Iceland 's prosperity has been based on utilisation of its abundant marine and sustainable green energy resources. National income per capita is now among the highest of the OECD countries. During the recent years, the tourism industry is main source of growth in terms of external revenue. Iceland is also highly entrepreneurial and innovative in any international comparison. As a matter of fact, the knowledge industry is emerging as the fourth pillar of our economy, such as the creative and high tech industries.
The Icelandic nation is young and well educated. The labour market is flexible and the unemployment rate is among the lowest in Europe. The financial crisis is now behind us and the economy has recovered more rapidly than expected by many, thanks to strong fundamentals and successful policies. The state of the economy is strong with a fully funded pension system and a strong infrastructure. In addition, we have a clean environment and a beautiful landscape.
---
"The tourist sector is becoming the largest export industry, ahead of marine and aluminium sectors."
---
Iceland is a well-educated nation of 330,000, in a relatively large country, right between Europe and Northern America, blessed with abundance of natural resources and strong modern infrastructure. Due to the limited domestic market, almost all Icelandic companies are "born global", i.e. seeing the world as their playing field from the very beginning.
The labour market is highly flexible, open to the latest technology and willing to train for new challenges. There is a strong tradition for young people to seek higher education and work experience on both sides of the Atlantic and then return, bringing new knowledge and perspective.
Some of Iceland's strongest industries and companies have emerged where the latest technology and scientific knowledge has been applied in the traditional natural resource based industries, such as fishing and harnessing renewable energy resources. International leaders in food processing technology and highly innovative biotech companies are based on Iceland's sustainable fishing industry and pure products.
After having eliminated all fossil fuel for electricity production and space heating in Iceland by harnessing hydro and geothermal power, Icelandic expertise and experience in sustainable geothermal utilisation has become a valuable service export.
CEO Insight: What is Iceland's position in relation to sustainability and how does this fit into your Agenda?
GTT: Historically, marine products have been Iceland´s leading export item and fisheries remain the backbone of our economy. Accordingly, responsible and sustainable management of the fisheries resource is of fundamental importance to Iceland and Iceland is and will remain strongly committed to preserving the health of our oceans and responsible fisheries.
Sustainable fisheries are however much more than an Icelandic issue. Fisheries generate employment for well over 50 million people world wide, and are critical to ensuring food security and nutrition, providing a substantial source of protein. Sustainable fisheries are thus an issue of great importance for the international community.
Given that at present the Food and Agriculture Organisation estimates that approximately 31 percent of the world's fisheries are being fished at biologically unsustainable levels, and approximately 58 percent are already being fully fished at maximum levels with no room to grow, the responsible and sustainable management of the fisheries resource thus moreover represents an urgent challenge for the international community.
Iceland is accordingly an eager participant in the US-led global initiative at the WTO aiming at preparing negotiations to ban harmful subsidies in fisheries, that contribute to overfishing and overcapacity as well as those linked to illegal, unreported and unregulated fishing. We strongly agree with the words in the statement announcing the initiative last September, that this initiative will result in significant trade, economic, development, and environmental benefits, and help put us on track towards achieving target 14.6 of the UN Sustainable Development Goals
CEO Insight: What is your view on the overall state and outlook for Iceland's economy?
GTT: The state of the Icelandic economy is very good and the prospects ahead are positive. Gross domestic products (GDP) increased by 5.9% in 2016, growth is forecast at 4.3% this year and is expected to be 2.5-3% in 2018-2022. Growth is mainly driven by private consumption, investment and external trade.
The tourist sector is becoming the largest export industry, ahead of marine and aluminium sectors. Inflation and unemployment rate have declined rapidly during the last years. Inflation rate is at present 1.9% and unemployment rate on fourth quarter of 2016 was 2.5%.
The financial sector has been restructured, and the banking sector is well capitalised. The terms available to the Treasury have improved significantly, and recently all three major rating agencies upgraded Iceland to A-, that shows confidence in our economy. The National Budget for 2017 provides for a surplus of ISK 25bn, or 1% of GDP, for the fourth consecutive year.
The main economic challenge ahead is to lift capital controls that were imposed in 2008. In 2015, the government introduced a comprehensive capital account liberalisation strategy. In August 2016, important steps were taken when controls were eased on resident and non-resident individuals and legal entities. In January 2017, a steering committee was established to prepare for the full lifting of the capital controls, without threatening financial stability and in conformity with international obligations.
CEO Insight: How will the Ministry best represent Iceland's interests in its missions under the new government?
GTT: The Ministry will continue to put great emphasis on trade liberalisation in both bilateral and multilateral fora. Our external trade office in the Ministry along with the Mission in Geneva will continue to play a key role in this respect, as they deal with both our bilateral trade negotiations, in the framework of the European Free Trade Association (EFTA), as well as multilateral trade negotiations, in the WTO.
It is essential that we make sure that the EEA Agreement works for Iceland, and that means actively protecting our interest by strong engagement with the EU institution responsible for the shaping and making of internal market legislation.