Tax Matters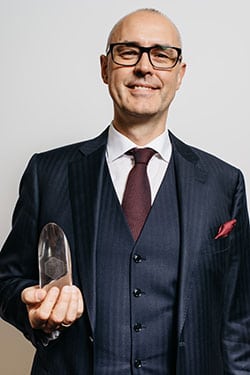 Founded in 1998 in Germany, Bellin today consists of over 120 employees focused on creating solutions that reflect a pragmatic approach to solving treasury problems. Bellin's solutions are designed to be easy to use by both treasurers and non-treasurers and permit as many users as the treasury has need of, at no extra cost. This increases involvement of subsidiaries with the treasury, automates global data collection, enforces groupwide rules and compliance and enhances transparency. The company's tm5 software solution is a zero-user-fee platform that encourages the distribution of workload, so that the central treasury gets better numbers, faster.
CEO: Can you outline the essentials of treasury management and how these have evolved in recent years?
Martin Bellin: Treasury management refers to the management of a company's financial holdings with the goal of optimizing liquidity and mitigating financial and operational risks. This means administering financial assets, making sound investments and reducing or entering into hedges. Priorities within this framework have been shifting over the years but the overall principle has stayed the same. However, what has changed dramatically is the way treasurers work to achieve these goals. From using Excel spreadsheets they moved to local workstations; and from there to powerful Treasury Management Systems (TMS) and again to global and web-based platforms. This also mirrors a clear shift from data recording to data processing and thus to strategic decision-making.
CEO: What does BELLIN offer, more than any of its rivals, to improve a company's treasury management function?
M.B: BELLIN has pioneered the concept of "Load Balanced Treasury" that sets us apart from other providers. This concept is based on the idea that a central treasury application is provided to all group companies in order to support all of them in the best way possible, sharing the workload across the entire organization. This means adding value to everyone, even the smallest subsidiary, and in turn ensuring both accuracy and visibility by providing complete and real-time data.
CEO: BELLIN is recognised as an industry leader and recently won several Treasury Management International awards. Can you describe the products/services that won these awards?
M.B: BELLIN is a global leader in providing innovative treasury solutions for multinational corporations. With the fully integrated, web-based software tm5 as the centerpiece, BELLIN offers solutions for all corporate treasury requirements: be it in-house banking, global payments, cash management; netting, risk and receivables management or trade finance, topped off by services such as Treasury as a Service (TaaS), BELLIN SWIFT Service or BELLIN Matching Service.
---
"BELLIN is a global leader in providing innovative treasury solutions for multinational corporations."
---
 CEO: Can you give us a few examples of companies that have profited from using your products?
M.B: Over the years, BELLIN has witnessed a number of success stories and many of the clients we've helped advance their treasury have testified to their success, including for example Dentsu Aegis Network Ltd., Virgin Atlantic Airways, Ferring, Herrenknecht, Deichmann and many more. A long list of BELLIN Success Stories can be found at http://www.bellin.com/clients/success-stories.
CEO: What does the future hold for BELLIN and Treasury management?
M.B: In the aftermath of the turbulences on the financial markets in recent years and the general volatilities that have since been characteristic, treasurers are more important for their businesses than ever before. According to ICD, the market for treasury systems is expected to grow by almost 15% on a global scale by 2018 and BELLIN offers outstanding and market-leading solutions in this market. In addition, we have developed cutting edge technology changing the way treasury is operated, for example by including SWIFT connectivity. We're positive we'll be able to continue our own success story and continue to help businesses worldwide to optimize their treasury and achieve their goals.

BELLIN is a global leader in providing web-based treasury software and services for multinational corporations. Founded by a treasurer and built on the expertise of over 100 experts, BELLIN has been exceeding expectations since 1998. tm5, awarded best "Treasury Management System" at the Fintech Innovation Awards, serves all corporate treasury functions and provides an instant overview of groupwide finances, mobile and in real time. BELLIN solutions for liquidity planning and financial risks, global payments, netting and risk management as well as the integrated BELLIN SWIFT Service, SaaS/hosting or Treasury as a Service (TaaS) inspire more than 15,000 companies with 25,000 users in 150 countries and counting.